Cuyahoga Valley National Park, Ohio
Surrounded by small villages and dotted with nationally recognized historic buildings and structures, Cuyahoga Valley National Park is a living testament to a near-forgotten era.
Surrounded by small villages and dotted with nationally recognized historic buildings and structures, Cuyahoga Valley National Park is a living testament to a near-forgotten era. The park is a reminder of the old canal-building days of the early 1800s, when the popularity of this mode of transport was thriving. The park stretches along a 22-mile run of the Cuyahoga River in a region shaped by thousands of years of erosion. History buffs can witness what was once the Ohio & Erie Canal, the towpath of which has morphed into a popular bike and foot trail. Canal lock demonstrations are still performed seasonally on weekends, much to the delight of passers-by.
The park pays homage to the area's history, as evidenced by the preservation of surrounding towns and the number of places in the park that are listed on the National Register of Historic Places, including various canal locks and the Furnace Run Aqueduct. By exploring the park's 125 miles of hiking and biking trails, visitors will see many of these historic treasures. The 3-mile-long Buckeye Trail takes hikers to the Everett Road Covered Bridge, the last covered bridge in Summit County. Another popular destination is the Hale Farm & Village, an outdoor living history museum, where craft demonstrations include glassblowing, hearth cooking and even cheese making.
Nature lovers will enjoy exploring the mixed-oak forests and various wetlands and fields. Visitors hoping to spot wildflowers may encounter bloodroot, water lilies, goldenrods and even yellow and blue irises. The park is also home to an assortment of wildlife, including the beaver, coyote, white-tailed deer and more than 100 species of birds.
Geological History
Cuyahoga shows evidence of sedimentation in berea sandstone that is 320 million years old and that lies on top of bedford shale that is 350 million years old. This shale is undercut by erosion, while the sandstone remains mostly intact and forms the base for the Brandywine Creek and what is known as the Bridal Veil Falls. The falls in the park are the result of this differential erosion. The many ledges in the park are composed of quartz-pebble conglomerate, a substance highly resistant to erosion.
Park Activities
Cuyahoga offers a number of seasonal recreational programs that include a boomerang program in conjunction with the Boomerang School; cycling programs along the Ohio & Erie Canal Towpath Trail and other cycling loops located within the park; and snowshoeing and cross-country skiing workshops. Also of interest is the old-fashioned Cuyahoga Scenic Railroad, which takes visitors on tours of various valley destinations such as Quaker Square and Hale Farm & Village. Numerous hiking, biking and fishing opportunities also exist in the park.
Where to Stay
Situated in a cozy, white farmhouse with impeccable lawns, the Inn at Brandywine Falls is a lovely retreat with views of Brandywine Falls. The inn's 6 rooms include 2 carriage-barn suites dubbed "The Granary" and "The Loft." All are decorated with colorful quilts and wooden furniture. Breakfasts at the inn are not to be missed, and include home-baked bread with raspberry butter and white grape juice from a local winery. 
Nearby Sights/Side Trips
Located in Cuyahoga Falls, the Porthouse Theater is nestled in an outdoor, covered, 500-seat pavilion in the midst of a sun-dappled forest. Showgoers are encouraged to bring a picnic with them and enjoy their meal on the lovely theater grounds. This summer's productions include "One Flew Over the Cuckoo's Nest" and the ever-popular "Brigadoon."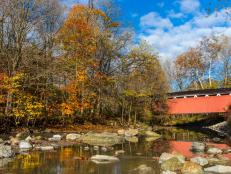 TravelChannel.com takes you on a tour of the national parks in Ohio.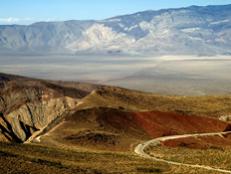 In Death Valley National Park, daily temperatures soar, and visitors are not greeted by some of Mother Nature's most intense physical features.