American Grilled host David Guas brought in the "pros" with a special guest judge for this Major League Baseball-themed episode, former Chicago Cub turned MLB Network studio analyst Mark DeRosa.
On Wednesday, August 20, in an all-new episode of American Grilled, 4 grillers from Chicago battle it out in the shadows of one of the most storied baseball stadiums in America, Wrigley Field. Host David Guas brought in the "pros" with a special guest judge for this Major League Baseball-themed episode, former Chicago Cub turned MLB Network studio analyst Mark DeRosa. Before the grilling begins, we caught up with the former star for an exclusive one-on-one interview.

Q: Out of the 8 home stadiums you played in (ATL, TEX, CHC, TOR, CLE, STL, SFG, WAS), which was your favorite and why?
A: Wrigley Field. It was my first chance at playing every day [with the Cubs], and I loved knowing that so many Hall of Famers and greats had played on the same field and sat in the same dugout. There was no change to it.

Q: Outside of those 8 stadiums, which was your favorite to play in and why?
A: The old Yankee Stadium. Growing up in New Jersey, I've got memories of going with my dad as a kid to old Yankee Stadium, and getting a chance to play against the Yankees in that yard was surreal for me and my family.

Q: Favorite iconic food associated to the cities you played in (the teams you played for)?
A: My favorite iconic foods are from where I live now, outside of Atlanta. Growing up in the north, we didn't have this, but I love Southern cooking -- fried chicken, grits, mac and cheese, biscuits and gravy, sweet tea. So good.

Q: Pregame meal?
A: I never really had one. Whatever they were offering, that's what I would eat.

Q: Memorable hotels and restaurants from the road?
A: Joe's Stone Crab in Chicago was my spot. I loved the Slanted Door in San Francisco and Momofuku in Toronto, too.

Q: Five items you can't leave home without on a long road trip?
A: My laptop, lotion (I'm always taking different kinds from hotels), a Tempur-Pedic pillow, golf clubs and a pair of sweats to lounge in.

Q: Pregame ritual?
A: I always showered right before a game. I didn't like putting my uniform on all sweaty.

Q: After your retirement, what made you jump straight into working as a TV analyst?
A: It really began with my 2 cameos at MLB Network during the Postseason [in 2013 and 2011]. I have a love for the game and just getting a chance to work at MLB Network, I thought, "Wow, what a great place to stay involved in baseball." They have a real passion for the game -- all the guys in the clubhouse watch it religiously -- and I felt like it was a great opportunity.

Q: What was your favorite city to visit and why?
A: Los Angeles. I loved playing in Dodger Stadium. We would stay out in Pasadena, CA, which was beautiful, and coming from the East Coast, I felt like I was on a vacation.

Q: Do you have time to sightsee at all when on a road trip, or is it straight from the hotel to the stadium?
A: If I had time off, my favorite thing to do was go to the pool if the weather was nice. I'm a water rat. If we were in Miami, I'd spend a few hours on the beach. If we were in LA or Arizona, I'd be by the pool. When I wasn't an everyday player, I would play golf in the mornings. I like to be active. I didn't like to sleep late and then go right to the field. Getting up and going out gave me energy for the game.

Q: Favorite family getaway?
A: Turks and Caicos. It's a quick trip from Atlanta, only about a 2-hour flight. We've been there a few times.

Q: Favorite Guys Getaway?
A: A bunch of my buddies and me like to go on golf trips. We'll go down to Tampa, FL, to play -- I've been fortunate to play a lot of gorgeous golf courses. We'll also go on fishing trips up to Lake Oconee or Lake Lanier in Georgia.

Q: Favorite hometown attractions, restaurants, activities, etc.?
A: My favorite things to do around Atlanta are golfing, going to the Georgia Aquarium and going to concerts. My wife and I love going to outdoor concerts at Aaron's Amphitheatre at Lakewood, and we'll go see concerts at the Gwinnett Center and Philips Arena, too.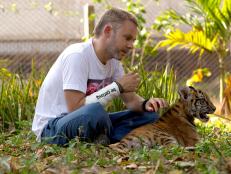 We sat down with the Wild Things with Dominic Monaghan host and big-screen star to get an inside perspective on what the show's all about.