Grilled Corn Pebbles, Lime Mayo and Scallions
Recipe courtesy of Wylie Dufresne of wd~50.
 Ingredients
30 grams freeze-dried corn, finely ground
15 grams powdered buttermilk
13.5 grams smoked grapeseed oil
Salt to taste
Mix the corn, buttermilk and salt together in a bowl and drizzle oil in. Mix well until it resembles wet sand. Form into small spheres and reserve. When complete, place in a saute pan over medium heat and swirl pan continuously until spheres begin to form smooth "pebbles." Pour onto a tray and reserve.

Lime Mayo Ingredients
3 egg yolks
300 ml grapeseed oil
Salt/cayenne to taste
3 limes, zested and juiced
Make a mayo with oil and yolks, then season with salt, cayenne and lime juice to taste and fold in the lime zest. Place into piping bag and reserve in a refrigerator.

To Serve
1 green scallion, sliced on bias and placed in iced water.  Dot four plates with lime mayo and place the pebbles between the dots. Top with scallions and serve.

by Wylie Dufresne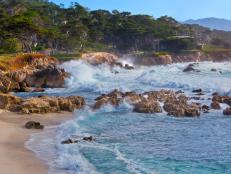 Pebble Beach is more than just a golf destination. See our recommendations on where to stay, where to eat and things to do when you're visiting this popular, but relaxing vacation spot.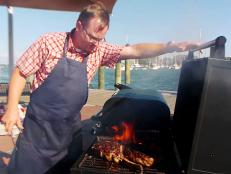 We're traveling across America to discover the best and boldest flavors competitors can fire up on their grills in this ultimate, outdoor cooking challenge.