Travel Channel's hungriest host, Adam Richman, is now an author. "America the Edible" hits stores on November 9, 2010.
Get ready to devour America. Adam Richman, our exuberant Man v. Food host has crisscrossed the continent in search of the best eating experiences this country has to offer. Now, Adam Richman, takes a deeper look at 9 chapters from his entertaining food travels to provide an insider's look at some of his favorite places and his ongoing quest for the perfect meal, that elusive mash-up of food, drink, location—and even dining companion (and not always in that order).
Adam's appetite for regional food is matched only by his curiosity about how these foods came to be woven into the culinary landscape, and in "America the Edible" he travels from home base in Brooklyn to points north, south, west and beyond looking for the stories behind the menu. Adam explains why San Francisco's sourdough bread couldn't exist without San Francisco's fog; why Cleveland just might have some of the country's best Asian cuisine; and how to eat like a native on the Hawaiian island of Oahu. From Portland, Maine, to LA and back, he reveals some of his favorite off-the-beaten path finds—as well as a few cautionary tales of be-sure-to-miss spots he encountered along the way—all seasoned with the outrageous recollections of a man whose appetites all too often get the better of him.
For anyone who has ever soothed a broken heart with banana pudding, greeted the dawn with grits and eggs in a seedy diner, or worshipped at the altar of the perfect chile relleno, "America the Edible" offers an irresistible look at the life and times of one of the food world's most insatiable storytellers.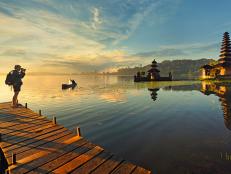 See Travel Channel's recommendations for where to travel each month.