7 Days in Sorrento and Rome
From the Bay of Naples to Rome's ancient Colosseum, experience some of the best Italy has to offer with this 7-day itinerary.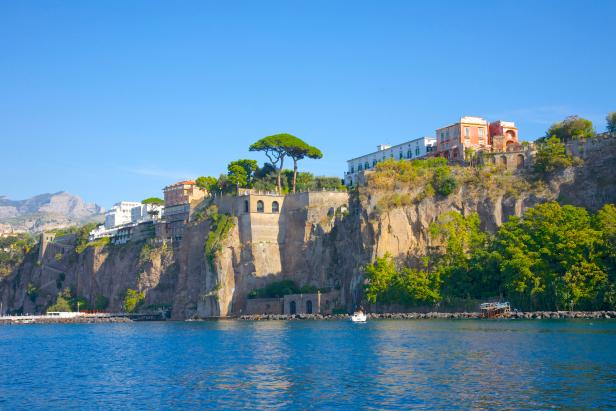 Cliffs of Sorrento
Cliffs in picturesque port of Marina Grande, nestled into a nook of Costiera Amalfitana (Amalfi Coast), Sorrento, Italy. Despite being one of most popular holiday resorts in Italy, Marina Grande has maintained its rustic charm, original identity, and sense of community.Restaurants, homes and shops, rising along curve of rocks and colorful booths on pier, are all architecturally consistent, creating a harmonious neon-free scene. Port's secluded atmosphere stems from its sheltered position, created by promontory which separates Sorrento from this hidden harbor.
Barry Winiker, Getty Images
From the scenic Bay of Naples to Rome's ancient Colosseum and Michelangelo's masterpieces, experience it all on this 7-day itinerary by Monograms. Click here for pricing details.

Day 1: Sorrento, Italy Benvenuto—welcome! Arrive in Sorrento (the nearest airport is Naples). Your local host is on hand to help you plan your time in this beautiful resort on the Bay of Naples.

Day 2: Sorrento Morning guided sightseeing and orientation: walk along the old town's characteristic lava stone streets and take pictures of amazing Mount Vesuvius. See the 14th-century Sedil Dominova building, the ancient Bell Tower; and St. Antonino Church, dedicated to Sorrento's patron saint. Visit the cloister of St. Francis Church and enjoy its unique atmosphere and tranquility. Taste limoncello and hear how this world-famous liqueur is made.

Day 3: Sorrento Full day to enjoy the city of olive and lemon groves. Your local host will be happy to suggest things to do -— like an excursion to beautiful Amalfi, the best shopping area for locally crafted inlaid intarsio woodwork, or where to enjoy a lively Neapolitan stage performance with music and Tarantella folk dancing.

Day 4: Sorrento-Rome Transfer to Naples, then travel by high-speed train (first-class) to Rome.


Day 5: Rome Your morning guided sightseeing and orientation, with headset, is rich in religious and ancient history. Visit the Vatican museums to see its amazing treasures. In the Sistine Chapel, where the Conclave is held to elect new Popes, view Michelangelo's The Last Judgment and his famous ceiling paintings. Also on the agenda today, see monumental St. Peter's Square and Basilica, built in 313 AD above St. Peter the Apostle's tomb and home to Michelangelo's masterpiece Renaissance sculpture the Pietà. Across the Tiber River, continue your immersion in history at the iconic Colosseum, built for 50,000 spectators, and the Roman Forum, where the oldest structures of the ancient city are located.

Day 6: Rome Today, experience Italy's capital city at your own pace. You may wish to visit the Catacombs, catch the hop-on/hop-off bus, or test your truthfulness at the Bocca della Verità. Your local host is ready to help you with ideas for your day.

Day 7: Rome Your vacation ends with breakfast this morning.