Why This Mexican Town You Probably Haven't Heard of Is Worth a Visit for Day of the Dead
Instead of experiencing the holiday in Mexico City, go a little further off the beaten path for more intimate Noche and Dia de Muertos celebrations in Erongaricuaro.
It would be easy to miss Erongaricuaro. If you're looking for where to travel for Dia de Muertos, it won't come up on the top of any lists. Eronga, as locals affectionately call it, is small and fairly quiet. The town's main square is made up of shops, restaurants, churches and hotels that look so similar from the outside—white paint, red trim, red clay-shingled roofs—that it's easy to get turned around and forget which direction you're coming from or where you're going.
But it's undeniably a gem. And if you're looking for a taste of the strong traditions that have defined this holiday over centuries, this is where you should be.
Eronga is just about 20 minutes away from Patzcuaro, where some of Mexico's most famous Dia and Noche de Muertos celebrations happen each November. That's how I stumbled upon it last year: I was aiming for an Airbnb in Patzcuaro or on the island of Janitizio—a major source of inspiration for the movie Coco—and everything was booked up. The closest place I could find was in a town I couldn't pronounce, and I went for it on a hunch that it would all work out.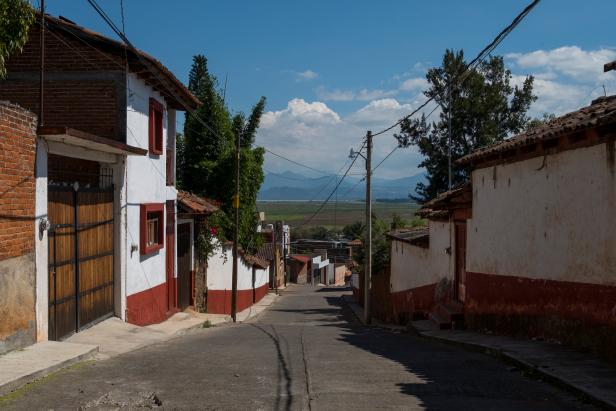 This is Erongarícuaro, Mexico, the Tiny Town You Have to Visit
Erongarícuaro may seem like it's in the middle of nowhere, but it is absolutely worth visiting. This small town has gorgeous mountain views and intimate Día de los Muertos celebrations where you won't get lost in massive crowds of tourists.
I spent most of the day leading up to Noche de Muertos, Nov. 1, wandering around the town, watching people create beautiful displays with flower petals and tidy up their loved ones' graves. It was beautiful chaos—headstones had no order to them, and it was impossible to walk in a straight line anywhere without stepping on a grave. Families and individuals sprinkled marigold petals, laid flowers and lit candles, and they weeded, pruned and planted.
I had planned to take a combi, or a shared taxi, that night to Patzcuaro, then a ferry to Janitzio for indigenous dancing, music and a glimpse into the famed cemetery there. But when dusk fell, I had no desire to leave Eronga. Instead of battling the throngs of tourists I found in Patzcuaro and Janitzio the next day, with an intrinsically touristy vibe, I felt like I was experiencing an intensely local celebration.
I approached the cemetery with a bit of hesitation, worrying that I may be intruding on a somber affair. But I heard no crying, and I saw no tears. People laughed, sang, played instruments and lit up the night with floodlights, bonfires and candles. A local news crew interviewed families, and kids, dressed as their ancestors and faces painted like skulls, zoomed around trick-or-treating with tiny plastic pumpkins.
Celebrations aside, Eronga still offers some of the best of what you can find in this region. The mountain views are gorgeous and full of indigenous history: a few miles from Eronga, a small section of forest hides scores of ancient petroglyphs. (Don't try to find them on your own—to get there, you need to cross farmland and weave in and out of private land owned by the Purepecha. Ask around in town to hire a local guide to take you there.) Combis run frequently between Eronga and all the other towns in the area, costing just a few pesos a ride, so you can explore even smaller, more intimate celebrations on your way between here and Patzcuaro.
If you go: You've got two major options to get to Eronga. The first, to fly into Morelia and either rent a car or take a combination of buses and taxis, is faster but more expensive. The second, to fly into Mexico City and take a bus to Patzcuaro and then a taxi or combi to Eronga, is much cheaper and also takes considerably more time. Taxis abound, but combis, or collectivo taxis act as mini-buses and travel from town to town. Stripes on each car indicate their route, so be sure to double-check where it's going before you hop on; they don't all go to the same places.
Towns around Patzcuaro book up quickly surrounding Dia de Muertos, so expect scarcity and higher prices as it gets closer to the holiday. There are only a couple of restaurants in town, but during the days surrounding the holiday, there are ample food stalls and carts that make the best tacos and quesadillas you'll ever eat, and they're pretty cheap—sometimes as cheap as 50 cents apiece. To avoid drinking bottled water, bring a filter for peace of mind. Cash is king here, but don't worry if you'd prefer to travel without it—there's an ATM conveniently located at the police station.
Nick Cote
Be sure to at least visit Pátzcuaro if you are going to stay in Eronga. Taking a boat across Lake Pátzcuaro to Janitzio, especially at dusk, can be a surreal experience