What to Do on Chicago's Lake Shore Drive
Lake Shore Drive in Chicago is a beautiful extended stretch of urban parkway in America. The best way to experience it is by driving south to north; here's where to stop on the way.
Lake Shore Drive in Chicago is the prettiest extended stretch of urban parkway in America. It's bordered for most of its 15-plus miles by green space, beaches and Lake Michigan on the east and by a mix of parkland, skyscrapers and luxury apartments on the west. This expressway-with-some-stoplights is where Chicagoans bring new visitors who, until they get here, imagine the city as just another old, gray, concrete-and-steel metropolis in the Midwest. The best way to experience Lake Shore Drive is by driving south to north.
The Lakefront Trail gets a little congested, especially on good-weather weekends, when bikers compete for space with joggers, walkers, pram pushers, skaters and gawkers. But the view makes it all worth it. The paved pathway hugs the Lake Michigan shoreline (in Chicago, the lake is always east), and for the strong of leg and flat of stomach, there's no better way to enjoy the route. Rather than fight it, just go with the flow.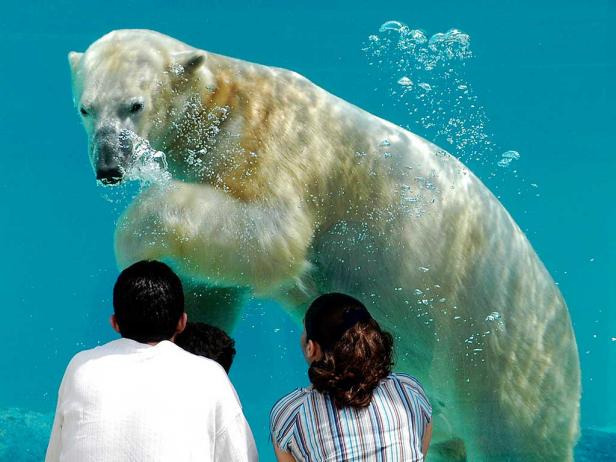 Chicago's Lincoln Park Zoo
Some things in life really are free, and you can enjoy them any day of the year at the Lincoln Park Zoo. One of the last free-admission zoos in America, the 35-acre grounds are home to 1,200 animals, representing 230 species. Among them is this 1,700-pound polar bear, getting up close and personal with some visitors.
Situated on both sides of Lake Shore Drive from North Avenue almost to the north end of the road, Lincoln Park features 1,200 acres, which are home to the Lincoln Park Zoo, beaches, a golf course, soccer fields, bird sanctuaries, a nature museum, picnic grounds, boat harbors and a tomb from 1857, a silent reminder that some of the park was a cemetery. Also within the park is North Pond, one of the city's most honored restaurants.
The Museum of Science and Industry
Near the southern extreme of Lake Shore Drive is Jackson Park, home to the 1893 World's Columbian Exposition and its most famous remnant, the Museum of Science and Industry. Explore a German sub, descend into a coal mine, watch chicks peck out of eggshells, gaze in wonder at the model railroad you still wish you had, and then catch a movie at the Omnimax theater.
The outer structure of Soldier Field, with its landmark colonnades, dates to 1924; American boxer Jack Dempsey lost to Gene Tunney here in 1927, when the place held 100,000-plus in various degrees of discomfort. In 2003, with the NFL's Bears as its primary tenant, a new bowl opened within the old walls, drawing praise from patrons and gasps from architecture critics. (One decried, It's "like the Starship Enterprise crash-landed atop the Parthenon!"). If you want to add your educated opinion — and peek into a locker room — take a tour.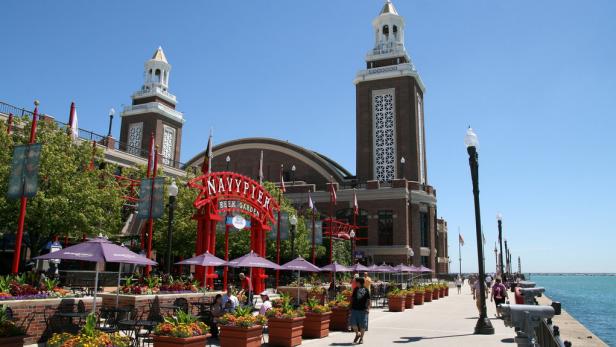 Local Delicacies
Parents: Chicago-style Vienna hot dog with everything (yellow mustard bright green pickle relish chopped onions sliced tomatoes tiny sport peppers and a dill pickle spear on a steamed poppy seed bun topped with celery salt) at LandShark Beer Garden.

Kids: Corn dog (a delicacy invented in downstate Springfield IL) with or without mustard at LandShark Beer Garden.
It's been a port, a warehouse and a University of Illinois campus, and part of it is still a children's museum. For most visitors today, Navy Pier is a promenade with restaurants, theaters (live and IMAX), tour boats and land-based rides, one of them visible from Lake Shore Drive: a Ferris wheel that's an homage to the world's first, created for the 1893 fair.
Lake Shore Drive was reconfigured in 1998 to create a sort of island home for 3 long-established venues: the Field Museum, Adler Planetarium and Shedd Aquarium. The aquarium, with its dolphin and whale shows, has become Chicago's most-visited cultural institution. The Field Museum's big draw is Sue, a monster, skeletal T. rex; also there are the storied Tsavo lions of Kenya, which once stuffed themselves with humans but are now stuffed themselves. The planetarium has the usual sky shows — but because of where it is, it also offers perhaps the best free view of the Chicago skyline. Combo passes are a deal.
From mid-October into April, this fountain serves as just a monumental, dry birdbath. But the rest of the year, it's a magnificent bubbly thing with a central water plume that rises 150 feet into the air, wind conditions permitting. At night, colored lights delight everybody and provide the quintessential, obligatory Chicago postcard since 1927. Locals are satisfied that slow traffic on this stretch of the drive gives them a chance to refresh their sense of wonder.
From Oak Street north to Fullerton Avenue, most beaches can be seen from Lake Shore Drive. Oak Street Beach, because of its proximity to high-end Michigan Avenue and the Gold Coast residential district, is considered prime ogling territory. North Avenue Beach lures a cross section of the city. Volleyball players congregate up at Fullerton Beach, which — being near Lincoln Park Zoo — is the most family-friendly.
MORE: Things to Do in the Windy City