Your Guide to Munich's Oktoberfest
Join the 6 million visitors who head to Munich, Germany, each fall for beers and brats at the classic Bavarian Oktoberfest.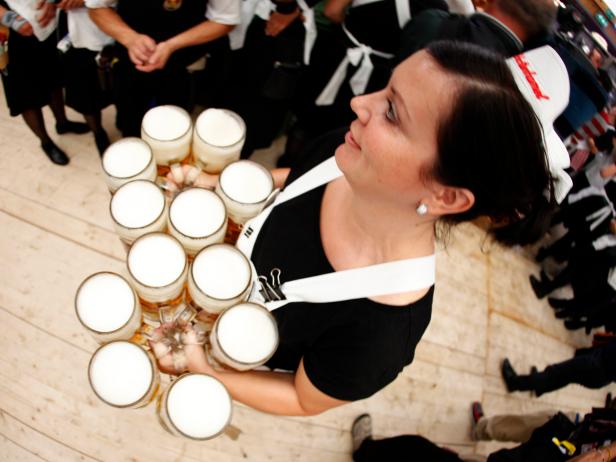 GERMANY/
A waitress serves beers during the opening ceremony of the Oktoberfest in Munich September 19, 2009. Millions of beer drinkers from around the world will come to the Bavarian capital Munich for the world's biggest and most famous beer festival, the Oktoberfest. The 176th Oktoberfest lasts from September 19 until October 5. REUTERS/Pawel Kopczynski (GERMANY SOCIETY ENTERTAINMENT)
Oktoberfest is a beloved annual tradition in Munich, Germany, dating back to 1810, when Bavarians celebrated Crown Prince Ludwig's marriage with outdoor festivities. The party was a success and has continued every year, growing along the way to become a multi-day affair attended by nearly 6 million visitors from Bavaria and beyond, who come for the beer, music and festive atmosphere.
Each year, millions of visitors take over Munich for Oktoberfest from mid-September through early October. The festival rollicks on for 16 to 18 days, depending on the calendar year, with singing, dancing and plenty of beer. Oktoberfest — or the Wiesn, as it's known by locals — takes place in Theresienwiese, a series of large fields filled with 14 beer tents, carnival rides, and smaller food and beer stalls teeming with guests each day from 10 a.m. to midnight.
Local hotel websites list the dates for Oktoberfest for the next 10 years — a helpful reminder to book your room as early as possible. Many festival attendees make reservations a full year in advance for the best rates and locations. Some hotels, though, impose a blackout on reservations beyond a specific date; after that, they offer all Oktoberfest reservations on a first-come, first-served basis.
The Hotel Seibel is an affordable choice with views of the nearby Oktoberfest. Rooms range from singles to quads, each with its own bathroom. Fill your plate at the included breakfast buffet in preparation for a long day of drinking.
The Hotel Uhland is another affordable choice directly in the center of the Oktoberfest action. Multi-bed rooms and group-friendly apartments can accommodate your whole entourage, if you can score a reservation early enough. Because the hotel fills up so quickly for the event, you need to make reservations and pay in advance by bank draft or cashier's check (in euros), and there's a three-night minimum on the weekends during the festivities.
Sleep tight without dipping too far into your beer fund by bunking with other revelers in more basic accommodations at any of Munich's nearby hostels. The Hotel Meininger in the city center has singles, doubles and dorm rooms less than half a mile from the festival grounds, while Wombat's has a modern style and private bathrooms in each room. If you're willing to brave the elements, camp out with fellow festivalgoers at the Tent, where your options include a thin mat on the floor or bunk beds with friendly but sparse surroundings. However, Munich's weather can be unpredictable in September, so pack warm clothes if you're sleeping in the great outdoors.
Drinking the tasty brews is Oktoberfest's main event, and with 14 beer tents and six types of beers, it's simple to partake in the fun. The tents are open from 9 a.m. to 10:30 p.m. on weekends, and you're sure to find a crew of jolly beer-swigging revelers jostling for space at a picnic table any time of day. It's a good idea to reserve a table ahead of time, especially for groups larger than five, because you must be seated to be served. And tip your servers well, as that guarantees that you'll see your server often for refills during your time in the tent.
Each of the beer tents has its own personality and charm, drawing distinct clientele for the beer, music and scene. The Hofbrau Festzelt, which is related to Munich's long-standing Hofbrauhaus, is the largest and most popular tent, with a capacity that nears 10,000, including seating inside, on the balcony and outdoors, as well as the standing-room-only space in front of the band. The Hacker-Festhalle features traditional bands playing on a revolving stage and paintings depicting classic Bavarian scenery. Hoist a Spaten at the Schottenhamel, the oldest tent, where the mayor of Munich taps the first keg of beer to kick off the festival.
While the festival certainly revolves around beer, there are many other Oktoberfest traditions to enjoy, too. Dance to the music, including traditional oompah bands and more modern American tunes, at the different beer tents.
Oktoberfest is also famous for its parades. The Grand Entry of Oktoberfest Landlords and Breweries is the official launch of the event, with a parade of carriages carrying the brewery owners, the waitresses and the bands that will be performing in the tents. The larger Oktoberfest Costume and Riflemen's Parade kicks off on the first Sunday of the festival. With decorative flair and plenty of costumes, the parade harks back to the early days of Oktoberfest, with elaborate floats, carriages, animals, dancers and more covering more than 4 miles through the center of the city. Family-friendly fun can be found among the carnival rides, including a giant Ferris wheel that offers stellar views of Munich.
You'll want to fill your belly with plenty of German delicacies to soak up all that heavy beer. Put down your 1-liter stein and sample the goods. Pork is the most popular item all around, with roast pork (schweinsbraten), pork knuckles (haxen) and sausages galore, often served alongside sauerkraut.
Most of the beer tents serve the classic main dishes, with plenty of sausage and roast chicken, as well as snacks including pretzels, potato pancakes and potato dumplings. For more unusual dishes, head to the Ochsenbraterei tent, where the star ingredient is ox meat roasted on an enormous revolving rotisserie and served in a variety of entrees, including Bavarian ox roast with red-wine sauce and potatoes or a fillet of ox fried and served with pepper sauce and veggies. The Fischer Vroni tent draws in guests with its smoked mackerel and fish dishes, which are prepared on large open grills.
If you miss the festival, enjoy some offseason Oktoberfest fun at the sprawling Hofbrauhaus, Munich's historic beer hall and outdoor beer garden, which is known for large steins of brew and jolly crowds.