Postcard From Sturgis Motorcycle Rally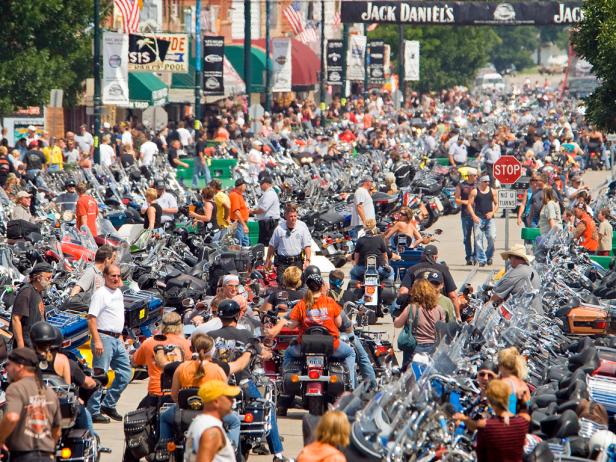 Sturgis Main Street
Welcome to "ground zero" -- the hub of activity during bike week. Sturgis may be named after a 19th-century military officer (Samuel Sturgis) but its claim to fame is the annual bike rally. Every year, the small city of 6,700 people sees huge crowds -- last year's rally attracted 416,727 people. Here, a shot of Main Street during rally week.
Photography by Don Wildman

As host of Travel Channel series "Mysteries at the Museum," "Monumental Mysteries" and "Greatest Mysteries," Don Wildman's journey is full of surprises and adventure. Don's latest journey landed him in South Dakota for the 74th Annual Sturgis Motorcycle Rally.

I Went To: This past June, months before the actual event, we traveled to South Dakota for Greatest Mysteries: Sturgis to explore the history of this iconic motorcycle gathering and to tell some cool stories about bikes. I must confess, I knew very little about Sturgis before I arrived. Also, in my whole lengthy lifetime, I had only ever ridden dirt bikes (I know, the shame). Unsurprisingly, there's a large pool of motorcycle knowledge in Sturgis and we dropped ourselves into the deep end. After covering this amazing story, I wanted to see the rally in action with my own eyes.

I Went With: I arrived alone but was soon in the faithful company of my new friends at Sturgis Indian dealership who had encouraged me to attend. I'm sold on their fabulous bikes and we were talking about me riding off into my own sunset on the back of a Vintage Classic. They're just kind of delicious, these things. When we did the show, I rode one around the streets of Sturgis (got my license a few weeks before) and thoroughly bonded to the machine. Like, "get off the bike, Don, we have a show to shoot."

Best Way to Come: Depends on what you mean by "best." If you ask your average Sturgis attendee, it's riding into town from afar on the back of your own honest hawg. According to unofficial polls, though, more and more prefer the comfortable option of towing their rides behind RVs and trucks, parking at the local hotel/campsite and then embarking for the rally. Of course, some do like me and fly into the nearest major airport, Rapid City Regional, located an hour southeast of Sturgis. And then I rented a car. Yeah.

Best Place to Stay: You could do your research and find a lawn in town to pitch your tent upon -- or (embarrassing theme of this account) you can stay where I did in nearby Deadwood. Deadwood's a lot of fun -- tons of Gold Rush history and lots of slot machines to choose from. I don't want to brag but I won $544 at one machine -- which took me a whole 3 hours to lose. Fun!

Best Place to Eat: Well, it's mostly bar food you'll be feasting on in town. Fine dining is not really the point of the rally. But I recommend The Knuckle Saloon for a good honest meal, a lot of friendly faces and its own stage. You'll find this all over town but these folks were especially nice so I'm sending you there.

Don't Forget to Pack: Your patched and torn denim jacket? Your leather chaps? Ladies, a pair of pasties? No? Well, it's August, it's super casual and it's really hot. If you're not in your full-on biker gear, then wear shorts and flip-flops. Or, gals, bring a bikini -- you won't look out of place. Guys? No Speedos, really. Trouble could find you fast.

I Wish I Hadn't: Taken pictures of the bikini'd gals at the Bike Wash. Little did they know I was working (no, really!). It's more than a bit of a scene around town with bartender girls and biker chicks working and walking in scanty outfits, but the understanding is "look don't touch" and hey loser, don't take pictures either. Point taken. Sorry, girls, my bad. (Fortunately, security empathized)

Don't miss: There's a lot going on. The population of Sturgis goes from 6,600 to 500,000 during the rally. Those people aren't just sitting on their… bikes. There are concerts, contests, races, rides and more. But don't take my word for it.

Do not miss the fabulous history of the motorcycle as told at the Sturgis Motorcycle Museum -- some real beauties in there.

Finally, this: Do a little research about what's new and exciting in the motorcycle brands, particularly with Harleys and Indians. With a motorcycle license, you can test drive till the hogs come home -- I mean, cows.

Next Time I Will: Truly ride in, actually dress the part and get a Sturgis tattoo in some private place. My wife will just have to understand, at least for a week in August, at least in a small town in South Dakota, a man needs to be a man.