5 Ways You Can See Dragon Con for Free
Take Dragon Con for a test drive with these budget-friendly excursions.
If you know, you know. Myself and thousands of other comic book fans, gamers and pop culture addicts have been preparing for Dragon Con – a five-day, multigenre convention that draws 85,000 people to Atlanta, Georgia, every Labor Day weekend – since last year's con ended.
But if you're still on the fence, you can still participate without committing to the full madness. And without spending a dime.
Perhaps the easiest way to experience Dragon Con is by putting on your most dependable pair of shoes and walking it. The convention takes place in five hotels in downtown Atlanta, and though access to the hotels is restricted to those with badges, there's nothing stopping you from wandering the streets and area parks (we recommend Centennial Olympic Park for scenic views of the Ferris wheel). Stay alert: Impromptu dance parties and sidewalk lightsaber battles can and will occur.
You might want to set your alarm for this one. Saturday, Sept. 1 at 10 a.m., thousands will flock to the annual Dragon Con Parade. The parade route stretches about a mile south down Peachtree Street, starting at Linden Ave. and ending at the Atlanta Marriott Marquis. The whole city is invited to the free event, so get there early to get a good spot.
Atlanta's many fine restaurants won't be left out. Make a reservation, grab an open seat at the bar or dance the night away while you wait for a table (we're looking at you, Tin Lizzy's). Expect to see everyone from the guests to the servers in costume. Trust us, there's nothing quite like the experience of Wonder Woman shaking up your margarita.
For primo people-watching head to Peachtree Center, a 2.3 million square foot mixed-use development in the heart of downtown. Do some shopping alongside hordes of White Walkers or grab lunch in the food court – we bet if you ask nicely Batman will let you sit next to him.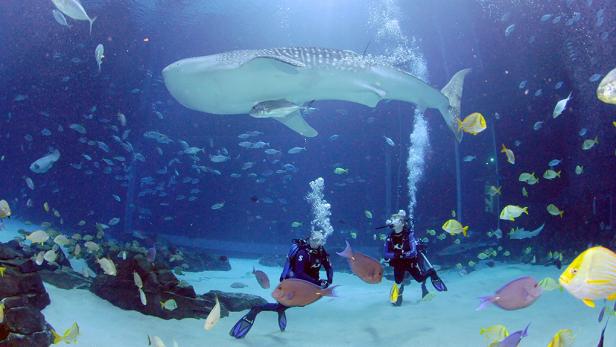 Georgia Aquarium
Dive inside the Georgia Aquarium and discover more than 10 million gallons of water, where tens of thousands of animals — including 500 species from around the world — call home. Get up-close and personal with whale sharks, beluga whales, penguins, dolphins, sea otters and other marine life.
Put on your best Poseidon costume. Every year, Georgia Aquarium open its doors to Dragon Con attendees, and you can get in on the fun without a badge. This one isn't free, but it's a great value for what you get: after-hours admission to one of the world's largest aquariums and all its exhibits, an official costume contest plus the chance to mingle over food and drinks. It's the perfect bite of Dragon Con. Oh, and did we mention Georgia Aquarium just got a puffin exhibit?
The deep sea adventure starts Saturday, Sept. 1 from 7–11 p.m. Buy your tickets now before they sell out!
If you fall in love with the pop culture fest, you can pre-order your Dragon Con membership for next summer on site this weekend. Or if you can't wait that long, single-day tickets are available for each day of the fest at the Sheraton.