5 Free (or Almost-Free) Travel Souvenirs
Plus, creative ways to display them in your home.
I've never been much of a souvenir collector — I typically like to reserve my travel budget for tours, meals and other experiences. I do, however, save small mementos from my trips, like ticket stubs and postcards. That's about where it ends though: I save them, but I don't do anything with them. With a little creativity, these free (or almost-free) souvenirs don't have to sit in dusty boxes in the back of the closet; they can be displayed proudly in your home just like any purchased trinket. So, gather up your old travel keepsakes, and get inspired by these budget-friendly ways to bring your travels into your decor.

If you own a smartphone, you have a high-quality camera in your pocket or purse at all times. Turning your favorite travel photos into artwork is quite affordable: Companies like Shutterfly and Snapfish start at 25 cents or less each for 4" x 4" prints (the perfect size for your Instagram photos). Buy some inexpensive frames from a big-box store to create a gallery wall, or make a cool photo display, like this DIY string art world map. Watch the video above to see how it's done.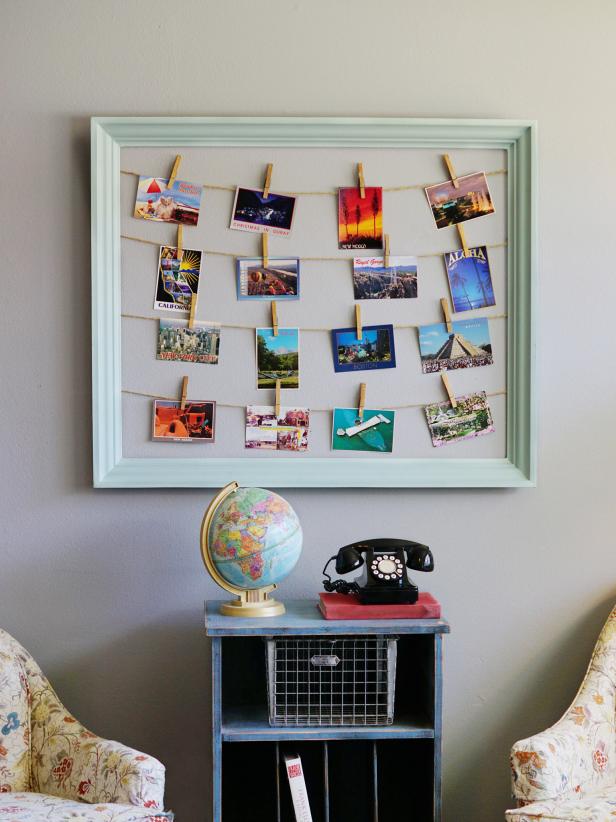 Colorful Postcard Display
Why incorporate souvenirs into your decor? "The memories attached to an item are important," says Jennifer McMurray of The Bachelorette Pad Flip. "So why pack those away when you get home? I think one should relive those fun memories as much as possible!" Here, colorful postcards are clipped with clothespins along twine that's tacked inside a salvaged frame. The result is a bright, versatile display that can be quickly changed up in minutes. Plus, during the holidays, it's a great way to display Christmas cards, McMurray says.
Postcards are a super inexpensive keepsake that you can pick up just about anywhere, and they look great when grouped together on a wall. Take a cue from Jennifer McMurray of The Bachelorette Pad Flip, who tacked twine inside a salvaged frame and clipped on colorful postcards with clothespins. This display is ideal if you're a frequent traveler, since it's easy to rearrange as your postcard collection grows.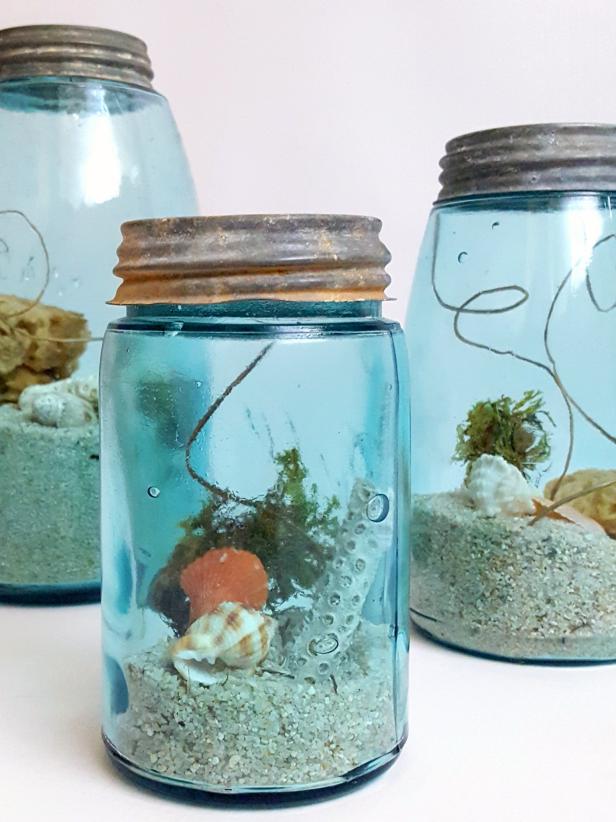 Mason Jars Filled With Beach Souvenirs
"All of these beach treasures came from the shorelines of southwest Florida, Sanibel and Captiva," says Sarah Ramberg of Sadie Seasongoods. "Beach treasures are some of the best souvenirs, as long as the shell is empty! They're gorgeous, free and can be easily incorporated into home decor in any number of ways." After collecting her beachy finds, Ramberg enjoyed hunting down the antique aqua Mason jars to display them. She points out the bubbles captured in the old glass, a fun detail that adds to the underwater appeal.
If you collect sand or seashells on beach trips, there are lots of ways to incorporate them into your decor. Sarah Ramberg of Sadie Seasongoods displayed her coastal treasures in antique aqua Mason jars. The bubbles in the old glass add to the oceanic vibe.
Feeling crafty? Transform your shells into a nautical-inspired necklace holder. Just spray paint them metallic gold and use heavy-duty craft glue to attach them to a piece of wood. Watch the video above for more shell projects.

I have a massive collection of tickets stubs from concerts, plays, museums and more just waiting to be displayed. On my decorating to-do list: A DIY collage of all my tickets. I love this project from our friends at DIY Network, which uses decoupage glue and inexpensive letters from the craft store.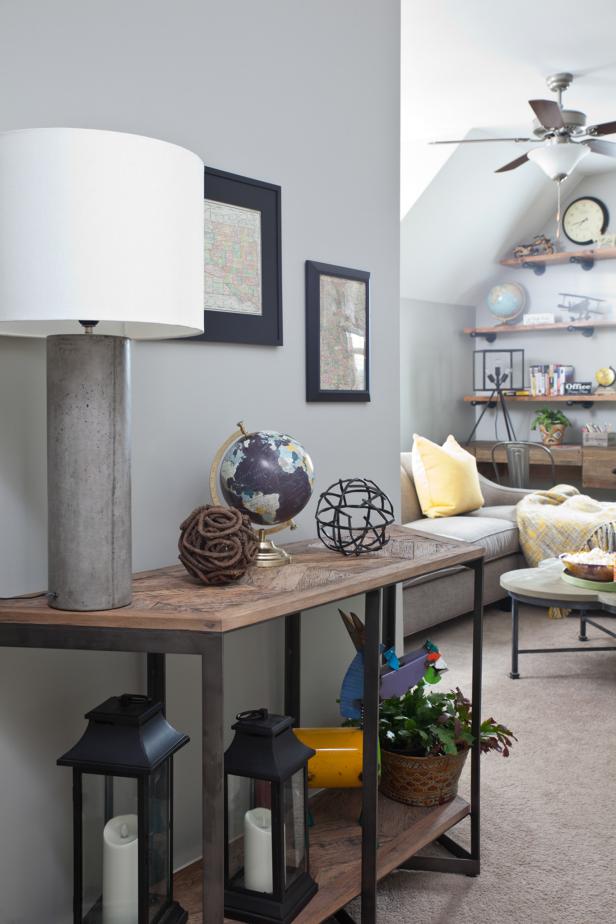 Transitional Living Space with Framed Maps
Designer Robin LaMonte loves bringing travel items into rooms, and it doesn't have to be a souvenir you picked up on vacation. Instead, buy an atlas (you can find used ones at flea markets) and cut out the states where you vacationed or where you have family, and put them in simple black frames.
After your trip is over, don't discard your trusty maps — hang them on the wall as art instead, and fondly remember your adventures every time you see them. If you don't use paper maps when you travel, you can buy a cheap atlas at a flea market or used bookstore after your trip, then frame the pages showing the places you've vacationed (as designer Robin LaMonte did here).
If you don't mind cutting them up, you can also upcycle maps in a variety of fun ways. Watch the video above for a few of our favorite ideas.
Quality gear isn't (just) about looking good — it's about safety and comfort. But sometimes, the price tag isn't so comforting. Here's how savvy shoppers get the good stuff.