Arboretums and Botanical Gardens That Go All-Out for Halloween
Pack up the family and explore these nature-loving landscapes that put on a big show every autumn.
Even if you live in a big city, you can still get a taste for autumn colors and Halloween festivities without straying too far from home. Take a peek at these urban arboretums and gardens that get all decked out for fall.
As far as pumpkin displays go, the Dallas Arboretum and Botanical Gardens is very hard to top. A 50-member horticulture team uses over 90,000 gourds in their elaborate pumpkin village. Throughout the fall event, the Arboretum also offers a variety of activities including weekly concerts, Zumba classes, photography workshops and more. If you get hungry or thirsty after seeing all those pumpkins, the Arboretum serves an elegant high tea in the garden or for a more casual meal, wander over to the beer garden for a pint and traditional German cuisine.
The Denver Botanical Gardens has a variety of fall events to celebrate the season. It starts with a fall plant and bulb sale in late September. In mid-October starts there is an exhibit celebrating Dia de los Muertos (Day of the Dead) and iconic female skeleton known as La Catrina. Also, starting in mid-October, you can take a walk through the Garden's luminaria-lined pathways that are filled with larger-than-life pumpkin displays. Live music, free face painting, costume contest, scavenger hunt, evening ghost stories, corn maze, pumpkin patch and LED circus performers are all part of the festival. If you're more about nature, there's a bat encounter where you can see some of the rarest bats in the world, up-close and personal. On the Saturday after Halloween, the Botanical Gardens puts on a colorful Day of the Dead festival where traditional Dia de los Muertos costumes are highly encouraged.
The Montreal Botanical Gardens celebrates the fall season in a big way. The main greenhouse is where the Great Pumpkin Ball is held. The good witch Esmeralda – she's also an urban farmer – invites you to see the roughly 800 squashes and pumpkins decorated by students and visitors. Learn all about gourds at the Squash Kiosk – little ones, fat ones, round or warty ones – each squash has a story to tell. The Little Monsters Courtyard, a Halloween-themed playground is a great place for the under-10 age group to run around. During the fall the Garden pathways are lit up every evening featuring three cultural gardens, each looking at nature from a different perspective.
If you're heading to Vegas this fall, swing by the Bellagio and take a stroll through their Conservatory & Botanical Gardens. It is free and open 24/7, so you can easily work it into your schedule even if you plan on pulling some all-nighters. The Conservatory is filled with elegant fountains, thousands of fresh fragrant flowers, lively scarecrows, a talking tree (seriously), gigantic pumpkins and more.
The Chicago Botanical Gardens is a hosting their Night of 1,000 Jack O'Lanterns. The garden pathways are lined with more than 1,000 hand-carved pumpkins, some as large as 150 pounds. The gourds are professionally carved by the New York-based company Rise of the Jack O'Lanterns. Some of the artists can spend up to 15 hours sculpting a single pumpkin. Visitors to the garden can watch live carving, see ghostly trains in the model railroad garden or enjoy a hot cider or cold beer at one of their cafes. The Gardens also holds other events throughout the fall including a spooky pooch parade, a fall bulb festival, trick or treating and a seasonal beer tasting.
Every year the Morris Arboretum holds a scarecrow design contest. The frame, straw, burlap and twine are all provided; contestants bring everything else including their creativity. The scarecrows will be on display along the Arboretum's pathways for more than four weeks. Visitors are allowed to vote for their favorite scarecrow; the top five winners will be awarded prizes.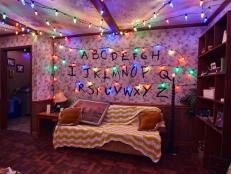 Visit the freaky Stranger Things maze at Universal Studios' annual Halloween Horror Nights, if you dare.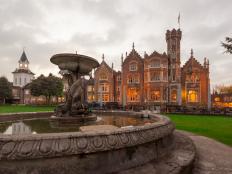 Stay at Windsor's posh Oakley Court Hotel—seen in scores of horror movies and the cult classic The Rocky Horror Picture Show—if you dare.