Where to Travel in October
Celebrate fall with a great October vacation.
Celebrate fall with a great vacation featuring some of our favorite October events like spooky Halloween activities and leaf-peeping excursions.
Join the 6 million visitors who head to Munich each fall for beers and brats at the classic Bavarian Oktoberfest. Our Oktoberfest travel guide gives you the scoop on the best biergartens, culture and fun during the multiday, beer-fueled festival.
Hit the road for some serious fall foliage on a road trip through New England. Mother Nature's autumn show kicks off at the Canadian border and makes its first appearance in the northern states like Maine, New Hampshire and Vermont in early September. As the month progresses, the colors move south where the final colors fade away in early to mid-November.
Starting with a mere 13 balloons in 1972, the Albuquerque International Balloon Fiesta has grown into the largest balloon event in the world. Held each year during the first week of October, visitors flock to photograph the hundreds of balloons and over 1,000 pilots from 28 different countries.
Take advantage of the crisp fall air, and bring along a crash pad for a bouldering adventure. Bouldering is an extreme type of rock climbing where boulderers scale extra-large boulders, starting at 10-15 feet high and "high balls" exceeding 25-feet high, relying on technique and fearlessness without any harnesses or ropes.
Best Halloween Attractions
Scare yourself silly on Halloween with a trip to one of the country's top 10 corn mazes or spookiest haunted houses. These terrifying attractions rely on thrilling technology and old-fashioned terror to instill some Halloween fear in visitors.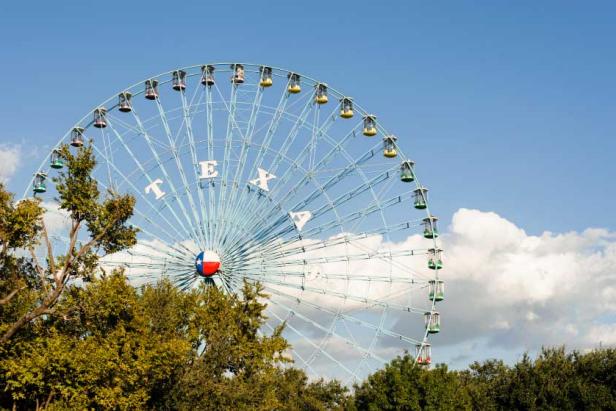 Texas State Fair
Get ready for 24 days of excitement … and lots of fried food: deep-fried Oreos, deep-fried s'mores, deep-fried pork ribs, deep-fried peanut butter… did we say "fried"? But first, hop aboard this 212-foot-high Ferris wheel, the largest in North America, at the Texas State Fair -- a tradition since 1886 that takes place every fall at Dallas' historic Fair Park.
Held in Dallas' historic Fair Park, the Texas State Fair has been a tradition since 1886. It's hard to tell whether the 212-foot-high Ferris wheel or abundance of fried food is the bigger drawl for fair-goers. On second thought, with delicacies like deep-fried Oreos and chicken-fried bacon, it's no contest.