12 Tips for Traveling With a Teenager
Make some changes in how you travel to make trekking with a teen easier and more fun.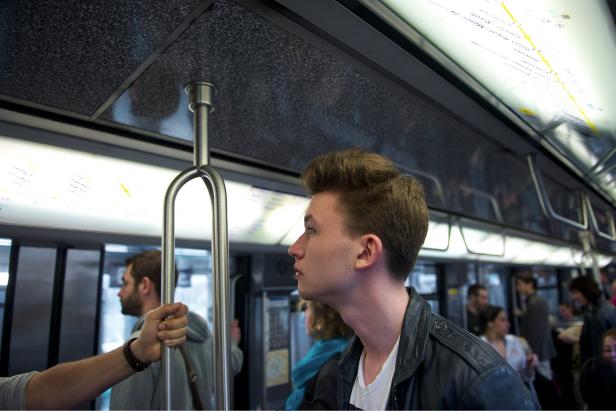 5554357
(GERMANY OUT) Stichworte: JOKER120325082953.jpg, JOKER1205733, Sprachreisen, Sprachkurse, Schule, Schulen, Schulbildung, Bildung, Bildungswesen, Schulwesen, Bildungseinrichtungen, Schueler, Lernen, Lernende, Praktikant, Praktikanten, Schulpraktikum, Schuelerpraktikant, Schuelerpraktikanten, Auslandspraktikum, Auslandsaufenthalt, Schulaustausch, Schueleraustausch, Tourist, Touristen, Besucher, Tourismus, Fremdenverkehr, Besuch, besuchen, Auslandsreise, Auslandsreisen, Jugend, Jugendliche, Jugendlicher, Teenager, junger Mensch, junge Menschen, Reise, Reisen, Europa, Frankreich, Franzoesisch, Paris, Hauptstadt, Hauptstaedte, Stadt, Staedte, Landeshauptstadt, Landeshauptstaedte, Stadtansicht, Stadtansichten, Staedteansicht, Staedteansichten, Stadtbild, Stadtbilder, Staedtebilder, Stadtportrait, Stadtportraet, Staedteportraits, Staedteportraets, Stadtreisen, Staedtereisen, U-Bahn, Nahverkehr, Metro, , , city, visit, youth, teens, School, Europe, France, French, cities, schools, learner, trainee, interns, tourism, capital, training, students, learning, tourists, visitors, education, teenagers, young man, traveling, city view, cityscape, ..., internship, cityscapes, city tours, study abroad, state capital, portrait city, student intern, foreign travel, capital cities, state capitals, urban portrait, city portraits, student interns, teaching practice, student exchanges, academic exchanges, portraits of cities, public transportation, visiting foreign travel, educational institutions (Photo by JOKER / Gudrun Petersen/ullstein bild via Getty Images)
You could say travel is in my 16-year-old son's blood. My husband and I love to travel and we live near Atlanta's Hartsfield-Jackson airport, so my son was raised going on trips with us rather than being left with relatives—also one of the perks of being an only child.
Travel opens up the world: I truly believe that exploring other cultures and seeing our commonality can cure many of the world's ills. I like to think travel has enlarged my son's outlook.

While globe-trotting with a small child has its own set of challenges—how to keep them entertained on long car rides and providing healthy snacks in-flight—I think traveling with a teenager brings up some unique issues too. There are also real advantages to journeying with a teenager. Teens are naturally curious and open to new experiences and places, often have incredibly unique interests and make great travel companions.

There's something about being in another city that makes teenagers a little more receptive, I think, to their parents' interests. So while it would be hard to drag your kid to a concert or a gallery in your hometown if they weren't interested, it can be an easier proposition when you are out of town, their defenses are down and everyone is feeling more exploratory.

I've come up with 12 tips that have helped me keep trips, whether international or domestic, fun for the entire family. Part of travel is letting go: of your plans, of your expectations, of your habits. And letting go can often mean allowing the youngest member of your group, dictate some of what the journey will be.
1: Let Them Play a Role in the Planning
One of the reasons my son loves travel so much, I believe, is the sense of freedom and autonomy it gives him. It's part of what makes traveling with a teenager so rewarding. When so many choices are made for him in our day-to-day existence back home, when we travel, he calls many of the shots. Letting them have a say in the trip planning and activities is the biggest thing I've learned from traveling with my son.
Think about what your kid is into and let them express that in planning your itinerary. If they are budding foodies, let them research and pick some great lunch or dinner spots. If they love music, let them find some record stores, concert venues or just cool kid hangouts in the city where you are going. If they love sports let them plan some stadium visits to see a local game or hang out in a pub during a particularly notable local match.
2: Let Them Be Independent
As anyone who travels knows, nothing opens your mind and sparks your curiosity and sense of adventure like journeying to a new place. Let your kids experience that same sense of discovery by allowing them to wander a little without you. If you want to see a museum or historic site, let them hang out in a local bookstore or clothing store. Or go in separate directions and have them use a map to find their way back to a central location. With cell phones it always feels a little safer and easier to allow kids to explore a city on their own.
3: Go Over Some Ground Rules
Let your kids know that things may be different where you are going, but the rules still apply. Travel can sometimes allow you to let your guard down, but they should know not to accept a drink or food or a ride with a stranger, even if they are lost. And in impoverished places or neighborhoods they need to exercise caution and respect when it comes to flaunting expensive electronics, watches, jewelry or clothing.
4: Build in Some Hang-Out Time
Teens love downtime and will rebel and become exhausted with a 24-7 must-see-it-all adult schedule. So build in some relaxation time each day, whether by scheduling an exceptionally leisurely lunch where they can text and catch up with friends, or create some chill-out time back at the hotel: they can watch a movie or text, you can run some errands or check out sites close-by.
5: Don't Make Travel Education Every Minute
Travel by nature is mind-expanding, so don't force your teenager to engage in the same daily activities you do with endless tours and museums, historical sites, etc. Most teenagers today are already overscheduled and under a great deal of academic pressure as it is without turning every trip into a "learning opportunity." If they aren't interested in seeing the Parthenon or visiting the Museum of Modern Art, that's OK. They have their entire lives to travel and won't be handicapped by a trip to Rome without visiting the Colosseum so don't be a bossy pants cruise director. Let it go.
6: Consider Letting Them Bring a Friend
While it might not be feasible for a European tour, if the family is going to a U.S. resort or on a whitewater rafting trip where the addition of one more won't be a huge expense, the amount of fun your teen will have with a friend along may very well be worth the extra cost.
7: Make Sure They Are Comfortable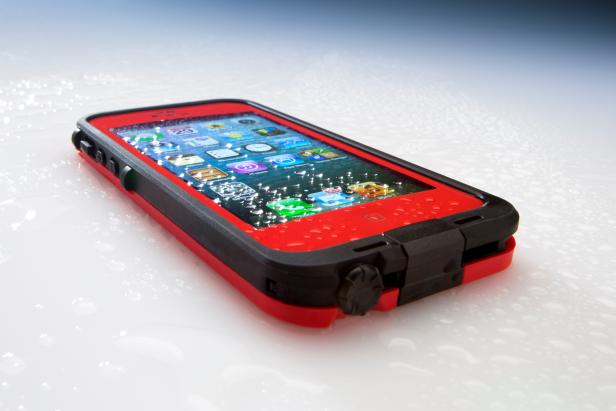 458887725
San Diego, California, United States - July 29th, 2013: This is the Apple iphone 5 in a red lifeproof case. It was photographed in the studio at a low angle and spritzed with water. Apple Inc. is the leading manufacturer in smart phones. It recently released the new IOS 7 operating system. Lifeproof caes enable the iPhone to be submersed up to 6 1/2 feet of water and protect it from falls and dirt as well.
Teens won't always tell you when their shoes are starting to feel tight or their favorite jacket needs a size upgrade so make sure and check that the shoes they will be wearing and the cold weather gear they will need still fits and will be comfortable before you leave for your trip. Nothing can drag down a first day in a new country like having to shop for a parka that fits in a pricey European city. We spend a lot of time indoors, in controlled climates and off our feet in Atlanta, so keep in mind that you will most likely be out in the elements, and on your feet to a degree not experienced back home. Tucking a scarf or a hat into your own bag for them if things turn chilly could make the difference between a miserable day and a happy one.
Teens are especially anxious to check in with friends when traveling so don't skimp on a phone and data plan for them.
As an American tourist, you are a representative of your country so kids need to be respectful of the customs of the place they are visiting. In a Muslim country, dress is generally more conservative and public displays of affection are less common. It's also a good idea to have kids (and yourself) make some effort to blend in and not stick out as an obvious tourist. Leave the brand name apparel at home, and make an effort to mimic the dress and customs of the place you are visiting.
10: Be Flexible on Timing
There are sometimes drawbacks to traveling with teens, but not many. They sleep late and I have spent many a morning jumping out of my skin with anxiety that the day was evaporating while my son slept until 10 or 11 a.m. Compromise is key. If getting the whole family up early is going to wreck your day by saddling you with a grumpy teen, consider heading out solo, or with your partner while your child(ren) sleep in. It's a great time to linger over a leisurely breakfast, take a walk in the park or get in a little shopping without a complaining teen in tow.
When necessary, you will probably have to establish some budget and space limitations. They are teenagers, after all, with a very casual relationship to money and a sometimes unrealistic sense of what they need. Give them a souvenir budget so they don't go crazy and overspend the first day. And if you have a clotheshorse on your hands, put a limit on packing too much. If you phrase it the right way—that leaving some favorite outfits at home means more space in their bag for souvenirs and fashion finds in Paris—you will help them see the advantages of strategic packing.
12: Make Correspondence Easy
No one writes letters anymore. But you can please grandparents and friends back home and make it easy on your teenager by buying them some postcards with stamps in the cities you visit. That way they can let family and friends know they are thinking about them but they won't have to spend too much time crafting compelling prose but can just dash off a line or two.
Yes, you can see Iceland's glaciers, waterfalls and volcanoes without breaking the bank.