Travel Gear to Keep Your Valuables Secure
Don't let thieves ruin your trip. Outsmart them with trendy, anti-theft travel gear.
Keep in mind: Price and stock could change after publish date, and we may make money from these links.
Leave your bag at home—these travel pants let you go hands-free when you stash your valuables from your hips to your knees. Hidden pockets on the front, back and sides, and expandable cargo pockets, are double-secured with zippers and buttons. Pearl snaps on the pants let you adjust them to capri-length. Choose from khaki, black, gray or olive. Also available for men.
Purse-snatchers love shoulder bags. They sidle up beside you, slice the strap and sprint away. Foil their plans with a cross-body messenger bag that has a slash-proof strap and panels. This roomy, classy classic also has special slots to protect your cards and passport from electronic thieves and comes with locking zippers for extra protection.
Fasten your seat belt when you're on the road or in the skies. When you're traveling, fasten a slim-profile money belt around your waist to hide your cash and valuables. This lightweight belt has a stretchy elastic band and breathable backing for comfort, so you can wear it against your skin or over your undies.
Toss a tank top in your bag when you need a versatile addition to your travel wardrobe. This one has a handy pocket for keeping cash and small belongings safe and out of sight. The unisex top is made from 95% cotton and comes in black, white or gray; the secret pocket closes with a plastic zipper that won't set off airport security alarms. Also available as a crew neck T-shirt.
This pack's got your back. A concealed zipper makes it tough for criminals to find the opening and get their sticky fingers on your stuff. Meanwhile, hidden pockets keep your wallet, phone, cards and cash within reach, so you don't have to remove the pack to get to them. Made from cut-proof, anti-sweat materials, the backpack includes a USB-charging port.
All is not necessarily lost when you fly to San Diego and your suitcase detours to the South Seas. If you pack a LugLoc device in your bag, you can download a free mobile app and track your wayward luggage via cell tower-connected technology. At present, the first 30 days of tracking are free; after that, there's a small monthly fee.
When you're aiming at the Eiffel Tower, you're focused—literally—on what's in front of your lens. Off-camera, a thief can move in, cut your camera strap and run away with the expensive Hasselblad that just cost you a year's rent. Next time, snap away while you're using a slash-resistant strap with turn-and-lock hooks for extra security.
With an amazing 42 pockets to hold your cash and other valuables, this vest makes purses and backpacks obsolete. Slide a tablet into an oversized interior pocket, and keep your smartphone in a clear pocket, so you can use its touchscreen without removing your device. RFID-blocking pockets keep credit cards safe.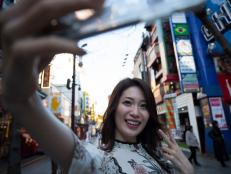 If you're worried that you'll have to spend a fortune to stay connected with family and friends back home while wandering the world, never fear. These travel hacks will keep you in the loop without draining your wallet.