Meet the Yule Lads, Iceland's Terrifying Christmas Trolls
This cast of seasonal characters (and their mother, and a man-eating cat) make Krampus look like the Elf on the Shelf.
The yuletide season is an absolute lovely time to be in Iceland: Hours of daylight are few and far between, to be sure — on the longest day of December, the country gets just five hours of sun — but locals begin to decorate as early as October. The streets are bustling, and glimmering with festivities and lights. If you're lucky, you might catch a glimpse of the aurora borealis.
Getty Images/Christian Science Monitor
Best of all: There are a whopping 13 Icelandic Santa Clauses! Well, okay, they're kind of 13 Krampuses. Perhaps we should say 13 trolls, or maybe ogres, and also a cat, and — let's start over.
This is Gryla (whose name means something similar to "growler," pictured here cooking a tourist at Keflavík Airport), a giantess who first stomped onto the scene in poetry dating back to the 13th century. Depending on the verses in which you read about her, she can have multiple heads and tails, and she often carries a sack (or multiple sacks) of naughty human children to feast upon in her remote mountain lair. She's known to cook for her husband, but she's also been known to cook her husband (the first one, Gustur, is said to have gone down her gullet centuries ago).
She also murdered her second husband, Boli, and now makes her home with Leppaludi, spouse number three — who has evaded her wrath, perhaps, by keeping a low profile (he's legendarily lazy). Gryla and Leppaludi have up to 82 mischievous offspring of their own; folklorists explain that stories of the evil pair and their descendants sprang from Icelanders' fear of scarcity over long winters and, of course, parents' interests in keeping their children in line. Terrifying tales of Gryla and her crew worked so well that in 1746, the Danish king officially banned the telling of such spine-tingling stories as a disciplinary tool.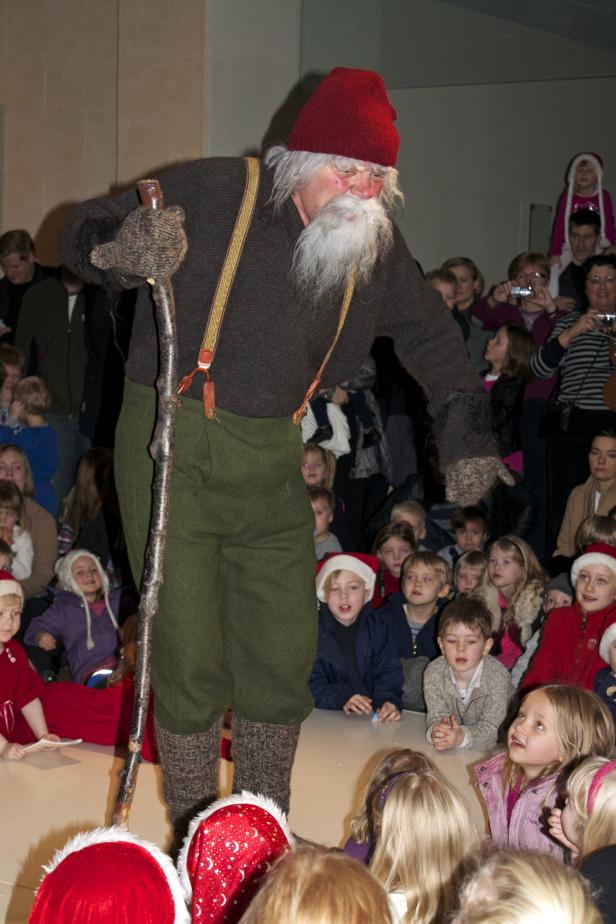 107743143
TO GO WITH AFP STORY BY AGNES VALDIMARSDOTTIRStekkjastaur, or Sheep-Cote Clod, Iceland's first Santa of 13, entertains children at the National Museum of Iceland in Reykjavik on December 13, 2010. They don't wear red, and they're not jolly: the 13 Santas who usher in Christmas in Iceland are descendants of trolls and ogres who revel in terrifying young children. A green-clad elf leads around 100 children in a loud caroling chorus as they wait with palpable fear and anticipation for the guest of honour: It is 13 days before Christmas and the first of the Yule Lads is expected. AFP PHOTO /AGNES VALDIMARSDOTTIR (Photo credit should read AGNES VALDIMARSDOTTIR/AFP via Getty Images)
By the end of the 18th century, bloodthirsty Gryla and idle Leppalaudi's troublemaking clan was considerably smaller, and a total of 13 sons were said to prowl the country. Their pranks were related to things Icelanders valued in the dark months. They pilfered food, tormented livestock and even swiped and ate candles (which seems particularly unsporting, given the whole five-hours-of-daylight thing). In 1864, Jón Árnason published a folklore collection that gave them the names (and bad habits) they have today — and collectively, they became known as the Jólasveinar, or "Yule Lads," a motley crew that begins to arrive one day (and lad) at a time on December 12. Sheep-Cote Clod (above), a stiff-kneed fellow who harasses livestock, is the first Lad in town.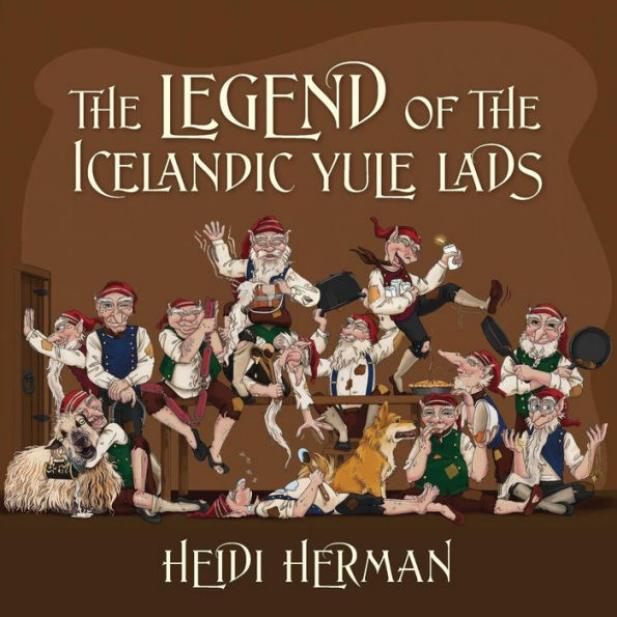 Why so calm, children? Well, the Lads benefited from 20th-century cultural PR: A well-loved 1932 poem cast them as comical figures who couldn't do serious harm. Better yet, they developed a reputation for dispensing gifts to children who set their shoes on window sills overnight. (Well-behaved children, that is; naughty ones can expect old potatoes.)
By the time December 25th rolls around, Icelandic children have 13 Santa-ish figures to entertain them, and some stick around through the end of the year (as the Lads depart one day at a time in reverse order). Not a bad deal, right? Yes and no: Gryla's bad to the bone, and remains the personification of winter's unpredictability and potential bitterness. Furthermore, Johannes ur Kotlum (the author of that delightful poem about the Lads) also wrote a poem about Gryla's feline sidekick — the Jólakötturinn, or Yule Cat, a demonic beast who devours children who don't receive new clothing for Christmas. Björk set the poem to music in 1987; "Frosty the Snowman" it is not. (Reykjavik displays a five-meter, LED-lit Yule Cat to drive that point home.)
If you find yourself in Iceland at the end of the year, give the dancing lads a wave —and pick up a few extra sweaters, just in case.