Big Bend National Park, Texas
It's easy to feel like the last person standing when you visit the desert abyss that is Big Bend National Park.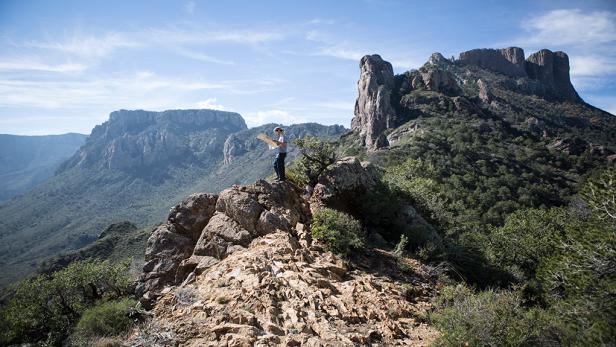 Chisos Mountains
High in the Chisos Mountains, a hiker surveys the land as he decides which trail to take. Big Bend is often referred to as "3 parks in one" because of its size and diverse environments -- mountains, desert and river.
It's easy to feel like the last person standing when you visit the desert abyss that is Big Bend National Park. So vast, quiet and wild are the park's 801,000 acres, it can be easy to ignore the life and natural activity that is at constant work in these environs. With an average yearly visitation of less than 300,000, Big Bend is one of the least visited national parks, and yet its diversity of plants, animals and geology make it one of the most fascinating.
Bordered on its southern edges by the Rio Grande River, comprised of 98% desert and dimpled with just enough mountains to keep things interesting, Big Bend is indeed a world of contrasts. In Big Bend, visitors find a geologic history that began some 300 million years ago when the area was an ocean trough, continued through the eras of tectonic collisions and mountain building to the days when a shallow sea covered the land, and resulted in the current state of desert and mountain. Big Bend was a different world back then, and fossils from these eras include a 50-foot-long crocodile and a flying reptile with a 35-foot wingspan. In fact, after the last ice age, nomadic hunters could be found chasing after the elephant, bison and camels that called this region home.
A varying climate and altitudes that range from 1,800 feet by the river to 7,800 feet in the Chisos Mountains help over 1,200 plant species and a range of animal species to thrive. More cacti (over 60 kinds), birds (at least 450 species) and reptiles (67 species -- more than the Everglades!) exist in Big Bend than in any other park. In the moister areas of the Chisos, it's even possible to find maple, aspen and Douglas firs. A closer look at the sprawling world of Big Bend will delight visitors in search of a wildly diverse adventure.
Geological History
Much of the natural landscape in Big Bend is composed of sedimentary rock formed when dust, sand, mud and animal skeletons hardened over millions of years, creating layers. The exposed rock of the park shows evidence of the Paleozoic, Mesozoic, Cenozoic and Cretaceous eras when sediment was being deposited and life beginning to thrive. Some 145 million years ago, a salty sea covered Big Bend and it was the accumulating skeletons and mud that formed the sediment layers and limestone walls of the Santa Elena and Boquilla Canyons. The Chisos Mountain Range is volcanic in nature, rising above surrounding sedimentary rock.
Park Activities
The Big Bend landscape can be easily explored by taking the Ross Maxwell Scenic Drive past overlooks, through the Chihuahuan Desert and to Santa Elena Canyon, possibly the park's most scenic point. Popular hikes include the Window Trail in the Basin Area and Boquillas Canyon Trail, which leads hikers to a canyon overlook facing the Mexican town of Boquillas. Visitors spending a few days in the park can explore some of the unpaved roads and untamed backcountry. A dip in the hot springs near Rio Grande Village by night will grant visitors unforgettable views of the great Texas sky, exploding with stars.
Where to Stay
Because of the park's remote location, it is recommended that visitors take advantage of Big Bend National Park's campgrounds. Rio Grande Village lies within Big Bend's borders along the Rio Grande, and offers 100 sites suitable for both tents and RVs. Though no food service is available at the campsite, the Rio Grande Village Store offers groceries, gas, a laundromat and coin-operated showers. Evening programs are available at the Rio Grande Village Amphitheater. Camping in Big Bend is on a first-come, first-serve basis with no reservations.
Nearby Sights/Side Trips
The Rio Grande River snakes along the border of Texas' Big Bend region, slicing canyons into the landscape bordering Big Bend National Park. Big Bend River Tours is the area's oldest river tour outfitter and offers a variety of guided rafting trips along the river satisfying multiple skill levels. From peaceful, half-day tours to an intense 21-day river excursion, guests are sure to have an unforgettable experience.