Hawaii Volcanoes National Park, Hawaii
Part national park, part tropical oasis and part geological masterpiece: any way you look at it, Hawaii Volcanoes National Park is a literal hotbed of activity.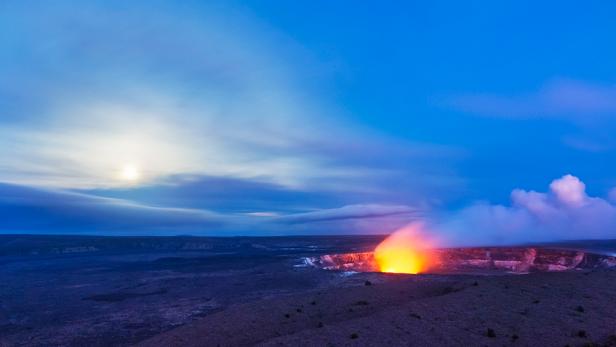 Hawaii Volcanoes National Park
Be an eyewitness to nature at its hottest by exploring the 333,000-acre Volcanoes National Park. This popular park features more than 150 miles of trails through volcanic craters, petroglyphs and a walk-in lava tube, and it is home to 2 active volcanoes: Mauna Loa and Kilauea. Often referred to as a "drive-in" volcano, Kilauea spews 250,000 to 650,000 cubic yards of lava each day.
Big Island Visitors Bureau/ Ethan Tweedie
Part national park, part tropical oasis and part geological masterpiece: any way you look at it, Hawaii Volcanoes National Park is a literal hotbed of activity. Few national parks can boast having 2 of the world's most active volcanoes spewing molten lava, and for that fiery sight alone, Hawaii Volcanoes is worth the trip! Standing in view of the fountains of flame pouring from the mouth of Mauna Loa, it is quite easy to realize that visitors are watching live-action footage of geological history in the making. With each hardened layer of lava, the Hawaiian landscape is slightly changed in a process that began so many millions of years ago and will continue millions of years from now, and visitors to this Hawaiian treasure are privy to the action.
The park is considered one of the world's most diverse biosphere reserves because of the vast numbers of plant and animal life that call the park home. As the Hawaiian chain of islands was created, it provided an environment away from the grazing predators of the mainland that proved to be a perfect breeding ground for countless species brought to the islands via birds, water, or wind. Over 100 landbirds are unique to Hawaii, as are numerous fish, plants and insects. Extreme variations in altitude (i.e., 11 miles from Mauna Loa's base to its summit) provide ideal climate conditions for a variety of landscapes - from the rich flora of rainforests to charred expanses of lava. Sadly, the integration of humans into this paradise has wreaked havoc upon the environment. As settlers such as the Polynesians and Europeans brought non-native plants and animals onto the island, the endemic creatures suffered, including the endangered nene, Hawaii's state bird.
Geological History
The islands of Hawaii were formed when magma from below the Earth's crust repeatedly erupted out of fissures on the ocean floor. As the layers of lava hardened, mountains formed and eventually rose above the surface of the ocean, and evolved into islands. The Big Island of Hawaii is the newest in the chain, and the volcanoes Kilauea and Mauna Loa are still active, continually adding land to the island with their eruptions.
Park Activities
It's not every day national park visitors get to sidestep steaming lava beds in mid-hike, but at Hawaii Volcanoes National Park, molten lava and belching volcanoes are the norm. When they're not gasping in wonder at Hawaii's delightfully lush and colorful landscape, visitors to the park have made it their business to hike at least one of 150 miles of trails like the Mauna Loa Summit Trail or Kilauea Iki Trail, which take hikers through rainforests and into a volcano crater. Exploring Crater Rim Drive by car or bicycle is another must-do activity, featuring up-close views of Sulphur Banks, Steam Vents, Jaggar Museum, Halema'uma'u Crater (home of Pele, goddess of volcanoes), Devastation Trail, Kilauea Iki Crater and Thurston Lava Tube. Speaking of lava tubes, the 20-minute walk at Nahuku (Thurston) Lava Tube takes hikers through a 350,000-year-old tunnel of lava.
Where to Stay
A cozy retreat in the heart of Volcano Village, Kilauea Lodge's 12 rooms and 2 guest cottages are an ideal respite after a day of touring the park. Many of the rooms feature fireplaces, balconies, original stained glass windows and luxurious heated towel warmers. The lodge's restaurant features a menu full of delicacies that include apricot-mustard-glazed Duck l'Orange and an Ostrich Filet with an Amarula-A-Masula-Fruit cream sauce. 
Nearby Sights/Side Trips
One of nature's finest wonders is the sprawling black sands of Punalu'u Beach. A rarity even in Hawaii's bountiful land of beaches, this black sand beach formed when the lava from Mauna Loa and Kilauea oozed into the ocean and quickly cooled, breaking into minuscule pieces that now comprise the jet black sands. Laying supine on the silken granules of this unique waterside escape is soothing for both body and mind.