National Parks in Arkansas
National Memorial, Gillet AR
Established as a French trading post in 1686 by Henri de Tonti, Arkansas Post was the first European settlement in the lower Mississippi River Valley and was a focal point of trade between the European settlers and native Quapaw tribes. Fun Fact: Arkansas Post was the original capital of Arkansas before the title was given to Little Rock in 1821. Learn more about this historic trading post >>
National River, Harrison and St. Joe, AR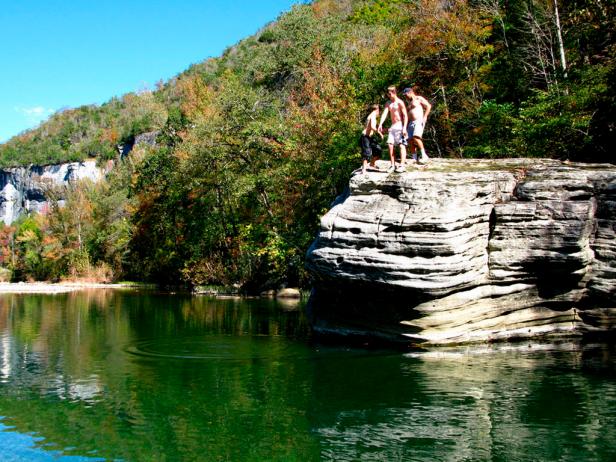 Arkansas, Buffalo National River
Flowing nonstop for 135 miles, Arkansas's Buffalo National River is one of the last undammed rivers in the lower 48 states. It was named the first National River, under the oversight of the National Park Service, in 1972. The river is popular for fishing, canoeing and camping; it's also a great place to take a summertime plunge.
A trip down the 135-mile Buffalo National River, one of the only undammed rivers in the contiguous U.S., will take you past gorgeous waterfalls, hidden caves and the towering multi-colored bluffs of the Ozark Mountains. In addition to its array of water-based activities, Buffalo also offers hiking and historic site-seeing opportunities including prehistoric sites, mining sites and historic farmsteads. Learn more about Buffalo National River >>
National Historic Site, Fort Smith, AR, OK
Established on the edge of Indian Territory in 1817, Fort Smith was an active U.S. military fort that served as a major stop along the Trail of Tears. Learn more about Fort Smith >>
National Park, Hot Springs, AR
What America's smallest National Park lacks in acreage, it makes up for in amenities. Relax and unwind in one of its historic bathhouses, stroll the scenic sidewalks of nearby downtown Hot Springs or enjoy a stay in one of the many charming bed and breakfast establishments. Plan your rejuvenating trip to Hot Springs National Park >>
Little Rock Central High School
National Historic Site, Little Rock, AR
National Military Park, Pea Ridge, AR
One of the most pivotal battles of the Civil War, Pea Ridge secured Union control of Missouri and Northern Arkansas. Today, the 4,300-acre battlefield is one of the best-preserved in the U.S. Learn more about Pea Ridge >>
President William Jefferson Clinton Birthplace Home
National Historic Site, Hope, AR
Bill Clinton, the 42nd president of the United States, spent the first four years of his life in his grandparents' home at 117 South Hervey Street in Hope, Arkansas. The 1917 home was added to The National Register of Historic Places in 1994 and subsequently restored to resemble its appearance during Clinton's occupancy. The home was damaged by fire in 2015 and is currently under repair. Check the National Park Service website for updates and details >>
National Historic Trail, AL, AR, GA, IL, KY, MO, NC, OK, TN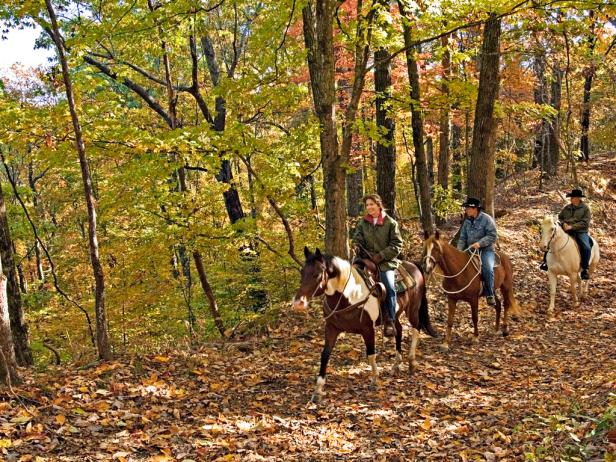 Trail of Tears National Historic Trail - Village Creek State Park
The Indian Removal Act of 1830 cast a long shadow on America. By 1837, 46,000 Native Americans had been removed from their homes in the southeastern US. Thousands died along the way from exposure to harsh winters, disease and starvation. Today, the Trail of Tears National Historic Trail runs through 9 states, including Village Creek State Park in Arkansas.
Arkansas Department of Parks and Tourism
The Indian Removal Act of 1830 forcibly removed over 100,000 American Indians from their homes in the eastern United States, relocating them to Indian Territory in present-day Oklahoma. Spanning nine states, the Trail of Tears National Historic Trail commemorates the perilous journey endured by these native peoples. Learn more about the Trail of Tears here >>