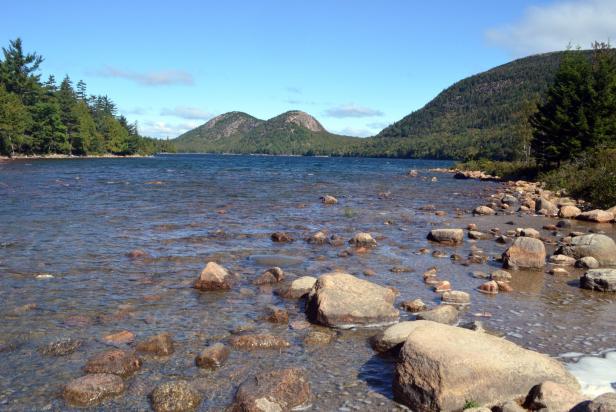 Jordan Pond and the Bubbles in Acadia National Park
As beautiful as it might seem, outdoor enthusiasts and their pets are not allowed to wade in the clear waters of Jordan Pond. Some types of boating are permitted in the pond, which sits between the Penobscot Mountain and two mountains known as the "Bubbles."
From rocky beaches to hiking trails and mountain peaks to presidential parks, Maine has it all in its national parks.
National Park, Bar Harbor, ME
National Scenic Trail, ME and CT, GA, MA, MD, NC, NH, NJ, NY, PA, TN, VA, VT, WV
International Park, Lubec, ME
In childhood and adulthood, Franklin D. Roosevelt summered on Campbobello Island with his family. His visits grew less frequent after he contracted polio, but it was still an important place to him.
Today, Roosevelt Campobello International Park serves as a memorial to FDR and a symbol of cooperation between the U.S. and Canada. Across the 2,800 acres of park land, there are eight miles of walking trails and 8.4 miles of driving roads. The landscape consists of forests, bogs, forests and beaches with picnic areas scattered throughout. Plan your visit to Roosevelt Cottage to see select rooms on display >>
International Historic Site, Calais, ME
Explore Maine with Travel Channel