National Parks in West Virginia
In the heart of Appalachia, West Virginia is ripe for adventure, with whitewater rafting, hiking and history.
In the heart of Appalachia, West Virginia is ripe for adventure, with world-class whitewater in New River Gorge and the Gauley River and hiking along a stretch of the Appalachian Trail. Coal-industry history also abounds.
National Scenic Trail, WV and CT, GA, MA, MD, ME, NC, NH, NJ, NY, PA, TN, VA, VT
Just 4 miles of the famous Appalachian Trail pass through West Virginia, but they offer an outlet to the Appalachian Trail Conservancy's headquarters in Harpers Ferry. Learn more about the Appalachian Trail >>
Chesapeake and Ohio Canal
National Historical Park, Potomac River, WV and DC, MD
Protecting 5,300 square miles and countless cultural history, the park is best enjoyed via the Coal Heritage Trail that winds through historic company towns and coalfields. Learn more >>
National Recreation Area, Summersville, WV
For true adventure, head to the Gauley, where, if you can brave class V+ rapids, you'll experience gorges and valleys like no others on the east coast. Get to know Gauley >>
National Historical Park, WV and VA, MD
This picturesque town, perfectly situated where the Potomac and Shenandoah rivers meet, has witness many seminal events in American history. Step back in time here to experience the beauty and significance of this area. Plan a visit to Harpers Ferry >>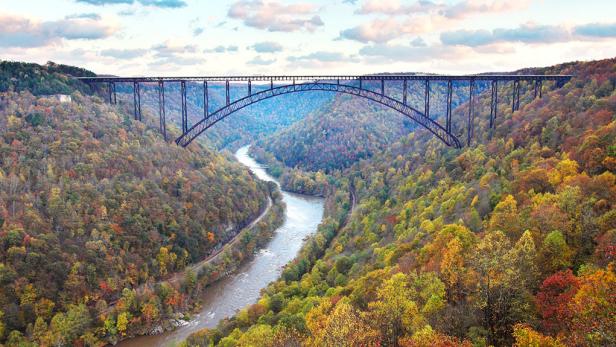 West Virginia, New River Gorge Bridge
Located in the Appalachian Mountains of West Virginia, the New River Gorge Bridge is the recognized symbol of West Virginia, and one of the most photographed landmarks in the state. At 876 feet high and 3,030 feet long, the bridge is the 4th longest steel, single-span bridge in the world. In 2013, the bridge became listed in the National Register of Historic Places by the National Park Service.
Photography by Gary Hartley/National Park Service
From whitewater and hiking to climbing and fishing, the 70,000 protected acres and 53 free-flowing river miles of this park offer plenty to do. Discover New River Gorge >>
National Heritage Area, Wheeling, WV