Blackberry Farm Announces a New Hotel Property With 360-Degree Smoky Mountain Views
Discover a brand-new retreat with unprecedented views.
For the first time in 40 years, Blackberry Farm, located in Walland, Tenn., announces a new property, Blackberry Mountain. With the creation of Blackberry Mountain, opening in late 2018, the Beall family is expanding their commitment to preserving the land surrounding the Great Smoky Mountains National Park. Uninhibited views of beautifully diverse terrain paired with a mountain-inspired wellness program are the focal points of the experience that invite guests outside to seek adventure and explore the property from base to peak.
"Breaking ground on Blackberry Mountain is the culmination of many dreams," says proprietor Mary Celeste Beall. "The ultimate goal has always been to protect the land for our community and future generations, but Sam and I also dreamed about taking all that we learned from Blackberry Farm and creating something from scratch."
Blackberry Mountain is a 5,200-acre resort property inspired by the history and beauty of the Smoky Mountains and East Tennessee. To protect the natural landscape and habitat, 2,800 acres of the property have been committed to remaining undisturbed in conservation, creating a private national park experience. A dedication to land preservation and a passion for sharing the wonders of life in the Smokies shape the Beall family vision.
Accommodations at Blackberry Mountain combine the peace and tradition of mountain life with the highest quality modern-day comforts. The property will open with six traditional-style cabins, 13 cottages and multi-bedroom homes. Every accommodation features breathtaking mountain views and style layered with modern elements and collected antiques.
A full wellness program will focus on encouraging an active and adventurous lifestyle supported by a menu of outdoor adventures, fitness classes and a modern spa. There are on-site and off-site activity opportunities including hiking, tree climbing, mountain biking, foraging, camping, rock climbing, fly fishing, paddle sports, sporting clays and horseback riding. A yoga studio, spin studio, fitness room, gym and basketball court create spaces for a wide variety of physical activity. An eight-treatment room spa will feature a holistic approach to skin and body care with treatments and products inspired by the land. An infinity-edge pool outside overlooks the incredible scenery.
Blackberry Mountain will have two restaurants on property. The Firetower is constructed around the base of the historic Millstone Gap Lookout Tower at the peak of the mountain. The Firetower provides a casual, inviting atmosphere with 360-degree views of the Smoky Mountains and East Tennessee. The restaurant in the Lodge, Three Sisters, will offer a refined take on the natural charm of the mountain. Wild, foraged ingredients will create a fine-dining experience with a distinct, memorable taste of the season. The culinary program will uphold the celebrated reputation of Blackberry Farm, reimagined to complement the style and setting of the mountain.
Rates include nightly accommodations as well as dinner and breakfast, starting with dinner on the day of arrival and ending with breakfast on the day of departure, along with all pantry snacks, pantry non-alcoholic beverages, fitness classes a and guided morning hike.
Blackberry Mountain is located just 20 minutes away from the Blackberry Farm property. Reservations can be booked now for stays beginning in late 2018.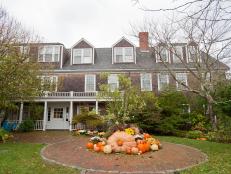 Discover Oyster.com's best places to stay to view beautiful fall foliage.