8 Outdoorsy Dogs to Inspire Your Adventures
These four-legged explorers may have stepped paw in more states than you.
If you enjoy camping and cute dogs, scrolling across photos that feature both on your Instagram feed will instantly make your day better. Camping With Dogs is an Instagram account and website dedicated to inspiring people to get outside and go camping and hiking with their best furry friends. Launched in 2015, the Instagram account now has 486,000+ followers and #campingwithdogs has been tagged more 477,000 times.
We asked a few dogs about their travels, many of whom have been featured on @campingwithdogs. (Okay, we asked their humans.) These dogs love to hike, camp, explore, swim, sleep and sniff out adventure. From a dog named Ollie who has hiked 32 of Colorado's fourteeners to a dog named Max who has accompanied his human to more than 40 states, these well-traveled pups impress us with their sense of smell for adventure.
Follow these four-legged explorers on Instagram for endless wanderlust and travel inspiration. (If you're more of a cat person, we know of a few adventure cats worth following, too).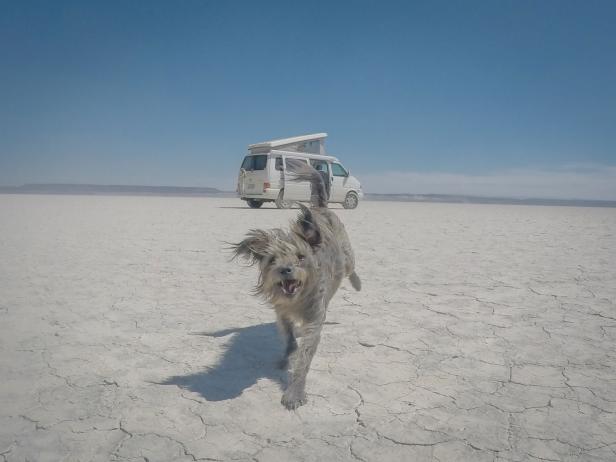 Roadtripping With Dogs: Max Playing In Alvord Desert in Oregon<br />
One thing Max loves best is wide open spaces with sand. Many times, I will seek out these types of places so he can run around and I don't have to worry about coyotes or cars. This was the case here at the Alvord Desert in Southeast Oregon.
Name: Max
Age: 9
Breed: mutt - I was rescued from a shelter.
Instagram handle: @alisontravels
Human companion: Alison Turner
States visited: about 40
Distinguishing traits and features: I'm the fluff ball, scruffy version of "The Dude" :)
Hobbies: I especially enjoy running on the beach or on sand dunes.
Favorite travel memory: Waking up in a tent in White Sands National Monument. The sunrise on the white dunes was magical. It was special to spend it with my human Alison.
Names: Rio and Baya
Ages: Rio – almost 7, Baya – 1 1/2
Breeds: Rio – chocolate lab, Baya – mix of lab, heeler and Doberman Pinscher
Instagram handle: @findmeoutside
Human companion: Elena Pressprich
States visited: We have traveled to every corner of Oregon, but not outside of the state yet! From the coast to the Alvord Desert, there's something we love about all the different environments. Mountains = snow. Desert = big, open playing fields. Beach = ocean waves and sand, perfect for running.
Distinguishing traits and features: Rio – I'm your classic lab: loving, sometimes lazy, cuddly and crazy for sticks and water. Baya – I can have an attitude sometimes and am a very independent lady, but I also need my snuggles.
Favorite hobbies: Together, we all love to ski, backpack, camp and run.
Favorite travel memory: We get so excited whenever our human Elena grabs our leashes and opens the car doors. We're happiest (and filthiest) at the beach, swimming in the ocean!
Names: Kyro and Kona
Ages: Kyro – 5, Kona – 3
Breeds: We're Australian cattle dogs, also known as blue and red heelers
Instagram handle: @pnw.heelersquad
Human companion: Leanne Darrell
States visited: Kyro – I've visited Washington. Kona – I haven't been out of British Columbia yet.
Distinguishing traits and features: Kyro – I'm loyal, loving and the world's biggest sap. Kona – I'm a free spirit and one of the funniest dogs you'll ever meet.
Favorite hobbies: Kyro – I enjoy cuddling, chasing non-existent squirrels and diving into any source of water. Kona – I like crying until I get attention and playing fetch.
Favorite travel memory: Our favorite memory is a recent backpacking trip we took this summer. We hiked to the top of a mountain in a beautiful provincial park. We spent the day exploring around our campsite and the night cuddling in our tent.
Name: Ollie
Age: 4
Instagram handle: @explorewithollie
Breed: mutt - wire-haired terrier mix
Human companion: Stephen Martin
States visited: 4 - all the states in the great Four Corners – Colorado, Utah, New Mexico and Arizona
Distinguishing traits and features: I'm an incredible mountaineer. I've hiked 32 of Colorado's fourteeners, mountain peaks that reach above 14,000 ft.
Favorite hobbies: My favorite hobbies are hiking and trail running or spending a relaxing evening by the campfire in anticipation for what adventures the next day will bring.
Favorite travel memory: My Southwest road trip with Stephen to visit the Lake Powell, the Grand Canyon and Havasupai Falls in Arizona. We do spend most of our time exploring Colorado but the change in scenery and the longer journey, just us two on the road together, is something that cannot be matched. It was in that trip that I realized how much traveling and experiencing new places with him fills my heart more than anything, and that together we create moments that I would never have just done on my own and that I know I (we) will cherish forever.
Name: Jasper
Age: 2 1/2
Breed: I'm a rescue, so I'm not entirely sure, but we think Alaskan Malamute and Golden Retriever mix.
Instagram handle: @jazz.paws
Human companion: Whitney Whitehouse
States visited: Five so far, but I plan to visit them all!
Distinguishing traits and features: I'm incredibly mellow and well-behaved. I love adventuring, but I'm also content to lounge around all day and enjoy taking naps. I'm a great listener, too. My human Whitney will point to a rock, tell me to stand on it and I will! I can always tell what she's thinking.
Favorite hobbies: I love jumping into rivers and lakes, swimming, going on hikes, camping, and if I'm being honest, sleeping!
Favorite travel memory: Whitney built a platform bed in the back of her SUV, so I love all of the road trips we take in there together. She's a great cuddler. One of my favorite trips was to Canada, where we saw some of the most beautiful landscapes and Whitney took lots of cute photos of me!
Name: Loki
Age: 3
Breed: Australian Shepherd with some Border Collie
Instagram handle: @mirandashea24
Human companion: Miranda Shea
States visited: 9
Distinguishing traits and features: Bubbly, happy, cuddly, and I'm very "vocal"
Favorite hobbies: Swimming! I love everything outdoors, but swimming is my very favorite thing to do. I also like road trips, hiking and camping.
Favorite travel memory: It was 5:30 on a crisp morning at Moraine Lake. We had driven 15 hours from Utah to Banff, Canada, with only some short stops in between and had barely slept that night. The sun was about to rise and it was absolutely silent. We both shared a few yawns and Miranda pet my back as we sat there watching the outstanding peaks reflecting off of the clear water with our very tired eyes. It was beautiful!