The Most Romantic Places in Prague
The perfect place for lovebirds young and old.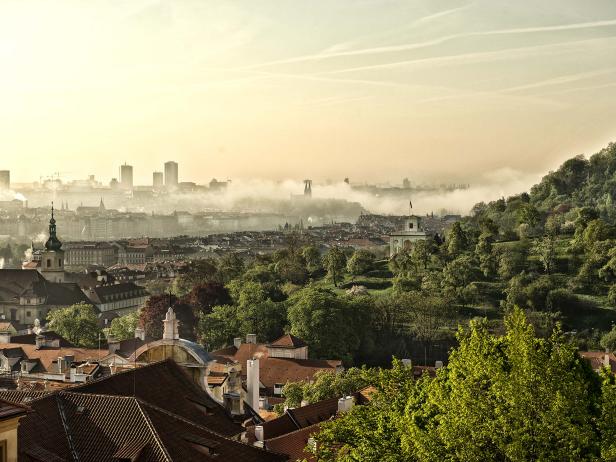 Prague at Sunset
Prague is a romantic, historic city, one that escaped much of the destruction that occurred during World Wars I and II. Book a room on Secret Escapes at trendy pentahotel Prague, and you can easily catch a tram to explore this fabled City of a Thousand Spires. Lose yourself in the sweetly scented flowers at the royal garden, or ride in a horse-drawn carriage down picturesque streets. Make time to feed the white swans on the Vitava River, or walk across the Charles Bridge to buy souvenirs from the local artists and vendors. After you tour fairytale-like Prague Castle, share an order of hot dumplings and cold beer with your partner, and then visit the John Lennon Wall to scribble your initials inside a heart (yes, graffiti is allowed).
Prague is undoubtedly one of the most romantic cities in the world. With chapels, castles, candlelit dinners, and horse-drawn carriages, the Golden City could make anyone fall in love. In a city with so many picturesque museums, gardens and buildings, it can be hard to narrow done exactly where to stay, eat and play. For that very reason, we've compiled a list of the most romantic places in Prague.
This modern, four-star, boutique hotel was once a locksmith's workshop. The breakfast room was originally a horse stable, and the cellar was filled with blocks of ice to keep meats and cheeses cold. The historic establishment is only 9 minutes on foot from Prague Castle and 11 minutes from the iconic Charles Bridge. Expansive views from the rooms are perfectly picturesque. Combining old and new, each of the 25 rooms has at least one piece of historic furniture and luxurious L'Occitane cosmetics in the bathrooms. The limited number of rooms makes it the perfect place for intimate bridal parties. And, the hotel gets bonus points in my book because the staff is incredibly friendly.
U Tři Jelinků is the perfect place for a romantic, authentic European dinner. Adorned with window boxes and bathed in natural light, this cozy café is both quaint and modern. Take in the sights and sounds of Prague while sitting out front, or take a seat inside among warm wooden tones, white walls, candles and greenery. Its benches with pillows call for cuddling up! They serve traditional Czech dishes, like pumpkin soup, deer steak, or roasted leg of rabbit with bacon, as well as salads, and even burgers for less adventurous eaters. My personal favorites were the fried cheese and the grilled meats on a skewer. Save room for dessert: Try some honey cake or a sorbet cocktail (prosecco and lemon ice cream).
Cukrarna Alchymista is a fabulous café and patisserie with a beautiful backyard garden. It's been described as enchanting, and I have to agree. Often, musicians will play there, among the sea of flowers, near the serene pond, and in the company of the resident black cat. The interior feels like stepping back in time, complete with an Instagram-worthy mural on the ceiling. This is a great little spot to get away from the crowds while enjoying a perfectly blended cup of coffee and trying any one of their mouthwatering cakes and pastries.

This island on the Vltava River is absolutely gorgeous. It boasts stunning views of a massive windmill that's part of the 15th century former Grand Priory Mill. It's the perfect spot for either a picnic on the grass, or a date at the ultra-chic, world-renowned, Kampa Park restaurant. Rich in history, this park is also home to the John Lennon-inspired graffiti wall, where visitors flock yearly to commemorate his death. The wall is a monument to free speech and the non-violent rebellion of Czech youth against the communist regime in the 1980's.
The Petřin Gardens is where the roses at the top of the hill will take your breath away. Keep your camera ready as you meander through famous monuments and more than 2,100 fruit trees. Then, steal a kiss at the bronze fountain in the Seminar Garden.
Budget Travel
If you're tight on cash, Prague might become your new favorite European destination. From where to get the best views to where to grab a cup of coffee, here's how to do Prague on a budget.