Where to Go Off the Grid for Valentine's Day
Tucked into the Shoshone National Forest, Brooks Lake Lodge offers a romantic getaway amid a gorgeous winter wonderland.
Spending a weekend at Brooks Lake Lodge in the wintertime is like having an extended snow day: Whatever real-world responsibilities you thought you had, they don't exist here. Once you arrive, you're effectively snowed in. Cell service can't break through the snow-covered pines, and neither can you—unless you're on a snowmobile.
Nick Cote
In the winter, so much snow covers the road to Brooks Lake that you have to snowmobile or take a snowcoach to get there. On crisp, clear nights, you can see the Pinnacle Buttes surrounding the lodge.
If you're looking for a place to escape—and I mean truly escape—for Valentine's Day, this is it. From wintertime adventures outdoors and soaks in the hot tub to quiet dinners and luxurious spa treatments, Brooks Lake Lodge has all the components of a truly romantic getaway. On a recent trip there, I found myself unwinding and savoring every glimpse out a window, involuntarily slowing down from my usual breakneck speed.
To get here in the wintertime, you drive down the slushy highway in full view of the Pinnacle Buttes, a jagged mountain range in northwestern Wyoming about an hour and a half from Jackson Hole. Pull off the road into calf-deep powder, and someone will be waiting with a snow coach to transport you into what can only be described as a life-size snow globe. Here, there is no mindless scrolling, no incessant dinging of texts and no phone calls, as there is no cell service. You do not opt out of society here—you have to choose to opt in.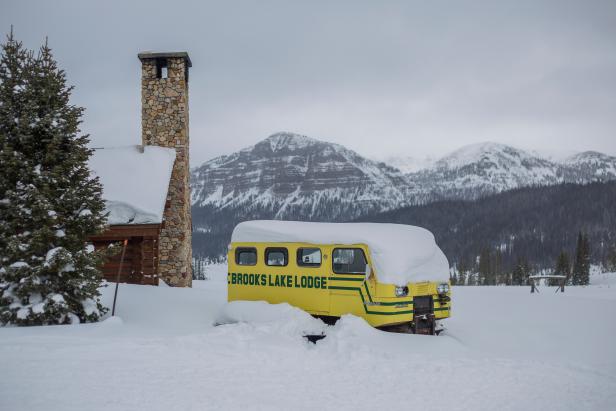 Brooks Lake Lodge and Spa is the Quiet, Romantic Respite You Need
The snow is so deep at Brooks Lake that you need a snowmobile or snowcoach to get to the lodge in the winter, or else you'd need to ski or snowshoe. This old snowcoach, in front of the Pinnacles range, provides the perfect backdrop for a family photo.
Nick Cote
The snow is so deep at Brooks Lake that you need a snowmobile or snowcoach to get to the lodge in the winter, or else you'd need to ski or snowshoe. This old snowcoach, in front of the Pinnacles range, provides the perfect backdrop for a family photo.
There is Wi-Fi, of course, but you should pretend there isn't. You arrive with your partner and suddenly, your life becomes one where everything is taken care of for you. It's like an all-inclusive island resort, but in an enchanted forest where the fish live under two feet of ice. You wake up and have both endless choices and only one: Your job, here, is to relax. How you choose to do that is up to you.
For adventurous couples, the lodge offers the chance to zip around on snowmobiles or go ice fishing to catch your dinner (they'll even cook it for you) and then warm up and wind down together at the spa. You can go out for a scenic snowmobile tour with a guide—this is a judgment-free zone where no one will give you a hard time for thinking 15 mph is fast. (I definitely don't know that from experience or anything.) Or, cross-country ski or snowshoe across the lake. You could even split up on separate adventures, or take a day to read by the fire and stare out the window and reconvene in the afternoon for a soak in the outdoor hot tub, within arm's reach of a snow drift.
Nick Cote
The menu at Brooks Lake Lodge changes nightly and is always sure to please. From salmon dinners, like this one, to racks of venison and pan-seared duck, everything is cooked perfectly.
At dinner time, there's a table reserved just for you, ready and waiting whenever you're hungry. No need to call ahead, reserve a table, or rush to make it on time. Without exception, meals are delicious, creative and reminiscent of life in the West. At lunch, you'll find elk sloppy joes and fried cookie dough with ice cream. The dinner menu changes daily and includes fare like racks of venison, salmon cooked to perfection and topped with pineapple chutney, braised duck, and gingerbread for dessert. You'll only see familiar faces in the dining room: the restaurant is open to guests only for dinner, and there is a max of 36 staying at the lodge at any given time, which makes the whole experience feel even more exclusive. And if you're bringing children, you can still find romance—it's a family-friendly resort with special programming for kids.
Nick Cote
The Sheep Suite at Brooks Lake Lodge offers a private, roomy space to curl up with a good book by the fire. The full kitchen is lined with windows facing the Pinnacles, and the room is just steps from the lodge's spa and outdoor hot tub.
The lodge offers three types of accommodations: standard rooms inside the main lodge building, cabins and a massive lodge suite with a full kitchen, living room, and windows and skylights for days. Pricing starts around $440 per person per night and includes all meals and most activities (snowmobiling is the only significant additional expense, starting at $225 for a full-day rental). To learn more, visit brookslake.com.