6 Unusual Extreme Sports From Around the World
Would you try volcano boarding or extreme ironing?
Just about everyone is familiar with rock climbing, bungee jumping, skydiving and other popular extreme sports. But what about extreme ironing? Or underwater hockey? There are tons of thrilling activities out there that you've probably never heard of — they're just as daring but a whole lot wackier. Check out these six quirky sports from around the world. Would you try them?

According to the official Facebook page, extreme ironing "combines the thrill of an extreme outdoor activity with the satisfaction of a well-pressed shirt." The sport was started by Paul Shaw in 1997 in the town of Leicester, England, who decided to make a tedious chore more exciting by combining it with his favorite pastime: rock climbing. Since then, people around the world have combined ironing with hiking, stand-up paddle boarding, scuba diving and more. In 2002, the first Extreme Ironing World Championships were held in Munich. The winning ironist's name was, appropriately, Hot Pants.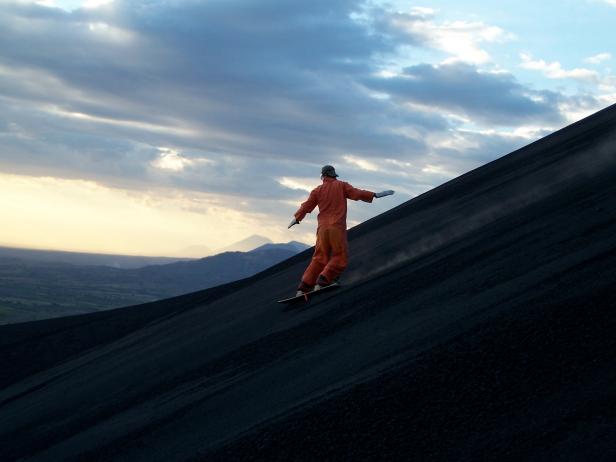 EFG4281
CORDILLERA DE LOS MARIBIOS, NICARAGUA - UNDATED: A boarder makes their way down the Cerro Negro volcano in the Cordillera de los Maribios mountain range in Nicaragua. What do you do when you have snowboarded down all of the mountains that Europe and North America have to offer? Head to Nicagua and board a volcano! Cerro Negro, (726 meters) is Central America's youngest volcano and has been one of the most active volcanoes in Nicaragua. The Bigfoot Hostel in Leon offers it's guests a trip to hike to the top of the volcano and then board the 500m down at speeds of up to 80kmh. (Photo by Bigfoot Hostel / Barcroft Media / Getty Images)
Developed on the slopes of Cerro Negro in Nicaragua, this sport involves sliding down the side of a volcano on a plywood and metal board. (The sport's creator, Daryn Webb, tested several potential materials, from picnic tables to mattresses.) Several tour groups (including Bigfoot Hostel, opened by Webb in 2004) lead adventurous guests on a one-hour hike up the volcano, then provide all the gear needed to sled down the other side at speeds up to 95 km/hour.
Dating back to the 19th century or earlier, the Cooper's Hill Cheese-Rolling and Wake is an annual event in Gloucester, England, in which competitors chase an eight-pound round of Double Gloucester cheese down a very steep hill. The first person to reach the finish line at the bottom wins the cheese, but slips and falls are unavoidable along the way. In 2010, the official event was cancelled due to safety concerns after more than 15,000 people showed up to watch in 2009, but it's been held unofficially ever since.
In 1994, New Zealanders Dwane van der Sluis and Andrew Akers invented the Zorb – essentially a human-sized hamster ball made of two layers of flexible plastic with air in between for cushioning. Riders can roll around in the ball – harnessed or loose, on land or on water. You can Zorb in many locations all over the world now, but the original Zorb New Zealand is located in Rotorua.
Also known as Octopush, underwater hockey was invented by Alan Blake in the 1950s in Portsmouth, England, as a winter activity for scuba divers. Like ice hockey, players use sticks to push a puck into goals located on opposite ends of the pool. Unlike ice hockey, players wear swimsuits, fins and snorkel masks. The sport now enjoys worldwide popularity, particularly in the United Kingdom, Australia and South Africa. There's even a Underwater Hockey World Championship held every two years.
TIMO HARTIKAINEN/Getty Images
Started in Finland, wife carrying (or eukonkanto in Finnish) is an obstacle course competition with a twist: each male competitor has to carry a female throughout the entire race in one of three ways: piggyback, a fireman's lift (over the shoulder) or Estonian style (the wife hangs upside down with her legs around the husband's shoulders). Pairs from around the world compete in the Wife Carrying World Championship each year in Sonkajarvi. There are also qualifying events around the world, including the North American Wife Carrying Championship in Newry, Maine. The winners are rewarded with the wife's weight in beer, five times her weight in cash and an entry into the World Championship.
For those who are into all things wild and weird.