New Hampshire: A Winter Wonderland
Here are our 10 favorite ways for diving into winter in New Hampshire: lift tickets largely optional.
Not every winter-weather lover can be a pro on powder, and non-skiers in search of wintry pursuits will happily find a whole lot to love on the east coast, in New Hampshire.
The Granite State is as close as you'll get to the Wild West. Moose munch grass by the side of the road, and the streams teem with trout. And come winter, the state turns into an all-out snow-white wonderland, with smoke curling from nearly every chimney and snowmobiles criss-crossing abandoned country roads like ice-bound water bugs.
Here are our 10 favorite ways for diving into winter in New Hampshire: lift tickets largely optional.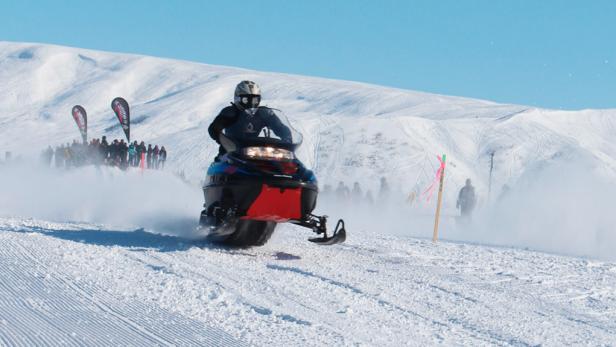 Arctic Man in Alaska
Go fast, or go home! Prepare for the ultimate adrenaline rush at Alaska's Arctic Man -- one of the world's toughest downhill ski races, and an exciting snowmobile race, all in one. Skiers begin at a summit elevation of 5,800 feet and drop 1,700 feet to the bottom of a narrow canyon where they're met by their snowmobiling partner.
Thousands of miles of snowmobiling trails navigate New Hampshire's backcountry. The New Hampshire Division of Parks and Recreation Trails Bureau has a great web site for planning your route, with countless cabins and bed-and-breakfasts located along the state's main snowmobiling corridors. Visitors can literally do a snowmobiling road trip of the region. The Great North Woods region offers the most pristine terrain, and snowmobilers can even cross the international border into Canada from Pittsburg, N.H. (don't forget your passport).
Ice Harvesting Demonstrations
During the 1800s in New England, the harvesting of natural ice from lakes and ponds was big business -- ice was shipped and sold to hospitals, dairies, meatpacking factories and other establishments, primarily as a means for keeping food cold (it wasn't usually consumed). And while the natural ice business has largely died out in the age of subzero freezers, it still lives on in a few small New Hampshire towns. To try your own hand using historic ice-cutting tools to harvest a block from a frozen pond, visit the Remick Country Doctor Museum and Farm in Tamworth during the February Winter Carnival and Ice Harvesting Festival.
If you can walk, they say, you can snowshoe (take it from someone who's utterly uncoordinated -- this sport really is a cinch). Most of New Hampshire's alpine resorts and cross-country skiing areas allow snowshoeing and offer equipment rentals and guided tours. On a clear winter day, it's hard to think of a more fun way to burn a few calories than traipsing through a silent forest full of pine trees hanging heavy with snow. For an otherworldly experience, bundle up and bring a loved one along for a full moon or stargazing snowshoe tour.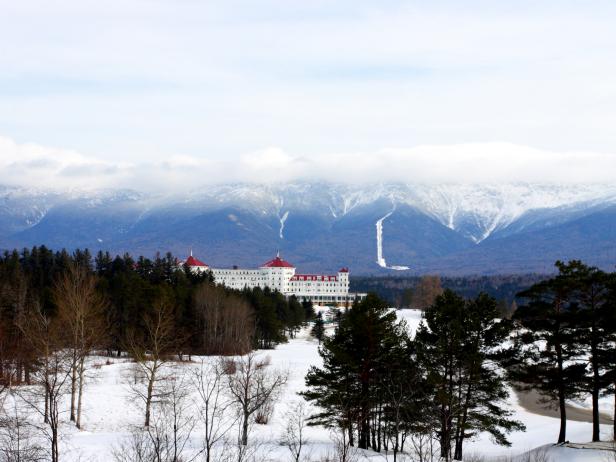 washington hotel, bretton woods, new hampshire, skiing, resorts, family
Located high in New Hampshire's White Mountains, Bretton Woods is the state's largest ski area with 101 trails and glades and 4 terrain parks. An unusual addition to the outdoor fun is the mountain's extensive canopy tour, made up of several treetop zip-lines and suspension bridges.
Dashing through the snow in a one-horse open sleigh is as romantic as it sounds -- especially when you can dash back to a beautiful hotel with an open fireplace and schnapps or hot chocolate at the ready. The Mount Washington Hotel, dating to 1902, is the most historic and beautiful place to base yourself in the White Mountains. Let the concierge arrange your sleigh ride; that way all you have to do is show up when you hear those bells jingle.
New Hampshire's summertime fly-fishing frenzy takes a turn for the arctic come winter, when ice fishing takes over as the state's reel pastime. In the Great North Woods, bitterly cold temperatures in the dead of winter leave most lakes and ponds topped with a foot or more of ice. And while most bodies of water are fair game for ice fishing, certain spots designated as trout ponds or dedicated fly-fishing areas are off-limits. For a crash course in the sport, consider the New Hampshire Fish and Game Department's 'Let's Go Fishing' Program, which offers ice fishing classes in January and February.
Iditarod on the brain, but a trip to Alaska not exactly on the radar? No worries. You can get your mush on -- and get eye level with Alaskan huskies out in the snow -- during a New Hampshire dog-sledding tour There are tours in the White Mountains near the border with Maine. And the Sunny Grange Bed-and-Breakfast offers a package where you can learn the practicalities of harnessing and anchoring the dogs before heading out into the woods for a 5.5-mile run.
Most of New Hampshire's alpine ski resorts offer snow tubing for those who want the thrill of a downhill descent -- sans the skis or snowboard. At Loon Mountain you can do your tube runs under the moonlight. And Great Glen Trails, just off the Mount Washington Auto Road, is a good place to go with the whole family; there's no lift to ride, and it's an easy walk up the very user-friendly tubing hill.
The Mount Washington Cog Railway
Skis aren't necessary for a near-peak experience on New Hampshire's highest mountain, Mount Washington. The Mount Washington Cog Railway uses a coal-fired steam locomotive to take riders up New Hampshire's highest peak; imagine climbing a ladder aboard a train, and you've got an idea of how the ride feels. While the train doesn't run to the absolute summit during the winter months, you'll reach Kroflite Camp at 4,100 feet, just below the tree line. Be sure to bring a camera and dress for the elements -- there's an observation deck on high, with panoramic views.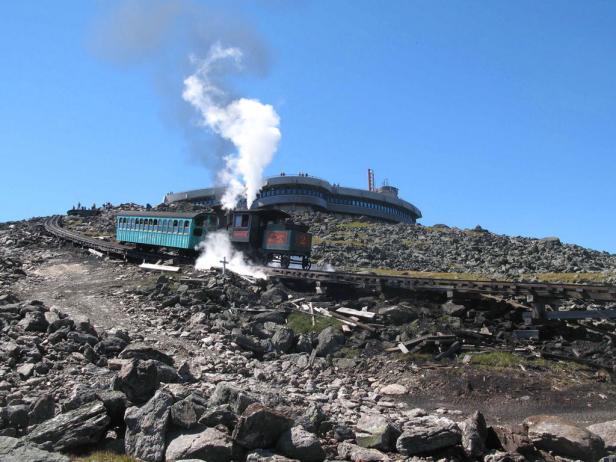 New Hampshire, Mt. Washington Cog Railway
In 1857, a man named Sylvester Marsh was climbing New Hampshire's Mt. Washington when he got the idea to build a railway up the mountain. He put up $5,000 of his own money to fund what would become the world's first mountain-climbing cog railway. Today, the Mt. Washington Cog Railway is the second steepest rack railway in the world, behind Mt. Pilatus Railway in Switzerland.
NH Division of Parks and Recreation
Talk about higher education -- Dartmouth University kicked off what would turn into a statewide winter tradition when it held New Hampshire's first Winter Carnival in 1911. The university stills holds its bash every February, with bonfires, human dog--sled races, polar bear swims and lots of co--ed revelry. Other winter carnivals take place across the state in January and February in towns such as Franconia, Laconia, Keene and Somersworth, as well as in the Mount Washington Valley.
On New Hampshire's Foodie Trail
Fireside with a filling feed is a good place to find oneself after a hard day on the hill. And New Hampshire, with its rural roots and affinity for farmers markets, wants not when it comes to gastronomical highlights. Join in the cooking classes at the Remick Country Doctor Museum and Farm in Tamworth, where your oven is an open hearth and the menu is harvested from ingredients grown on-site (baked acorn squash and bread pudding with maple syrup are a few of the tasty preparations you might whip up). For New Hampshire-style comfort food, start your day with blueberry buckwheat flapjacks at the legendary Polly's Pancake Parlor in Sugar Hill. And for oenophiles, the Seacoast Winter Wine Festival in New Castle is one of New England's top wine gatherings, with cooking demonstrations and indulgent vintner dinners -- warms you up just thinking about it.