8 Tips for Sleeping at the Airport
Grab a power nap on the go.
Sleeping at the airport is never ideal, but sometimes it's unavoidable. Perhaps your flight is delayed, your seat gets bumped, or you have an overnight layover. Whatever the reason, here are eight tips to help you get a decent night's sleep.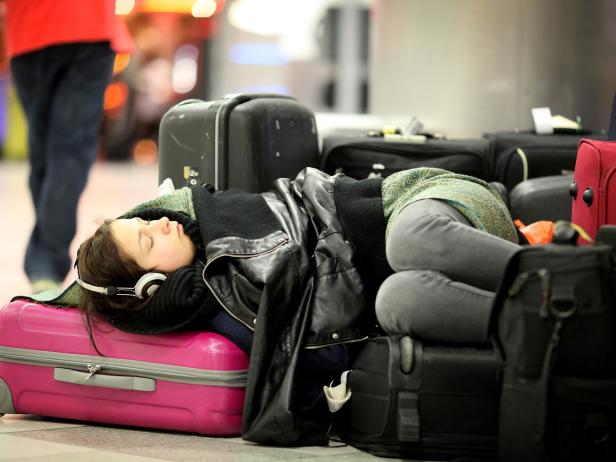 LONDON, ENGLAND - APRIL 15: A girl sleeps in the departure lounge at Gatwick airport on April 15, 2010 in London, England. All flights in and out of Britain's airports have been grounded due to a plume of volcanic ash drifting across northern Europe from an eruption in Iceland. (Photo by Dan Kitwood/Getty Images)
Ideally you should research your backup sleep options before embarking on your trip, but we know that's not always possible. Fortunately many major airports offer Wi-Fi and chargers, allowing you to quickly assess what's available at your current airport. Don't feel limited to your terminal, since not all are created equal. For example, international terminals might offer round-the-clock dining options, spa services and shower facilities. If you're lucky enough to be stuck overnight at Singapore Changi International Airport, often chosen in reader polls as the best in the world, not only will you have you access to showers and spas, but napping rooms, luggage storage, and even a swimming pool with a hot tub. On the other hand, smaller airports often close at night, while Christchurch Airport in New Zealand bans people from sleeping there, with few exceptions. Sleeping in Airports is a comprehensive resource for not only how to sleep at the airport, but also for learning which airports have the best (and worst) amenities and facilities.
Consider On-Site Hotels and Sleep Pods
It's not uncommon to find popular chains such as Hilton, Sheraton and Hyatt inside airports around the world. In some cases, inside means the hotel is actually inside the terminal, bypassing the inconvenience of going through customs and/or security. Additionally, airports from Chicago to Dubai to Munich offer hotels that are a short walk from the terminals, so if you have the money to spare, it's a sure bet for getting much-needed sleep without leaving the airport. The growing trend of sleep pods (also called by some combination of nap, snooze, capsule, cab and more) are a good compromise for those who want to save money on a hotel, but don't want to camp out on a cold airport floor. Yotel, Minute Suites and GoSleep are some of the companies you'll find around the world, but the comfort level varies from actual rooms to enclosed flatbed seats. Pricing is usually reasonable and ranges from hourly to overnight rates. Some even offer showers, TVs, Wi-Fi, hot drinks and, the best part, bona fide beds.
If you must sleep in a terminal, traveling light is crucial to prevent your belongings from getting stolen. However, if you're lugging a large suitcase or more than one bag, check to see if the airport has luggage storage. Keep your passport on you at all times, whether in an interior pocket or worn around your neck. Use your bag with valuables (wallet, phone, travel documents) as a pillow, and keep your other bags close. Double check that your carry-on is locked, and consider sleeping with an arm or leg through the handles of any other bags if possible. Oh, and resist the urge to leave your luggage unattended to make a quick run to the bathroom — in addition to the risk of it getting stolen, security is on high alert for lone bags.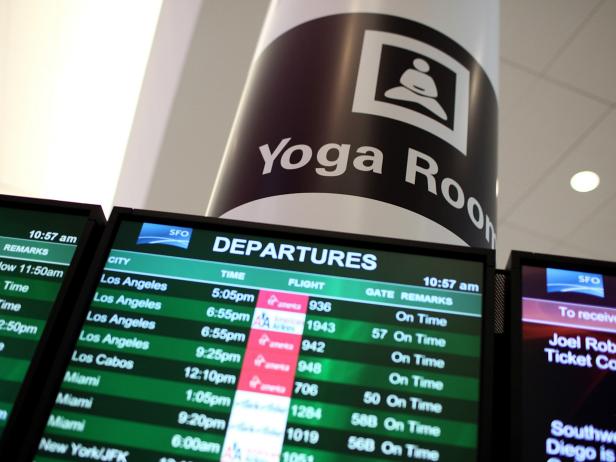 SAN FRANCISCO, CA - JANUARY 26: A sign is posted near the departures monitor for the new Yoga Room at San Francisco International Airport's terminal two on January 26, 2012 in San Francisco, California. San Francisco International Airport opened the doors to what they are saying is the first-in-the-world yoga room inside an airport terminal. The small room in the newly constructed terminal two is dimly lit with soothing blue light provides weary travelers a place to relax or practice yoga poses once they have clearing security. The yoga room is open from 4:30 a.m. to 12:30 a.m. (Photo by Justin Sullivan/Getty Images)
Don't Choose an Isolated Location
This is especially true for solo travelers. Depending on the airport, yoga and prayer rooms might seem tempting for some shut-eye, but they could also increase the chances of getting robbed if they're empty for long stretches. Instead, you're better off sleeping at your gate near other people. For a greater chance of uninterrupted sleep, check the departure board before nodding off to learn if there's an early flight leaving from your gate.
Create a Restful Environment
This is easier said than done if you're sleeping in the terminal, but employ the same tactics that you would on a flight for some rest. For example, block out light with a sleep mask, and use earplugs or headphones to tune out passenger chatter and constant flight announcements. If you packed a toiletry kit in your carry-on, take a few minutes to brush your teeth and wash your face. Change into comfortable athleisure clothes, unless you're already wearing them, and use a warm scarf or jacket as a blanket. (Airports are notorious for being freezing cold.) If you brought a neck pillow for the flight, put that on top of your bag with valuables for a more comfortable headrest.
Between jet lag and the wearying effects of stress, don't underestimate the possibility of oversleeping. If you use your phone as an alarm, make sure it's charged before you fall asleep.
Expect to Get Woken Up by Security
Some airports crackdown on overnight sleepers more than others, so don't be surprised if security rouses you before your alarm goes off. Be ready to show your boarding pass and explain your situation.
The good news is that airline lounges aren't limited to just first-class passengers and members. The downside is that most lounges aren't open overnight. There are exceptions though, such as the Plaza Premium Lounge in Hong Kong. However, many lounges allow you to buy a day pass, which can get you access to food, showers and a place to rest if you didn't get much sleep the night before. Plus, if you're in transit and incredibly jetlagged, your body may want to sleep during the day anyway. Use an app such as LoungeBuddy to get the lowdown on which ones offer the amenities you seek, from the basics to a hot buffet and spa treatments. LoungeBuddy also lets you purchase day passes via the app. Skytrax, Lounge Review and Lounge Guide are other useful resources. Double check your credit card privileges before buying a lounge pass; if you happen to own an American Express Platinum Card, it gets you free access to more than 900 lounges around the world via the Priority Pass program. Conversely, you can join the program separately without signing up for the American Express card.