6 Tips for a Successful Theme Park Visit
A little prep work goes a long way toward a fun and hassle-free trip.
A trip to a theme park can be an incredibly fun and memorable experience for a family (or a group of friends). But let's face it: waiting in hour-plus lines, getting sunburned and spending $5 on a bottle of water can make it feel a bit less magical. Luckily, a little planning can help you save money, skip the long lines and avoid toddler tantrums. Follow these six tips for a smooth theme park vacation.

Look for Discounts on Tickets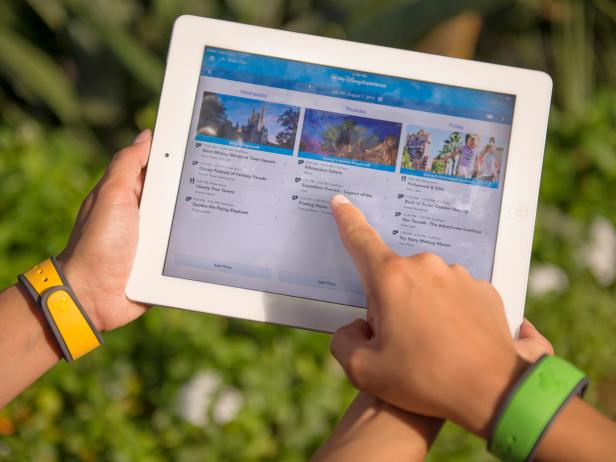 My Disney Experience App
With the free My Disney Experience mobile application and extensive complimentary Wi-Fi throughout the Florida Vacation Kingdom, Walt Disney World Resort guests can have Disney fun at their fingertips. Information about attractions, show times, dining and more is easier than ever to explore and access. Guests have the option of modifying FastPass+ choices or dining reservations while on the go, thanks to the app and in-park kiosks—or at fully-staffed service centers. (Kent Phillips, photographer)
Don't go straight to the park website to buy tickets; do some research first to make sure you're getting the best price possible. Check travel deal websites, such as TicketsAtWork.com and Groupon, and look for discounts through memberships you may already have, such as Costco and AAA. The parks themselves may also offer promo codes you can use when booking, so sign up for newsletters and follow them on social media.
Research Rides in Advance
Don't get distracted by the first attraction you see as soon as you walk through the entrance. Before your trip, decide which rides and attractions are your top priorities, and figure out where they're located. Knock out those rides as soon as the park opens, or reserve fast passes for them to cut down your time in line. If you're traveling with kids, research height requirements as well so you know which rides are no-gos.
At peak meal times, both quick- and full-service restaurants will be jam-packed with hungry families. Make reservations so you're not stuck waiting in line for food. (Popular restaurants can book up months in advance, so check this off your to-do list well before your trip.) If you're on a budget, consider packing lunch in a cooler and stashing it in a locker. When you're ready for a break, you can find a shady spot for a quick bite.
Sunscreen, hats, polarized sunglasses and plenty of water are musts when you're spending hours in the hot sun. Save money by bringing a reusable water bottle (like this collapsible one) — most park restaurants will fill it up for free. Be prepared for rain by also packing a lightweight poncho in your bag.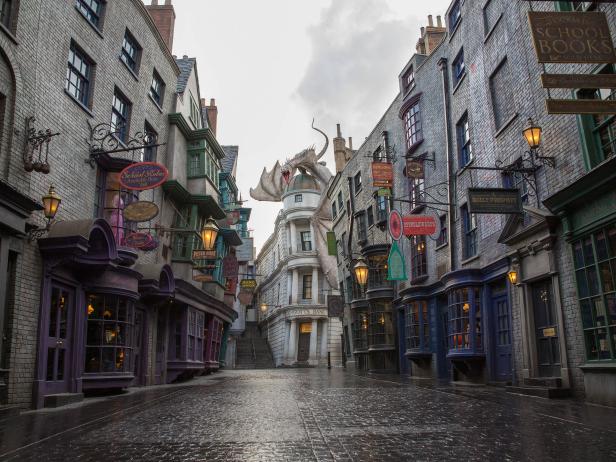 80418182
ORLANDO, FL - JUNE 18: In this handout photo provided by Universal Orlando Resort and taken June 13, 2014, today June 18, Universal Orlando announced that The Wizarding World of Harry Potters Diagon Alley will officially open on July 8, allowing guests to experience even more of Harry Potters adventures in an all-new, magnificently-themed environment. Located in the Universal Studios Florida theme park, The Wizarding World of Harry Potter - Diagon Alley will feature shops, dining experiences and the next generation thrill ride, Harry Potter and the Escape from Gringotts. The new immersive area will double the size of the sweeping land already found at Universals Islands of Adventure, expanding the spectacularly themed environment across both Universal theme parks and guests can journey between both lands aboard the Hogwarts Express. For additional information, visit www.UniversalOrlando.com/WizardingWorld. (Photo by Sheri Lowen/Universal Orlando Resort via Getty Images)
It's tempting to sleep in while you're on vacation, but getting to the parks as soon as they open is so worth it. You'll be able to ride the most popular rides before the lines get too long, and you'll enjoy several hours at the park before the hottest part of the day. When the crowds start to arrive, you'll be ready for a break in the shade.
Particularly if you're visiting a theme park with young kids, know that you won't be able to see and do everything. Pace yourself, and make time for breaks during the day. Either head back to the hotel for a nap, or find an indoor attraction where you can cool off.