5 Reasons You Have to Visit Boston This Winter
Hotel deals and more await.
Don't let snow and chilly temps prevent you from visiting Boston this winter. Affordable hotel rates, less crowded restaurants and a new ice skating attraction are among the many reasons to bundle up and go.
Much ado has been made about Boston Winter, the latest addition to the city's wintery scene in City Hall Plaza. The entertainment zone, sponsored by Berkshire Bank, ran through December and consisted of a holiday market, beer hall and more. However, the 11,000-square-foot ice skating path around the plaza (pictured), which claims to be a first for the New England region, remains open through the end of February. On weekends the customized rink offers kids the chance to skate with cartoon characters, skating classes for all ages, and Friday night skate parties with a live DJ. Although it's more subdued, no winter trip to Boston is complete without skating on Boston Common's Frog Pond. This quintessential activity is the centerpiece of Boston Common, the oldest public park in the U.S. The storybook-worthy rink is open through March, and offers everything from skating aids to help children balance on ice to elaborate engagement packages. At the very least, take a break at the Frog Pond Café to warm up with hot chocolate and Belgian waffles.
Museum Exhibitions and Events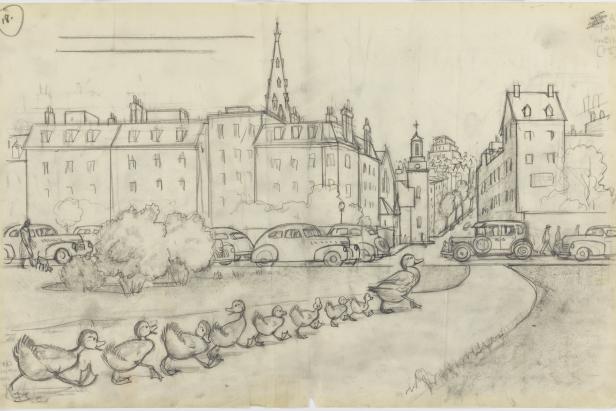 Sketch of Ducklings Walking on Sidewalk
There they waded ashore and waddled along till they came to the highway. 1941 Graphite, Robert McCloskey (American, 1914-2003). Courtesy of The May Massee Collection, Emporia State University Special Collections and Archives, Emporia State University. Courtesy, Museum of Fine Arts, Boston.
Museum of Fine Arts, Boston
Head to the world-class Museum of Science for Da Vinci — The Genius, a touring exhibition that delves deep into Leonardo da Vinci's many works. While he's most commonly associated with painting the Mona Lisa and The Last Supper, he was also an inventor far ahead of his time, sketching forerunner designs for bikes, helicopters, cars and more. The exhibit doesn't just display these drawings, but brings them to life via life-size and interactive displays. Catch it before it closes on February 26. Boston's Museum of Fine Arts is the fourth largest in the country and houses an impressive American art collection. Add additional time to examine Make Way for Ducklings: The Art of Robert McCloskey (pictured). It's the 75th anniversary of the classic children's book, which has stood the test of time and still endears new fans. Works from McCloskey's other books, including Blueberries for Sal, are also on display. The nearby Isabella Stewart Gardner Museum often gets overlooked, but it would be a mistake to bypass the equally world-class collection housed in a building meant to resemble a 15th-century Venetian palazzo. Beyond perusing the 2,500-plus collection pieces, from priceless Renaissance paintings to Chinese Han Dynasty sculptures, time your visit to enjoy the popular Sunday Concert Series, classical music performed by rising and established musicians.
A number of new and noteworthy restaurants have opened in the past year or so, and you may have better luck getting a seat in the dead of winter. Tiger Mama (pictured above and below) is the latest venture from Top Chef finalist Tiffani Faison; she also owns nearby barbecue joint Sweet Cheeks. The trendy industrial dining room serves up a small plate extravaganza with a Southeast Asian flare, and must-tries include Singapore street noodles, crispy chili potatoes and lobster spring rolls. Try to fit the recently added Dim Sum Sundays into your schedule.
Bon Appetit and food authority Eater both chose Shepard as one of the best new restaurants in the country for 2016. The former even proclaimed it worthy of Julia Child's legacy. Come here for locally sourced, seasonal menus that lean New American and French; dinner plates are separated by petit and moins petit categories, and might involve leek bread dumplings, hot chicken bits and chamomile ricotta. Meanwhile Bon Appetit also added Juliet to its best new restaurants list. It's worth detouring just north of Boston to Somerville for this intimate café, where menus are influenced just as much by the seasons as the chefs' moods. Choose from prix fixe or a la carte, and come hungry for everything from breakfast tacos to ribeye steak with anchovy butter. Time permitting, squeeze in Yvonne's, an upscale supper club, and the award-winning Select Oyster Bar.
True, Boston winters can be harsh, but as temperatures drop, so do hotel prices. The Colonnade Hotel in historic Back Bay is literally taking advantage of this by offering its popular Frosty Fridays package. The weekend deal runs through March 29 and provides a Friday room rate that's determined by whatever the temperature is at 5 p.m. So if there's a polar vortex with five-degree temperatures, the upside is that's the price you'll pay. Expect to pay $289 for Saturdays. This package includes admission and skate rentals at Boston Common Frog Pond or tickets for the Old Town Trolley Tour for a family of four. (The latter conveniently stops in front of the hotel.) The package also tosses in overnight parking, and, perfect for chilly nights, a make-your-own hot chocolate bar (pictured), complete with candy canes, caramel, and of course marshmallows. You'd never guess by looking at it, but The Liberty Hotel, a four-star property on Charles St. in Beacon Hill, started life in the 19th century as the Charles Street Jail, and operated as such until as recently as 1990. It's since been renovated while preserving historic elements, and guests now have to pay a premium for a place that prisoners would've paid to escape. The upscale Kimpton Nine Zero Hotel is also offering January rates for as low as $149 a night, a small price to pay in order to stay in the prime location of Boston Common.
Boston is the latest city to join the growing trend of cat cafes in the U.S. — places where customers pay to play with cats while typically enjoying a beverage and light bites. The PURR Cat Café is slated to open in early 2017, so the timing might be right if you plan your trip for the tail-end of winter. Just like other American cat cafes, all of the cats at PURR will be up for adoption. Rescue group Boston's Forgotten Felines will be providing the kitties. Visitor demand is expected to be high in the first opening months, so be sure to book ahead once it starts accepting reservations; check the website for updates.