Ancestry Travel Is a Thing, You Should Try It
Trace your roots, then hop a plane to see where your ancestors once called home. 
If you've ever looked into your roots, or even gotten sucked into a commercial for Ancestry.com, you may be a perfect candidate for ancestry travel. Yes, it's a thing, and there are a number of ways to go about it, whether you want to stay fairly local or travel abroad with a group or on your own. Here are five ways to get started with ancestry travel.
1. Begin with public genealogy records.
Whether you travel by car to your county courthouse or fly out to a genealogy library, like The Genealogy Center in Fort Wayne, Indiana, you're bound to gain insights into your family heritage. Genealogists at The Genealogy Center can help you dig deep into their massive genealogy collection to research your ancestry. Another idea is to combine history with genealogy through a stay at The Holladay House B&B in Orange County, Virginia. Located in what was once the largest county in the 13 original colonies, the nearby courthouse and historical society has an impressive records depository. As a bonus, the B&B owner has a degree in historical archaeology and serves as a guide to those in town for ancestry research.
2. Tap broader online genealogy resources.
Online genealogy resources, like Ancestry.com, are growing in popularity. AncestryDNA, an at-home DNA test, may even offer greater insights into your ethnic background. World Nomads, an online travel insurance provider, also sees ancestry travel as a trend. They recently conducted a campaign to help travelers better understand who they are by encouraging family heritage discovery.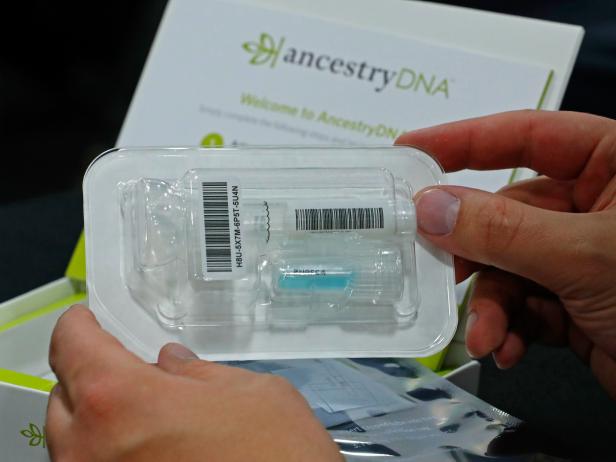 ROOTSTECH CONFERENCE
An attendee views an Ancestry.com Inc. DNA kit at the 2017 RootsTech Conference in Salt Lake City, Utah, U.S., on Thursday, Feb. 9, 2017. The four-day conference is a genealogy event focused on discovering and sharing family connections across generations through technology. Photographer: George Frey/Bloomberg via Getty Images
3. Work with a tour operator to further your ancestral journey.
Once you've traced your roots and know generally where you're going, there are several tour operators equipped to take you further in your family heritage journey. In Ireland and Scotland, Brendan Vacations can arrange a meeting with a genealogy expert to dig deeper into the roots of your family tree. They can even book stays in local B&Bs in small villages that are part of your family history. Meantime, for those who've traced their roots to South Africa, South African Airways Vacations offers a 12-day Cultural Roots of South Africa group tour, which enables travelers to explore key regions, like Johannesburg and Drakensberg, as well as Uhmlanga on South Africa's sunshine coast, to learn about Indian and Zulu influences in the era of apartheid.
4. Consider a highly-customized religious heritage experience.
For those with deeply personal religious experiences, maybe those in search of relatives of a family who helped hide grandparents during World War II, the Jewish Travel Agency can create highly customized heritage itineraries. The agency specializes in custom tours for those eager to dig deep into the lives of their Jewish ancestors, acting as a detective to uncover lost stories and retrace the paths of distant relatives. MIR Corporation also puts together ancestry travel tours for Jewish clients interested in tracing their roots in Europe and the Middle East. By working with a team of private journey specialists, travelers can expect handcrafted itineraries that enable them to connect with their family heritage.
5. Do it yourself, starting with your last name.
Sometimes you can get pretty far in your ancestry research with just a last name. For her father's 68th birthday, Kelley Buttrick took him to Scotland for a weekend spent exploring their family's history. She did not hire a guide, but did reach out to the historical society to find out whether anyone knew of the Carruthers family who lived in the area when her relatives were said to have lived there. She then hired a local with deep knowledge of the area who spent an entire day driving her and her father all over the Langholm, Scotland area, exploring crumbling churches and walking through fields of grazing sheep. He wasn't a tour guide, but a man with a passion for history and genealogy. It was just right for exploring the land once lived on by distant relatives.