The World's Best Flea Markets
Tighten your purse strings; it's bargaining time.
Bargain hunters love a good flea market. As a bonus, diving into the stalls and madness of markets around the globe gives incredible insight into local cultures. Regardless of where you do your flea market shopping, remember a few key points to make the experience a success.
Set the alarm. Most markets open at or before dawn, and many of the best buys will be gone well before lunch.
Bring plenty of cash. Many flea market vendors don't accept credit cards.
Bargain smart. If you don't speak the local language, bring your smartphone or a pen and paper to write down prices and help you bargain.
Dress the part. Wear comfy shoes and check the weather. Bring an umbrella if rain is in the forecast.
Pace yourself. Carry water and stop for food. It's easy to become exhausted and overwhelmed at some of the larger markets, particularly if you're thirsty, and your blood sugar is low.
Below we've rounded up some of our favorite markets across the globe.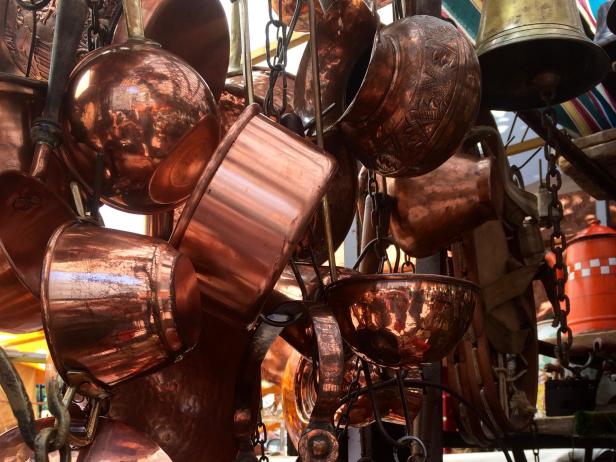 San Telmo Market, Buenos Aires, Argentina 
Hands down, the sprawling San Telmo market (Fiera de San Telmo) is the city's most famous and liveliest. In the midst of its many vendors, tango dancers and musicians give impromptu performances, creating a boisterous, party atmosphere.
Bring your walking shoes to the Rose Bowl Flea Market. Held inside the Rose Bowl in Pasadena, California, the flea's 2500-plus vendors are spread out across an estimated 5 miles of booths. For more than 45 years, Angelinos have brought their bargaining skills to the table at the Rose Bowl, vying for goods like surfboards, record collections, vintage clothes and dishware. Arrive before sunrise -- the market gets incredibly crowded as the morning wears on -- and keep your eyes peeled for celebrities, like Clint Eastwood.
If there's one flea market in the world that bargain hunters like to wax poetic about, it's the Marché aux Puces de St.-Ouen, which translates to "Market of the Fleas." Head to northern Paris and peruse the 14 different markets with 2,500 to 3,000 stalls contained within Puces' confines. You'll find quirky bric-a-brac from Parisian days gone by, vintage art, as well as 18th-century furniture and antique decor. Wondering how you'll fit that glorious end table in your suitcase? No worries. The market offers a shipping service.
San Telmo Market: Buenos Aires, Argentina
There's a crumbling, faded beauty to much of Buenos Aires, and this vibe may be most pronounced in the San Telmo neighborhood. Once known for the seductive tango shows held across its small venues, the area has become even better-known among locals and tourists for its Sunday flea market. Each week, hordes of people descend on San Telmo to explore antique dealers lining the streets and plaza. Keep watch for Art Deco-style goods, as well as colorful glass bottles, records, vintage tango shoes and copper pots.
London's calling at Portobello Road market, where more than 1,500 stalls will tempt you with everything from old Doc Martin boots, epic record collections, books, punk rock clothes and antique jewelry. Arrive by dawn; most shoppers in the know get here early, and the better buys may be gone by as early as 10 am. Wander through arcades and streets filled with dealers, and make it a point to visit the antique jewelry stalls of the Central Gallery.
Atlanta's Scott Antique Market was born from a true love of antiques when founder Don Scott used to travel the United States buying and selling goods at various markets. Finally, Scott decided to found his own market, which today has grown to include more than 3,000 vendors, and is known as the world's largest indoor antique market. Held for 4 days over the second weekend of every month, vendors hawk everything from wooden chairs, botanical prints, and rugs, to silverware and jewelry.