7 Dreamy Spots Across North America to Park Your RV
Dreaming of a scenic drive across America? These seven parks are must-see stops on a cross-country RV camping tour (and one across the northern border, too!). From "glampsites" (glamorous campsites) with hot tubs to primitive spots off the beaten path with incredible views of the Grand Canyon, these campgrounds are ideal inspiration for you to start planning to hit the road this summer.
New to the RV scene and need some tips? Tune into Big Time RV on Travel Channel on Sundays at 9|8c.
Durango RV Resort; Red Bluff, California
This is a must-visit park for glampers looking to lounge in Northern California, with on-site jacuzzi tubs, fire pits and even massage services to treat yourselves after a long drive. Campers can hit the recreational fields for a pickup game of basketball, tennis or bocce ball, or cool off and enjoy themselves with a dip in the pool. Additionally, there are dog-friendly areas where pups can run free and play near the campsites, so feel free to bring the pets.
Long Key State Park; Layton, Florida
Get ready for sparkling ocean views as you drive across Overseas Highway through the Florida Keys and stop in the middle at Long Key, mile marker 67.5. Originally the site of Miami founder Henry Flagler's luxury fishing camp, Long Key State Park now offers seaside campgrounds with nearly any recreational activity on the water at your fingertips. Birdwatchers flock to this area to glimpse rare birds who visit the area, and families can snorkel, rent kayaks or boats and see the vibrant flora and fauna by taking a walk through the mangrove boardwalk.
North Rim; Grand Canyon, Arizona
Just a half-mile hike from this campground lies the northern rim of the Grand Canyon. If you have a small enough camper and happen to grab one of the three primitive sites in the oft-overlooked Indian Hollow campground, your party can soak up a front-and-center view as the sun rises and sets over the canyon. Hikers also have their pick of trails through the forest but will need a permit to hike into the Grand Canyon, which can be obtained online or at the Grand Canyon Visitors Center.
Big Bend National Park, Texas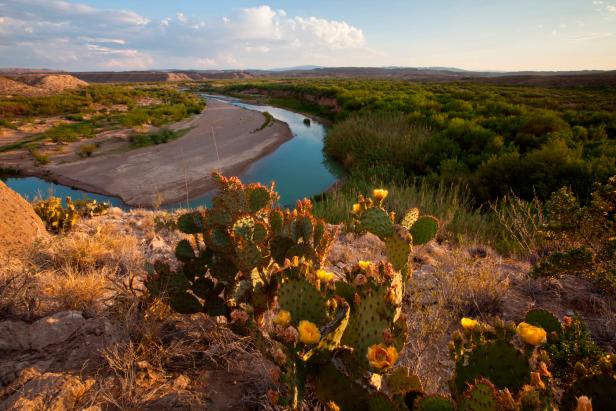 488587849
Big Bend National Park is a national park located in the U. S. state of Texas. Big Bend has national significance as the largest protected area of Chihuahuan Desert topography and ecology in the United States, which includes more than 1, 200 species of plants, more than 450 species of birds, 56 species of reptiles, and 75 species of mammals.
After eating incredible Tex-Mex food in southwest Texas on the way to Big Bend National Park, you'll want to camp out in the popular Rio Grande Village and see the table mountains, carved-out canyons and desert wildlife in the national park. With the campgrounds right on the banks of the Rio Grande River, campers can easily take a kayak or canoe on the water, especially in time to see the fiery sunsets on the awe-inspiring Sierra del Carmen Mountains.
Starved Rock State Park; Oglesby, Illinois
With breathtaking glacial melt waterfalls that cut through its steep, sloping sandstone canyons, Starving Rock is one of the most unique natural parks in the Midwest. Outdoorsy folks have a huge pick of activities, including hunting, fishing, boating and hiking through the miles of tree-lined trails and rivers. Nature buffs will enjoy springtime in the park, when wildflowers bloom for miles.
Banff National Park; Alberta, Canada
Every U.S. National Parks lover should know that Canada also has a hugely diverse range of beautiful parks, the oldest and most famous park being Banff. Located in the Canadian Rockies in Alberta, Banff boasts breathtaking views of mountains all around. Tunnel Mountain Trailer Court campground is first-come, first-served, so it's best to arrive at the 11 a.m. checkout to snag one of the 320 full-service campsites in peak season. After you get set up, snap a few photos of the expansive view of the valley below, roast some s'mores on the fire pit after dark and hop on the trolley to downtown Banff in the morning for breakfast.
Elk Meadow Lodge; Estes Park, Colorado
Considered the basecamp for Rocky Mountain National Park in Colorado, Estes Park is a dream nature getaway in the mountains. Elk Meadow Lodge offers 169 full-service campsites, cabins, teepees, swimming pools and Wi-Fi for campers to take advantage of before heading out for the day. Go fly fishing on half-day or daylong excursions, strap into a safety vest and raft down the rushing rivers or head over to horseback riding to explore the natural beauty of the Rocky Mountain National Park's endless trails and activities. Downtown Estes Park is a short drive away, where you can find antique shops, restaurants and art galleries.
Road Trip Inspiration from 'Big Time RV'