9 Things You Didn't Know About Anthony Melchiorri
The Hotel Impossible host and hotelier made a Lifetime movie based on his life, for starters. 

Anthony Melchiorri is best known as the beloved, no-nonsense host of Hotel Impossible, businessman and uber-successful hotelier of countless hotels. But did you know he also has a penchant for poker, served in the military and was well versed in the TV business before Hotel Impossible? Just in time for his birthday, we spoke with Anthony to learn more about him and life lessons he has to share with his viewers.
1. Before Hotel Impossible, he made a Lifetime movie

Starring Alyssa Milano, Wisegal was executive produced by Anthony and based on his life. He even appeared in the movie a few times as a character! It was a lot more successful than he'd anticipated, but it wasn't his intention to break into the movie business.

"I didn't do it to get famous," Anthony laughs. "I figured it was easier [to write the movie] than to spend the money for therapy."

Wisegal ended up being the most watched Lifetime movie at the time when it premiered in 2008.

2. He served in the U.S. Air Force

His official role was a protocol officer who reported to the colonel on a stealth missile base.

"The Air Force saved my life," Anthony says. "Before that, I had no direction."

While he was in the military, he took night classes to get his bachelor's and began working on the weekends. He got into the hotel industry shortly afterwards.

3. Anthony is a proud father of three girls
His 17-year-old twin daughters are getting ready to go to college to study theater and marketing, and his 14-year-old daughter is in high school. Everyone's busy with different activities, but Anthony tries to spend as much time with each of them as he can. "I love going out to lunch with them or honestly, just driving them back and forth to their soccer games and theater shows," he says. "[When we're in the car] it gives us one-on-one time to talk."

4. Coney Island is a special place for Anthony

Anthony's late father, who was a construction worker, painted the iconic Parachute Jump ride, a widely recognized piece of the Coney Island skyline. When each of Anthony's three daughters were only a few weeks old, he and his wife took them to Coney Island for their first trip to the ocean and dunked their feet in the water.

5. What people are always surprised to learn about hotels …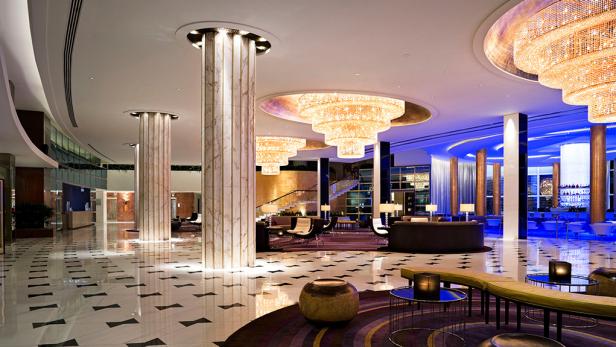 The stars don't matter and the service should be the same, no matter where you're staying.

"The only difference between a three- or five-star hotel is the amenities," Anthony explains. "The biggest misconception is that if you pay for a three-star hotel, you only get $100 worth of service. As hoteliers, we are servants, here to serve you, so ask for what you want. You should get five-star service no matter where you stay."

6. Each Hotel Impossible renovation clocks in at four days

Start to finish. Anthony sees hotel owners as his boss for the next four days. The first day on a project, Anthony meets with the hotel manager to see how he and the Hotel Impossible team can help and comes up with a plan. During the next three days, all of the construction and renovation work in that plan has to get done.

"It's a very intense and stressful and incredibly challenging process," Anthony says. "It's hard [for some hotel owners] with the cameras and talking to producers, but we try."

7. The best advice he's ever been given?

Take no excuses and give no reasons.

"If you want anything in life, you have to plant your flag and be that person," Anthony says.

As a disciplined person, he says he gives his all to the present — whether it's with his family, opening hotels or filming — and makes sure he doesn't give any excuses for not being there and on time.

8. He'd be in Vegas if he quit TV and hotels

"I would be racing cars," Anthony says without hesitation. "But during the off season, I'd be playing poker at the Venetian."

9. Anthony has a secret talent-slash-party-trick

"I can juggle three balls at a time! Well, I can actually juggle four balls and get a couple of bumps," Anthony laughs.