The carnival-inspired drink will be a hit at your Halloween bash. 
The rides, the games, the treats. There's nothing quite like a carnival. What better way to reminisce about those sweet summer days spent at a fairground than to serve up this delightful carnival-inspired treat?
During this year's All-Star Halloween Spectacular, Food Network's Duff Goldman crafted this clever mocktail with the help of Secret Eats' Adam Richman. While it's not spooky like Food Network star Tia Mowry's Eyeball-tini, the delicious flavor is definitely something to scream about.
2 pints vanilla ice cream
1 teaspoon vanilla extract
Blue and pink cotton candy, for garnish
Pop rocks blue raspberry and cherry
1 jar of vanilla frosting
Pink and blue swirl lollipops
To rim the glass with pop rocks, dip each glass onto a plate filled with frosting then gently dip into a bowl filled with pop rock. Set aside.
In a blender, combine the 1 pint of ice cream, blue cotton candy, 1/4 cup milk and 1/2 teaspoon of vanilla. Blend until smooth. Repeat with pink cotton candy. Fill each glass, pouring both colored shakes at the same time, so the glass is half pink and half blue. Top each with both blue and pink cotton candy, 1 lollipop and 1 rock candy pop. Top with straw. Drink immediately.
Recipe courtesy of Duff Goldman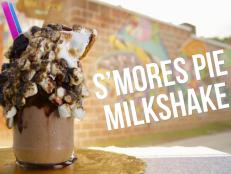 It must be seen to be believed.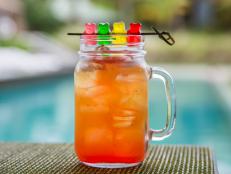 Because kids shouldn't have all the fun.