Anthony Bourdain's Favorite Movies of All Time
Tony Bourdain loves movies. He and the crew have paid homage to many of their favorite movies in episodes of No Reservations, so we asked Tony to list his favorite movies of all-time.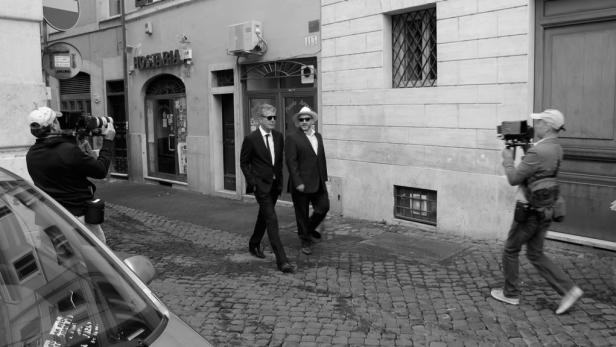 Anthony Bourdain walks down a street in Rome
"Probably my favorite show of all of them. My proudest achievement. Why" Because it was so suicidally stupid. Because no one wanted it. Because everybody thought it was a bad idea to do a show in Rome—that most beautiful and colorful of cities—in black and white. : Instead of run and gun hand held cameras and fast editing, we shot stationary, with film lenses. Instead of no lighting and barely acceptable sound, we lit as if in a studio, made frequent use of subtitles." - Tony Bourdain
Anthony Bourdain and his crew love movies and they've paid homage to many of them in episodes of No Reservations. Here, Tony shares his absolute favorite films of all-time.
Apocalypse Now (1979) starring Martin Sheen, Marlon Brando and Robert Duval
The Wild Bunch (1969) starring William Holden, Ernest Borgnine and Robert Ryan
Goodfellas (1990) starring Robert De Niro, Ray Liotta and Joe Pesci
The Third Man (1949) starring Orson Welles, Joseph Cotton and Alida Valli
Seven Samurai (1954) starring Toshiro Mifune, Takashi Shimura and Keiko Tsushima
The Conformist (1970) starring Jean-Louis Trintignant, Stefania Sandrelli and Gastone Moschin
The 400 Blows (1959) starring Jean-Pierre Leaud, Albert Remy and Claire Maurier
Get Carter (1971) starring Michael Caine, Ian Hendry and Britt Ekland
The Ipcress File (1965) starring Michael Caine, Nigel Green and Guy Doleman
The Friends of Eddie Coyle (1973) starring Robert Mitchum, Peter Boyle and Richard Jordan
Asphalt Jungle (1950) starring Sterling Hayden, Louis Calhern and Jean Hagen
The American Friend (1977) starring Dennis Hopper, Bruno Ganz and Lisa Kreuzer
Aguirre, Wrath of God (1972) starring Klaus Kinski, Ruy Guerra and Helena Rojo
We're all of us on the show huge film junkies, so often we chose locations based on films that we love that have a particular look or style.
Merry Christmas, Mr. Lawrence (1983) starring David Bowie, Tom Conti and Ryuichi Sakamoto
The Wages of Fear (1953) starring Yves Montand, Charles Vanel and Peter van Eyck
Touch of Evil (1958) starring Charlton Heston, Orson Welles and Janet Leigh
Mean Streets (1973) starring Robert De Niro, Harvey Keitel and David Proval
Once Upon a Time in the West (1968) starring Henry Fonda, Charles Bronson and Claudia Cardinale
Paths of Glory (1957) starring Kirk Douglas, Ralph Meeker and Adolphe Menjou
Bob le Flambeur (1956) starring Roger Duchesne, Isabelle Corey and Daniel Cauchy
Thief (1981) starring James Caan, Tuesday Weld and Willie Nelson
Requiem for a Dream (2000) starring Ellen Burstyn, Jared Leto and Jennifer Connelly
Drugstore Cowboy (1989) starring Matt Dillon, Kelly Lynch and James LeGros
MORE: Which Films Inspired Episodes of No Reservations
Telling a story with each show
01:24
Tony talks about the inspiration behind each episode of No Reservations.