Recipe: Andrew Zimmern's Chicken Yakitori
Inspired by his Las Vegas road trip, Andrew Zimmern recreates a recipe from one of his top 10 favorite restaurants.
Been looking for a place to score some yakitori sauce? Consider Andrew Zimmern's recipe for the homemade kind, as inspired by his Las Vegas road trip on this season of Bizarre Foods. After visiting Raku, an immensely popular Japanese small plates spot in Vegas and one of his favorite restaurants in the country, Andrew returned home to put together his own version the chicken yakitori he had on the road. Watch the video below to see how it's done.
We're sorry, there seems to be an issue playing this video. Please refresh the page or try again in a moment. If you continue to have issues, please contact us here.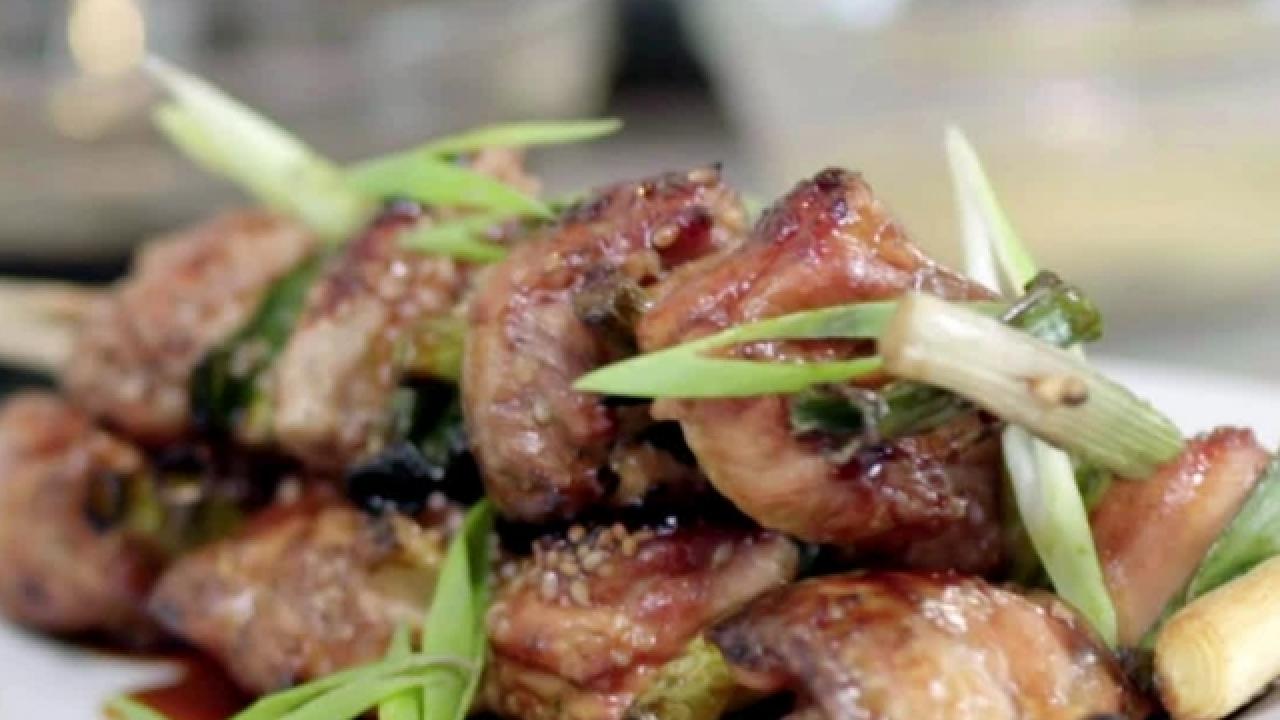 1 1/2 cups water
1/4 cup kombu (1/2 ounce), broken into small pieces
1/4 cup bonito flakes
3 cups sake
1 cup soy sauce
3/4 cup mirin
1/2 cup light brown sugar
3 pounds skinless, boneless chicken thighs, cut into 1 1/2-inch pieces
2 bunches scallions (about 12), cut into 1-inch lengths
Vegetable oil, for brushing
2 tablespoons sesame seeds
Salt
1/3 cup fresh ginger juice
In a saucepan, bring the water and kombu to a simmer. Add the bonito and return to a simmer. Remove the pan from the heat and let stand for 3 minutes. Strain the broth into a large saucepan. Add the sake, soy sauce, mirin and sugar to the broth and boil over moderately high heat, stirring occasionally, until slightly thickened, 45 minutes.

Meanwhile, soak 16 bamboo skewers in water for 20 minutes; drain. Alternately thread the chicken and scallions onto the skewers. Drizzle with vegetable oil. Sprinkle with sesame seeds and salt.
Light a grill. Grill over medium-high direct heat, turning and basting with the ginger juice, until cooked through, 10 minutes. Just before removing them from the grill, brush the skewers with the yakitori glaze. Serve, passing more glaze for dipping.
Recipe compliments of Andrew Zimmern. Visit AndrewZimmern.com for more recipes like this.