Hidden City Crime Files: Atlanta
Marcus explores 3 crime stories from the city of Atlanta.
In the Atlanta episode of Hidden City, Marcus Sakey goes back in time to relive the Great Locomotive Chase. From there, it is back to present day to examine the stories of the Mark Barton killing spree and the kidnapping of drug cartel member Oscar Reynoso.


1. The Great Locomotive Chase
Who: James J. Andrews was born in Holiday's Cove, VA (now Weirton, WV). He moved to Kentucky where he worked as a house painter. During the Civil War he bought contraband and smuggled it between military lines. He also worked for the Union Army as a scout.

What: James J. Andrews led volunteers from the Union Army in a military raid. They stole a locomotive called The General and headed north to Chattanooga, TN, to meet up with Union Major General Ormsby M. Mitchel. The goal was to destroy as much of the Western and Atlantic Railroad as possible as they made the journey. What they didn't plan on was conductor William Allen Fuller. He was furious that his train had been stolen and used other trains on the line to pursue Andrews and The General. At one point he drove the locomotive The Texas in reverse to stay on Andrews' tail. After many obstacles and frustration, The General ran out of fuel and water. It was just a few miles from Chattanooga. Andrews and his team fled but were ultimately caught.

When: Andrews and his raiders stole the train on April 12, 1862. On June 7, Andrews was hanged for his crime and 7 of his men were also hanged on June 18. The remaining raiders tried to escape to the North but only 8 were successful. The rest were exchanged as prisoners of war in March 1863.

Where: The train was stolen when it stopped at Big Shanty, GA (today, it is Kennesaw) so that crew and passengers could have breakfast at the Lacy Hotel. Andrews and his crew planned to take the train up north to Chattanooga to meet up with the Union Army.

In the Media: The pursuit of Andrews' Raiders formed the basis of the Buster Keaton silent film comedy The General and a dramatic 1956 Walt Disney film, The Great Locomotive Chase, starring Fess Parker as Andrews. A first-hand account of one of the raiders is featured in the book Daring and Suffering: A History of the Great Railroad Adventure.



2. Mark Barton's Killing Spree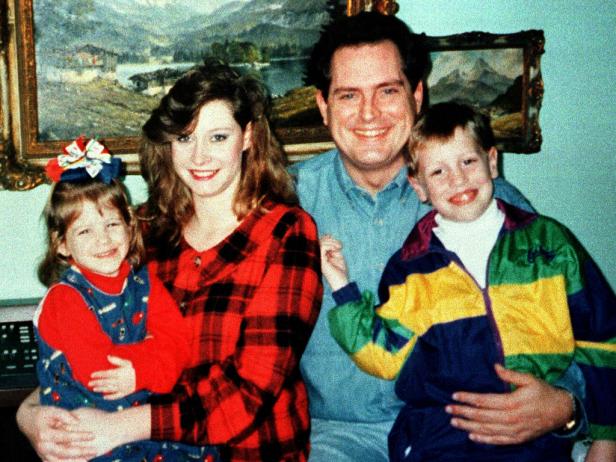 CRIME SHOOTINGS
'Undated family photo released by Henry County Police shows Atlanta gunman Mark Barton, with his second wife Leigh Ann Barton, daughter Michelle and son Matthew. Authorities say Barton killed his family with a hammer July 27, and then went on a shooting rampage July 29 in an Atlanta office park, where he killed nine people and wounded a dozen before taking his own life when surrounded by police. JM/ME'
© Reuters Photographer / Reuters, Reuter Mini Picture Desk/MED
Who: Mark Orin Barton was born on April 2, 1955 in Stockbridge, GA. He attended the University of South Carolina where he graduated with a chemistry degree in 1979. He was married twice and had 2 children. He became a day trader.

What: On July 27, 1999, Mark bludgeoned his wife with a hammer as she slept. The next day he did the same to his son and daughter. Just a few hours after killing his children, Mark walked into Momentum for a scheduled meeting. Witnesses say after waiting for the manager for a while, Mark whipped out 2 guns and started shooting. By the time police arrived 4 people had died and many others were wounded. Barton managed to walk out without being detected and went to his other firm, All-Tech Investment Group. He began to shoot anyone he saw and killed 5 people and wounded many others. Barton fled and was next seen at a shopping mall where he threatened a young girl. She ran from him and managed to call police. Eventually police got a tip on his van and followed him into a gas station. As he was surrounded he took one of the guns and turned it on himself.

Why: Mark Barton had invested a lot in dot-com companies and when the bubble burst, he lost a lot of money -- more than $100,000 in the 2 months prior to the shootings. He also left behind notes that painted the picture of a man who was afraid and suffering. He said he killed his kids to spare them a life of pain. He implied that his wife had been part of the reason for his demise and also mentioned a few others by name. Mark's first wife and her mother had been murdered in a similar way as his second wife and kids. Even though police on the case said he had been a major suspect, Barton was never charged.

When: Mark's killing spree began on July 27, 1999 and ended on July 29, 1999. Where: Mark killed his family who was living in an apartment in Stockbridge, GA. The day trading firms Momentum Securities and the All-Tech Investment Group were in Atlanta.



Who: Oscar Reynoso was a Dominican national who was known to have ties to a powerful Mexican drug cartel.

What: Oscar Reynoso was lured from Rhode Island to the Atlanta area under the guise of bringing a car title to a man identified only as Tio. Oscar apparently owed Tio a $300,000 drug debt. The 2 men met and Tio drove them to a house in Lilburn, GA. There 7 men were waiting with guns. Reynoso was chained to a wall of the basement by his hands and ankles, gagged and beaten. His captors, members of a powerful Mexican drug cartel, held Reynoso for ransom and, chained him in the sweltering, dirty basement for 6 days without food. The DEA learned of his kidnapping due to their surveillance and raided the house to rescue him.

When: The DEA started surveillance of the Lilburn residence on July 11, 2008 after a wiretap tipped them off. They raided the residence a short time after. Reynoso and his captors were all arrested and tried in March 2009.

Where: Oscar Reynoso was held at 755 East Fork Shady Dr, Lilburn, GA.

The Latest: Oscar Reynoso was sentenced to 46 months in federal prison, to be followed by 5 years of supervised release. He pleaded guilty to the federal drug conspiracy charge on March 10, 2009. His sentence was reduced to reflect his cooperation in the investigation and prosecution of his kidnappers.

Reynoso's captors were Victor Abiles Gomez, Omar Mendoza-Villegas and Gerardo Solorio Reyes. All 3 were illegal immigrants from Mexico; they pleaded guilty to federal hostage-taking, drug and firearm charges. Reyes received 26 years in prison, while Gomez and Mendoza-Villegas were sentenced to 24 years.