Hidden City Crime Files: LA
Get more information on the Hidden City LA crime stories.
Marcus visits La-La-Land to unravel the mystery of the Black Dahlia and Wonderland murders, and to explore the site of the 1992 LA riots that followed the Rodney King verdict. Discover more about these crime stories in our LA Crime File.


1. The Black Dahlia Murder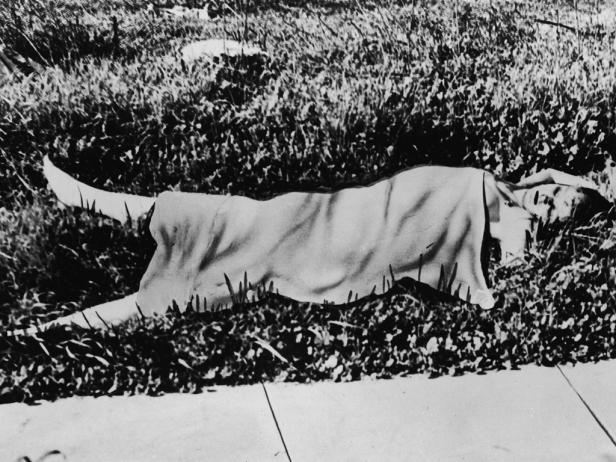 T1217583_08
'The naked corpse of American aspiring actress and murder victim Elizabeth Short (1924 - 1947), known as the 'Black Dahlia,' lies on a grassy field covered by a blanket after the body was discovered in a vacant lot in the Leimert Park neighborhood of Los Angeles, California, January 15, 1947. Short's murdered body was severly mutilated and severed at the waist. The murder still remains unsolved. (Photo by INTERNATIONAL NEWS PHOTO/Getty Images)'
Who: Elizabeth (Beth) Short was born in Boston on July 29, 1924. She was the third of 5 children. Her father built miniature golf courses but lost everything in the 1929 stock market crash. One day he parked his car near a bridge and disappeared. Most people thought he was dead, but Short later discovered he was living in California. By 19, she went to live with him. Short was sent back to her mother after being arrested for underage drinking. Eventually a desire to become an actress lured her back to the LA area.

What: Short's body was found in the Leimert Park district of Los Angeles. She had been beaten and her body cut in half and drained of all its blood. The Black Dahlia nickname was said to have been coined by the press to generate more interest in the case.

When: Her body was discovered on Jan. 15, 1947. Elizabeth was last seen alive on Jan. 9 at the Biltmore Hotel.

Where: Her remains had been left on a vacant lot on the west side of South Norton Avenue midway between Coliseum St and West 39th Streets. She was last seen alive on Grand Street in LA.

The Latest: To date, the case is listed by the LAPD as unsolved. There have been many theories about who the killer was but nothing has ever been proven. The Black Dahlia web site is dedicated to helping find justice in this young woman's murder.

In the Media: Many books, films, TV shows and songs have explored the case. And 2 separate individuals, Steve Hodel and Janice Knowlton, each wrote a book claiming their respective fathers were the killer.


2. The Wonderland Murders
Who: John Curtis Estes was born on Aug. 4, 1944 in Ohio. His last name became Holmes after his mother decided he should take on her husband's last name. John never knew his biological father. John's mother went on to have several marriages. One of her husbands, Harold Bowman, beat John, and his mother eventually gave him permission to enlist in the Army to get out of the situation. After the Army, Holmes married and moved to California. This is where he was discovered. Because of his generous "physique," he was encouraged to go into the porn industry and became Johnny Wadd. He made thousands of adult movies before developing a drug problem; this ultimately ended his career. He died of AIDS in 1988.

What: Joy Audrey Miller, Billy DeVerell, Ronald Launius and Barbara Richardson were all found beaten to death; Susan Launius was beaten but managed to survive the attack. At the crime scene was the hand-print of John Holmes. Miller, DeVerell, Launius and their roommate David Lind were drug dealers who had supplied Holmes's habit. Holmes helped them rob LA club owner and known drug dealer Eddie Nash. It is said that Nash ordered the killings of the 4 people after he made Holmes give up the names of those involved in the robbery. It has been said that Holmes was forced to participate in the murders. Lind was spared since he wasn't home at the time. His girlfriend, Barbara Richardson, was not so lucky. Nash was tried twice for the murders but never convicted. Finally, in 2000, he was arrested for drug charges and in 2001 agreed to a plea bargain that included admitting to ordering his people to retrieve his stolen items from the Wonderland gang. He received a 4 1/2-year sentence and $250,000 fine.

When: The Wonderland murders took place on July 1, 1981.

Where: Miller and the rest of the gang had been leasing a house at 8763 Wonderland Ave in the Laurel Canyon part of Los Angeles.

In the Media:  There has been lots of interest in both Holmes and the Wonderland murders. Boogie Nights is loosely based on the life of John Holmes.  Wonderland, starring Val Kilmer explores the events before and after the murders. In 2010 Holmes's former girlfriend, Dawn Schiller, wrote a book called The Road Through Wonderland: Surviving John Holmes.


Who: Thousands of people in the LA area rioted over a 6-day period.

What: In March 1991, 5 LAPD officers (Stacey Koon, Laurence Powell, Timothy Wind, Theodore Briseno and Rolando Solano) pulled over an African-American man named Rodney King after a high-speed chase. While trying to arrest him, the officers beat, kicked and tasered King. The officers claimed it was done because he was high on drugs and resisting arrest. The incident, captured on tape, seemed to tell a different story. When a jury acquitted 4 of the officers, thousands of people rioted in protest of the verdict. During the riots 53 people died, 2,383 were injured, 7,000 fires were set and more than $1 billion in property damage ensued.

When: The riots started on April 29, 1992, and lasted for 6 days. It wasn't until the National Guard and Marines were called in that order was restored.

Where: The rioting was concentrated in South Central LA, with much of the looting and assaults taking place at the intersection of Florence and South Normandie avenues.

In the Media: The event had a major impact on popular culture, with many books, TV shows, movies and even video games referencing the event.