Samantha Brown's Favorite Travel Apps
Thanks to these apps, I can make more informed decisions, find the information I need if things go wrong, and generally enjoy peace of mind when I'm away from home.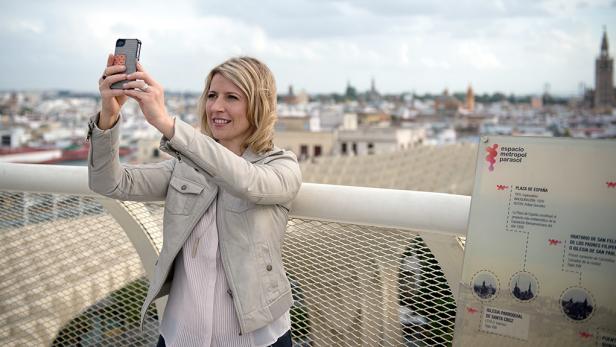 Sam Brown takes a photo of herself in Spain
These days, the phone feature on your smartphone is almost an afterthought. Now that gadget in your pocket can also pay your bills, bring you world news and let you video-chat with your daughter (finally, something from The Jetsons came true!).
Like all road warriors, I have a toolbox of apps on my smartphone that has made traveling much, much easier (although I'd really appreciate an app that would keep it from falling into the toilet). Thanks to these apps, I can make more informed decisions, find the information I need if things go wrong, and generally enjoy peace of mind when I'm away from home.
Most airline websites show you a seating layout for their planes. But on SeatGuru — a website with a mobile app — you can find seating plans for more than 700 types of aircraft, and those seats are color-coded red, green and yellow for comfort and convenience. You can look at the charts on SeatGuru to evaluate specific seats for your flight on your airline's site. Obviously, you don't want to choose a red seat; it might not recline, or it may have no window. Other seats might be near a busy galley, which is a real hassle on a long-haul flight. Now, if only SeatGuru could help me avoid seatmates like the guy who felt that both armrests were his birthright or the Ludwig Von Businessman who pounded away on his laptop keyboard as if he were performing at Carnegie Hall.
You know you can't bring a firearm or a full-size bottle of shampoo on board, but how about a golf club or a jar of homemade jam? Type any item you're unsure of into the "Can I bring my…" space to find out. Put the My TSA app on your phone, and you just might spare yourself from kneeling on the airport floor, repacking your non-carry-on items. There's also a traveler's guide with rules regarding passengers with special medical needs.
3: Sleep Pillow (available for Apple products only)
Lots of "white noise" apps do a good job of lulling you to sleep in a hotel or on a plane, but this one offers especially authentic sound effects. For instance, Sleep Pillow doesn't simply give you rain; instead, you get hard rain, soft rain, rain on leaves, rain on a tent or my favorite, rain on a car with the metronomic tick of the windshield wipers in the background. Other sound categories include ocean and weather, and you can layer sounds for your own unique mix. Right now, my compilation is "Rain on Car," followed by "Train in the Distance" and finally "Soft Wind Chimes." I never make it to the chimes.
Travel emergencies do happen, and sometimes, they involve having to book a hotel room for the night unexpectedly. A lot of online sites seem to balk at booking rooms the same day (let alone at the very hour) you need one, but Hotel Tonight is designed to do just that. It tracks vacancies in most major markets and puts a list of available rooms at your fingertips. Rooms can be booked from your device, sometimes at a discount.
This flight tracker app is great both for travelers and those who are picking them up at the airport. Enter a flight number, and you'll see up-to-the-minute departure or arrival status. FlightAware is also helpful when you're anticipating a tight connection: While taxiing to the arrival gate, check the latest departure time of your next flight — and map out your walking route to the gate on a map of the terminal. Plus, for those of us who never quite believe it when the gate agent says our late-arriving plane is "on the runway," you can type in that flight's number to get its exact location and arrival time.
This one's a little less practical than the others, but if you're a travel dork like me, you'll enjoy it. FlightBoard turns your phone screen into the flight board of any major airport around the world. Not only do you get to ponder all the amazing places people are going, but you can also test your knowledge of airport codes — which, I know, is really dorky. Those 3 little letters can embrace a city's entire history. Beijing's airport, for example, got its code, PEK, when the West called the city Peking. And the airport in Ho Chi Minh City, Vietnam, is labeled SGN, from the time when it was known to a generation of Vietnam-era veterans as Saigon.