All the Secrets You Need to Be an Incredible Airbnb Host
A Superhost from Los Angeles shares her top insider tricks for killing it on Airbnb.
My husband, Greg, and I have been renting out our little guest house in Los Angeles for the past two years on Airbnb (that's it up above), and we've been Superhosts from the moment we qualified. So, I'm lucky enough to know a thing or two about what it takes to be a kick-ass Airbnb host. If you've been thinking of trying this yourself (which I would highly recommend), I'm spilling all my secrets so you can become an incredible host in no time.
Master Bedroom With Four-Post Bed
Natural elements are found throughout this master bedroom. A wood four-post bed serves as the focal point of the space.
The first thing you'll need is a super, over-the-top bed. When your bed for your Airbnb space is so yummy and comfy you'd be willing to stay there yourself, you know you're in business.
Start with a great mattress, and you'll be well on your way. You don't need to spend a ton of money, but you can't skimp on this either.
Sheets are a personal preference. I have linen sheets on my own bed; however, for our Airbnb, I don't like how wrinkly they look. So we use microfiber sheets. They're incredibly soft, don't wrinkle and wash and wear super well. On our bed, we have a fitted sheet, a top sheet, a blanket and a duvet with a duvet cover. We also have four pillows — two soft ones and two firm pillows — just to make sure we're accommodating the preferences of as many guests as we can.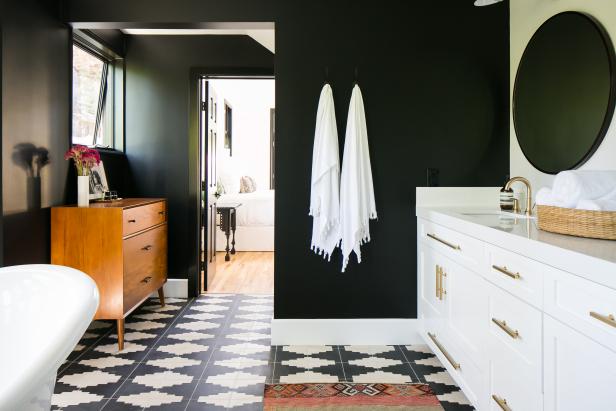 Black Spa Bathroom With White Towels
Black can feel like a scary choice on the wall, but it can actually make a space more intimate. This gorgeous bathroom uses the color brilliantly and turns it into a cool platform for crisp color contrasts like the white towels and pretty wood dresser.
Towels are another area you can't skimp too much on. You'll need a good supply of fluffy towels on hand for quicker turnovers. Costco has great Charisma towels that I like to pick up when I can. And on Amazon, their Pinzon line of Turkish towels is another top pick. You'll need: bath towels, hand towels, washcloths and a bath mat. I also provide black washcloths so guests can easily wipe off their makeup without ruining our white washcloths. Our other towels are white for easy washing and bleaching.
3: An All-In-One Guidebook
The best way to cut down on questions and confusion of your guests is to create a very comprehensive guidebook for your space. This might feel like a lot of work in the beginning, but once it's done, it's done! In our guidebook we include: instructions for operating our washer/dryer, how to use our TV, a summary of what can be found in the kitchen, Wifi information and loads of suggestions for neighborhood hotspots. Also include your address as well as some helpful hints such as "between X street and X street") in case your guests want to order delivery and need to share the directions with a delivery person.
4: Mirror Mirror on the Wall...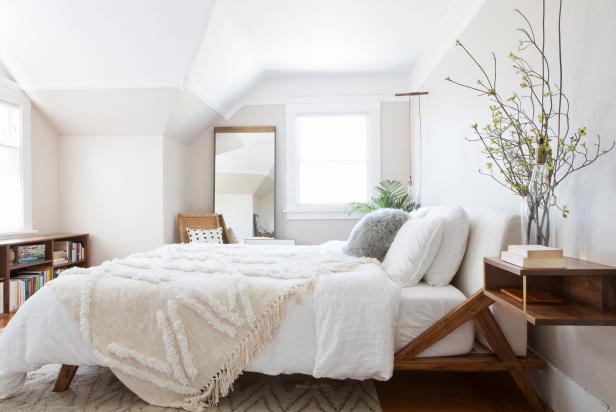 Bright, Monochromatic Modern Bedroom With Plush White Bed Linens and Floating Nightstand
The crisp white color scheme of this modern-styled bedroom creates a bright and captivating overall look. The minimalist decor features plush bed details, floating shelf nightstand and full-length mirror.
We totally missed this one at first until a helpful guest pointed out that a full-length mirror would be a great addition to our space. You always have a full-length mirror in a hotel room, so make sure you include one in your Airbnb, too. Depending on your space, it's fine to leave a mirror in the bathroom, the bedroom or even on the back of a door. Just make sure you have one!
Another really important feature in your Airbnb is your Wifi. In fact, in guest surveys conducted by Airbnb, strong Wifi is usually the number-one thing guests look for when booking. You might even want to spring for an upgraded connection if your provider offers one. Also, make sure to have the Wifi password easily visible so no one ever has a problem getting online.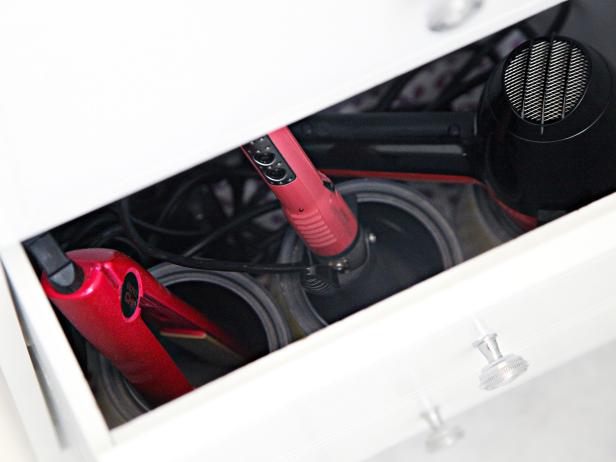 Small-Space Hacks: Hair-Tool Holders
Jennifer Jones of I Heart Organizing has some seriously smart ideas for keeping her bathroom in order. But one in particular made us wonder, "Hey, why didn't we think of that?" "Searching for a hair-tool organizer that was both attractive and inexpensive, I was continuously coming up short," says Jones. The more expensive options were meant to be displayed on a counter or vanity—taking up too much precious space. Jennifer noted that the pricey versions often had tin-cup inserts to hold the hot hair tools. So she got creative with the drawer space she had available. "That sparked the idea to check out some empty metal paint cans from the home improvement store. I was able to tuck them into a deep drawer, so the tools can still be out of site, yet neatly organized and safe in-between uses."
Jennifer Jones, I Heart Organizing
Another must-have item for your Airbnb is a hair dryer. This is probably the most common question we get from future guests: will there be a hair dryer? Keeping one in the bathroom means guests have one less thing to pack, which is always much appreciated. Check out local discount stores like Marshalls or TJ Maxx if you need to buy one.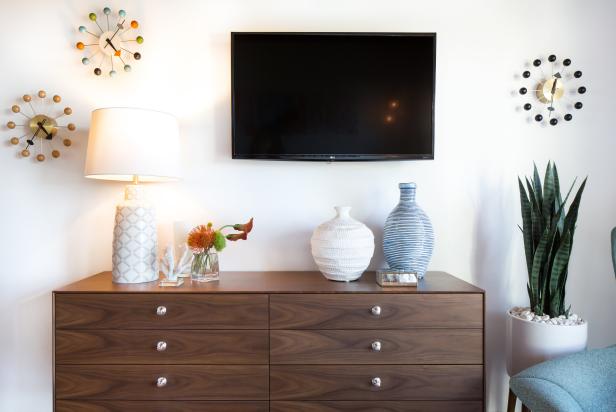 Dresser, TV and Colorful Clocks
To soften the black rectangle of this wall-mounted tv, designers surrounded it with fun, colorful clocks, pretty ceramic vases and a table lamp.
Wynne H Earle Photography
While you don't need a typical cable package for your space, I would recommend you sign up for either Netflix or Hulu (or both!). Amazon Prime is also a great one to have. Even though we offer DirecTV cable, we find that most of our guests only use Netflix, Hulu or Amazon Prime. Just make sure you have very clear instructions on how to access each one. Otherwise, you're going to get loads of questions. And I mean LOADS.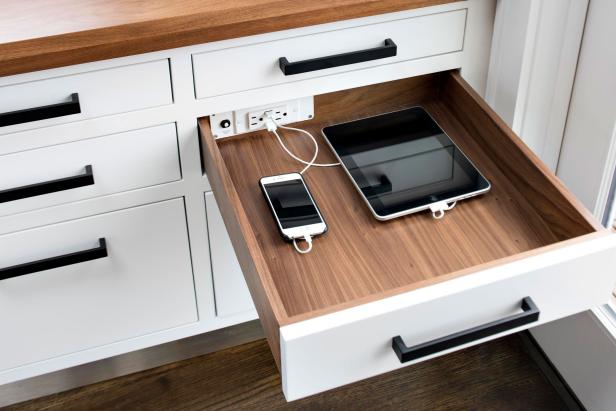 Electronics Drawer Organization
Extra charging cables and a charging station are also great things to have in your space. Though, truth time: Our charging cables were disappearing, so we stopped offering them. Even if you don't provide cables, you'll want a couple of spots where your guests can plug in, especially by the bed. If you don't have electrical outlets easily accessible by the bed, you can get some extension cords and let your guests plug in that way.
Last but not least, don't forget to wow your guests! Include a few extras that will make their trip truly unforgettable. We like to stock the fridge with water bottles and plenty of shampoo, conditioner and shower gel. We also keep a wine rack in our kitchen with a few bottles of wine (not every guest will drink wine, so these sometimes last longer than you might think). We have beach towels in case our guests want to head down to the beach, and we also provide an ironing board and an iron. You don't need to spend a lot of money, but guests truly appreciate when you go that extra mile.