6 Ways to Bond With Animals on Your Vacation
From cat cafes to manatee snuggle-fests, find out how to interact with animals on your next vacation.
Before you book your next vacation, consider this: instead of exploring a city or lounging on a beach, you could get up-close-and-personal with some of the planet's cutest creatures in incredible locations. From gliding alongside enormous manatees in Florida to spotting wild ponies in Virginia or helping save baby sea turtles in Mexico, we've picked our favorite ways to bond with animals while traveling.
Fun With Felines at Cat Cafes
When scanning the Internet for cat videos grows dull, bring your feline obsession to three-dimensional life at a cat cafe: a coffee shop where kitties freely roam the dining area and cuddle with patrons. The idea originated in 1998 Taiwan, and almost immediately spread to Japan, where travelers can now find as many as 150 cat cafes, including nearly 40 in Tokyo. Today, more than a dozen feline-friendly cafes have popped up in the United States, including New York City's Meow Parlor (reservations are necessary) and San Francisco's KitTea, which hosts "Cats on Mats" yoga and after-dark "Mewvie Nights."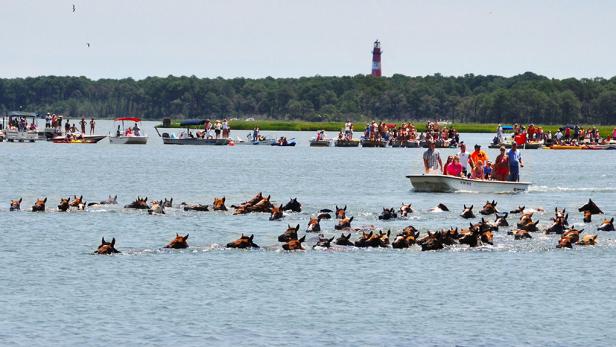 Chincoteague Island Annual Pony Swim
Escape to Chincoteague Island -- Virginia's only resort island -- located 3.5 hours from Richmond, VA. The small, 7-mile-long island is a fishing village famous for its oysters and clams. Visit in July to watch a herd of 150 wild ponies swim from Assateague Island to Chincoteague Island in the annual Pony Swim.
Chincoteague Chamber of Commerce
Play With Wild Ponies on Assateague Island in Virginia
For scores of students who read the classic children's book, Misty of Chincoteague, the possibility of bonding with wild horses on a remote island has stoked countless vacation fantasies. In fact, it's possible to bring those elementary school daydreams to life on Virginia's Chincoteague and Assateague Islands, where wild horses still roam free. Plan to visit in July and attend the annual wild pony auction and Pony Swim, when tens of thousands of visitors travel to the island to watch the so-called Saltwater Cowboys herd the horses, and guide them from Assateague Island to Chincoteague Island.
Swim With Manatees in Florida
Slow-moving residents of Florida's waterways, manatees swim toward hot springs each winter, seeking warmth. This great migration, particularly near the Gulf Coast town of Crystal Springs, has become legendary among travelers itching to get close to the enormous, 2,000-lb. sea cows. In Crystal Springs, tour outfitters like the Plantation Adventure Center, offer trips that allow visitors to not just to see the gentle giants, but to don snorkel gear and wetsuits, and swim alongside the lumbering creatures, even tickling their bellies.
Save Sea Turtles in Mexico
Watching hundreds of tiny baby sea turtles poke their little limbs out of their shells and wobble toward the sea in Colima, Mexico is an unforgettable and beautiful experience. These critters often need the protection of humans to guarantee they make it safely to the water's edge. Travelers who want to do a bit of good on their vacation can volunteer with Projects Abroad. You'll help protect endangered Olive Ridley turtles by taking part in nighttime beach patrols, relocating and making safer shelters for turtle nests, and collecting newborn turtles and releasing them into the sea.
Research and Swim With Dolphins in Belize
If you've always wanted to swim with dolphins but fear that typical tourist trips endanger the creatures, a volunteer vacation with the Ocean Society could be your solution. The conservation group organizes volunteer vacations in Belize that allow travelers to learn about and participate in an ongoing dolphin study alongside researchers. Using snorkel equipment, you'll record data on dolphin behavior, social interactions, as well as environmental data.
Pet Pandas in Chengdu, China
Pandas may be cute and cuddly, but they're also one of the world's most endangered species. Travelers can help with panda conservation efforts -- and yes, even pet the adorable creatures -- with a volunteer vacation organized by Real Gap Experience. You'll work in China's largest panda reserve, located outside Chengdu City. Daily tasks can include preparing food, feeding the pandas and helping build new panda habitats.