The Ultimate Dublin Bucket List For U2 Fans
9 unforgettable restaurants, cultural hotspots and natural wonders to discover in Ireland's capital.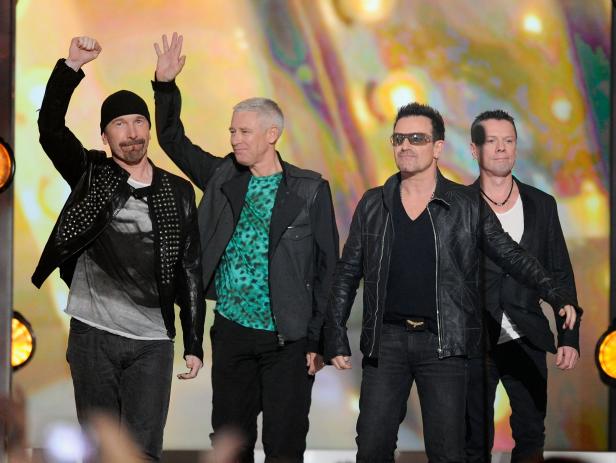 billboard11_show_u2_h
LAS VEGAS, NV - MAY 22: Musicians The Edge, Bono, Larry Mullen Jr. and Adam Clayton of the band U2 accept the Touring Top Artist Award onstage during the 2011 Billboard Music Awards at the MGM Grand Garden Arena May 22, 2011 in Las Vegas, Nevada. (Photo by Ethan Miller/Getty Images for ABC)
If you're ready for a music-themed vacation, Dublin is the easy choice. The capital of the Republic of Ireland is one of the friendliest and most manageable cities in Europe, with a metropolitan area roughly the size of Nashville, Tennessee. Each year, Dublin draws music fans from around the world who are eager to explore its rich cultural history and the origins of hometown rockers U2. Full of medieval artifacts, Georgian architecture, and pubs once frequented by philosophers, playwrights and poets such as Samuel Beckett and William Butler Yeats, Dublin is the perfect place to get your drink – and your think – on. But don't get lost in tourist traps that only want to sell you pints of Guinness. See Dublin through the eyes of U2 when they were just boys making their first major music video. Or better yet, see the band perform live in a 21st-century city transformed by the digital revolution.
Paddle across the canal where U2 filmed the 1981 music video for "Gloria."
Walk to Windmill Lane Studios on Ringsend Road to snap a photo of the recording haven where U2 made many of its albums, then make your way to the Grand Canal basin, the spot where director Meiert Avis filmed Bono, The Edge, Larry Mullen, Jr. and Adam Clayton on a barge for the video accompanying the single, "Gloria," in 1981. Today, Grand Canal Square offers high-end eateries, shopping and recreational activities such as paddleboarding through Surfdock Watersports.
Sip cocktails with the in-crowd at Roberta's.
On the edge of Temple Bar, nestled on Essex Street behind the Clarence Hotel (a property owned by Bono and The Edge), you'll find Roberta's, a sprawling bar and bistro with views of the River Liffey, an outdoor patio, glass atrium, and cozy galleries with comfy seats and fireplaces. Even if your name isn't on the exclusive guest list for one of U2's concert afterparties at Roberta's, you can pop in during regular business hours to enjoy river views and inventive handcrafted cocktails like this icy twist on a vintage summer Strawberry Caiprioska.
Relax on the shores of Killiney Beach.
Most people probably don't think of Dublin as a beach town, but it has miles of coastline that vary between stone and sand. Killiney Beach, a rocky strand, is one of the nicest spots in the country from which to gaze at the Irish Sea. U2 fans will be happy to note that this little slice of California-in-Ireland is located within a pebble's toss of the Killiney Hill area, where Bono and his wife Ali Hewson share a family home with their four kids. Dublin's above-ground rapid transit system called DART stops a few feet from the shore, making this destination an easy half-hour trip from the city center.
Discover Irish fashion designers at Brown Thomas.
Grafton Street is known as busking central, where Bono joins Glen Hansard and other Irish singers for annual caroling on Christmas Eve. It's also the high street for fashion, where each year the posh department store Brown Thomas hosts CREATE, an incubator for Irish clothing and lifestyle design. This year, mother-daughter designers and artists Mariad and Domino Whisker, friends of U2 and fixtures on the local scene, collaborated on adorable bespoke collars which showcased their clever, wry style and artisanal craftswomanship.
Hear a local rock band in the Liquor Rooms.
Located within the Clarence Hotel complex is a speakeasy dubbed The Liquor Rooms. It's not a true hideaway (there is a sign on the door), but once ensconced in its fabric-covered walls, it feels like you're in another world. If you're lucky, you'll arrive when an Irish group such as The Luna Boys takes the tiny stage. (And for music fans who remember the intimate 1990s New York City venue, Fez: Go! You'll love The Liquor Rooms).
Explore the history of Irish album art.
Lunch and learn while viewing virtually every Irish album cover ever printed. Tucked away in the Beggars Bush Barracks, the National Print Museum is a delightful gallery complete with an enchanting cafe and garden. The museum's current exhibition provides a fascinating look at how vinyl album covers drove the Irish printing industry from the 1960s-1990s, and includes original art from dozens of artists such as The Boomtown Rats and Hothouse Flowers. Highlights: Steve Averill's concept for U2's first album, Boy, and the sleeve for U2's 1983 live album, Under A Blood Red Sky. ("Green Sleeves: The Irish Printed Record Cover 1955-2017" ends 10/1/17.)
Take a day trip to see castles, cliffs and cathedrals.
Global success has followed U2 since its beginnings in 1976, so it's easy to say the foursome is now more than just an Irish band. But U2 is never less than an Irish band, and roots matter. Moydrum Castle, Slane Castle, local Dublin churches and so many other atmospheric locales have informed U2's video and photo vernacular over the decades, including the moors in the short film created for the band Clannad's 1985 collaboration with Bono on the song, "In a Lifetime." Nothing in Ireland is more than five hours by bus from Dublin, so plot a path to get in touch with the spirits of the island and feel the vibes of faith that flow through U2's music.
Mariad Whisker credits U2 for being an integral part of a cultural change since the 1980s, "one that triggered a modern sense of self and looked beyond our island shores to embrace a global confidence in what Ireland has to offer." Google's European headquarters transformed the skyline of Dublin in the early 2000s, and philanthropic contributions such as U2's funding for the Music Generation, Ireland's national music education program, impacted daily life. Today, U2's music videos and the Irish films we Americans have associated with Dublin over the years, including 1991's The Commitments, The Snapper (1993), Once (2007) and Sing Street (2016), only capture part of the story. There's still street art and a bit of grit, but the city center is safe, clean, well-lit and accessible. As you discover your own Dublin on foot, be prepared to experience all the mod cons of a metropolis and the abundant charms of a small town.
Watch U2 perform at Croke Park.
After you've paid homage to U2's boyhood haunts. including Mount Temple Comprehensive School and singer Bono's childhood home on Cedarwood Road, travel across the Northside of Dublin to one of Europe's largest stadiums, Croke Park. Whenever the band's tour stops at the venue, you'll be able to sing the words to "Sunday Bloody Sunday" and "Beautiful Day" along with nearly 80,000 fans. A treasured bucket list experience!
Ramsey Cardy / SPORTSFILE
U2 celebrates the 30th anniversary of The Joshua Tree during a sold-out show in Dublin on July 22, 2017. Photo by Ramsey Cardy/Courtesy of Croke Park