How to Experience Miami Beach Like a Local
North Beach is a mellow alternative to SoBe.
When most travelers picture an escape to Miami Beach's sun-soaked shores, they probably envision South Beach, the region's indisputable tourist hub. What few fail to realize is that SoBe is clogged with visitors, and what they find is often a cross between MTV's Jersey Shore and a bad episode of the Real Housewives. Picture a sea of $50 margaritas (no exaggeration), drunken shenanigans and frat bros driving rental Ferraris.
If your ideal beach vacation involves a decidedly more chill scenario, consider a stay in North Beach, just a few miles north (imagine that!) of South Beach. The oceanfront neighborhood lies a mere 15-minute drive from the thrum of SoBe, between 63rd Street and 87th Terrace, but feels a world away.
The stretch of beach here is classic Miami: wide swaths of soft, white sand, sparkling turquoise waves and lined with small, grass-covered dunes. You can stroll a palm tree-lined promenade, and play volleyball at the sand courts along 73rd Street.
It's largely a residential hub, and prominently Latin American — Spanish is the first language of most people you'll meet. Though there aren't as many hotels as you'd find in South Beach, the Hilton Cabana Miami Beach is an excellent bet (with a fab beachfront bar), The Carillon is a luxe respite with an amazing spa, and the many apartment buildings contain Airbnb rental units.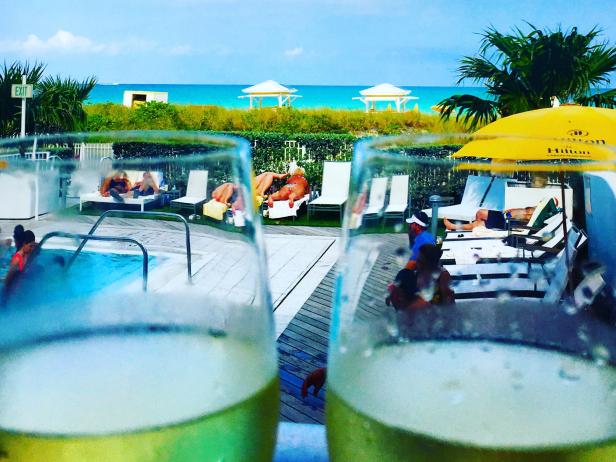 Hilton Cabana Miami Beach, Florida
Located on the famous Collins Avenue at 63rd Street, the Hilton Cabana Miami Beach offers a classic Florida escape in an upscale setting. Minutes from South Beach, within Millionaires Row, the hotel spoils guests with 4-star refinement. The on-site L'echon Brasserie offers classic French dining in a casual setting, while the upstairs outdoor pools astound, with unobstructed views of the Atlantic Ocean and envy-worthy private cabanas. Of course, the star of the show is the hotel's beachfront, where Miami's hottest and trendiest come to get their daily dose of vitamin D. 

You won't go hungry in the 'hood. Within a 5-block stretch, you'll encounter Argentinean, Colombian, Peruvian, Cuban, Mexican, Ecuadorian and Brazilian restaurants — plus a juice bar, sushi and Chinese takeaway. Don't leave North Beach without a visit to these neighborhood highlights:
This authentic Argentinian bakery is a neighborhood staple and buzzes from early morning until closing with chatty locals. Pop in for a strong cafecito and a small, sweet croissant called a medialuna. If you visit on a Saturday or Sunday, prepare to take a number and wait to order. It's totally worth it.
Skip the nearby (and decidedly shady) On the Rocks bar, and seek out Lou's Beer Garden, a cocktail and craft brew oasis. Tucked behind a boutique hotel, you'll be wooed by the lights draped across the patio, firepits and an excellent music playlist. Hungry? Order from a complete menu, though the pizzas are a definite win.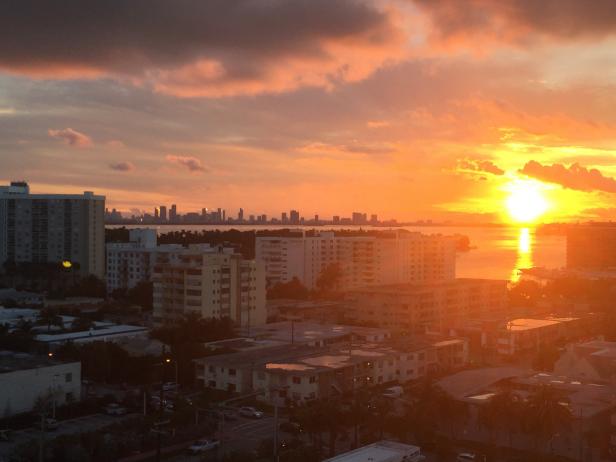 North Beach, Miami, Florida
Stretching from about 63rd Street to 87th Street in Miami Beach, North Beach is primarily residential, remains relatively quiet during the week and fills with locals on warm weekend days. Enter the beach at 71st Street (public parking is across the street), grabbing sweet treats at Buenos Aires Bakery before you hit the sand.
When the urge to eat too much Cuban food comes calling — and in Miami, that feeling is inevitable — Sazon satisfies your craving with hearty portions and reasonable prices. Order the Pan Con Lechon Desmenuzado sandwich, a pile of shredded pork, sauteed onions and garlic marinade on Cuban bread. It's la bomba.
Recently taken over by Miami's Rhythm Foundation, the North Beach Bandshell has morphed into a hipster hub. Concerts and events are held almost nightly, like the monthly Dance Band Nights and food truck gatherings, plus performances by indie bands, like Beirut.
Get a cinematic culture fix at O Cinema, which shows indie films and documentaries. The best part? You can order wine or beer, as well as snacks, to enjoy during the movie.