A remembrance of Prince and fave hometown spots.
Fans of all ages are reeling from the news of uber-talented, maniacally creative musician Prince Rogers Nelson's death today. Prince's death came on the heels of several prophetic events, including an Atlanta performance scheduled for April 7 that was canceled due to illness. "The entertainer is battling the flu" a press release sent out the day of that show announced.
But Prince rallied. He rescheduled his show for a week later and performed an unforgettable collection of classics, B-sides, songs from his 39th album HitnRun Phase Two, a tribute to David Bowie in a cover of "Heroes" and deconstructed favorites performed with just a mic, a piano and that incredible voice.
I was lucky enough to be in the crowd for one of the singer's last performances on April 14 at the Fox Theatre in Atlanta, where no sign of fatigue or illness marred an exceptional demonstration of Prince's charisma and talent, all alone with a grand piano as part of his "Piano & A Microphone" show. The April 14 shows at 7 p.m. and 10 p.m. demonstrated the 57-year-old singer's tireless energy, creativity and an ability—even when his work was stripped down to the basics—to mesmerize audiences. During the early morning April 15 plane trip back to his Minneapolis home after the Atlanta show, Prince's private plane made an emergency stop in Moline, Illinois. Prince was eventually released from the hospital three hours after treatment and continued his journey home, perhaps a sign the musician was still battling an illness he wanted to overcome to perform in Atlanta.
I can't think of a better venue, or a better experience for one of Prince's last performances than Atlanta's Fox Theatre, an historic 1929 movie palace on Peachtree Street where his Royal Badness blew-away sell-out crowds. Beginning in 1982, Prince performed 12 shows over his lifetime at the Fox. The gorgeous Moorish-style theater with its ceiling painted like a starry night sky (thanks to 96 embedded crystal stars and a projection of clouds that glides across the night sky) and faux-gilt and velvet trim felt as intimate as a 4,678–seat auditorium could be. It was a fitting jewel box to highlight one of the music world's most glittering treasures, a magical place, one of my favorite places in Atlanta.
Prince fans of every imaginable variety, from prosperous African-American couples on a double date sipping cocktails to country boys with thick Southern drawls downing beers on the patio of the Georgian Terrace across the street from the Fox, to suburbanites dolled up in sexy concert wear milled outside the theater and spilled into the street, creating a festival-like atmosphere and a typical Atlanta melting pot. The crowd for the 7 p.m. show was a fascinating mix of mostly 40 and 50somethings, though there was a smattering of far younger fans too, including the young woman ahead of us in the endlessly snaking pre-show bathroom line, who confessed she might start crying as soon as Prince took the stage.
My music writer friend Kristi and I sat next to a gregarious African-American couple on our right who told me they'd once had Stevie Wonder give them a shout-out at a concert and an East Indian couple in their thirties to our left. We were all rapt at Prince's every note, beginning with a stripped down version of "Little Red Corvette." Every familiar classic, from "Controversy" to "I Would Die 4 You," (with the audience gesturing their devotion with hands to heart and arms pointing at the stage at every "I would die for you" refrain) to the heartbreaking "Nothing Compares 2 You," and "You Got the Look" brought the crowd to their feet, singing along. A kaleidoscopic projection changed color and form, from psychedelic to stained glass throughout the show, giving the performance the feeling of communing at a church of song, with Prince's disciples in the house to pay tribute to this remarkable man. He talked about learning how to play the piano from his father and as he exited the stage before one encore, twirled a jaunty cane, ever the stylish dandy.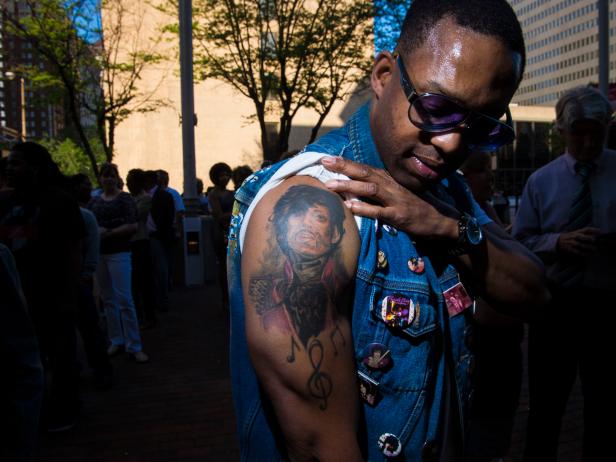 BALTIMORE, MD - MAY 10: Luther Washington shows off his Prince tattoo as he waits to see Prince for the 8th time as people line up to see singer Prince as he performs at the Baltimore's Royal Farms Arena on Mother's Day as part of his Rally 4 Peace event in Baltimore, MD on Sunday May 10, 2015. (Photo by Jabin Botsford/The Washington Post via Getty Images)
Getty Images/The Washington Post
Allan C. Vella, President and CEO of the Fox Theatre called Prince " a music pioneer, innovator and cultural icon. His music moved and inspired many, including the fans that were able to join him as he took the stage for his final performances last week at Atlanta's Fox Theatre. We, along with the world, mourn the loss of a music legend."
The best seats at the Fox went for $1,000 and front-row fans were able to touch Prince as he reached out during one interlude to the crowd at the edge of the stage. The $1,000 price tag seemed worth it, for that last touch of greatness. My friend and I had the nosebleed seats. But it felt just as intimate, just as magical, to see not only Prince, but the sweet outpouring of love and devotion from his fans, even though many, including my next door seat mates, expressed disappointment that "Purple Rain" wasn't in the mix. Prince played "Purple Rain" at the 10 p.m. show. I didn't miss it: what I got was enough.
Anxious to honor Prince's memory? Make a pilgrimage to his hometown of Minneapolis, Minnesota and visit some local highlights:
This funk, blues and R&B venue features bands seven nights a week and has hosted Prince for impromptu jam sessions.
This franchise inside the Mall of America features costumes from Prince's Purple Rain and Sign O' the Times tours.
Paisley Park, 7801 Audubon Road
Prince's 70,000 square foot mansion home in the Minneapolis suburb of Chanhassen has played host to Mavis Staples, George Clinton, Madonna, R.E.M and Barry Manilow, among many others. Prince built the compound in 1985 after "When Doves Cry" became the best-selling single of 1984.
Prince played shows early in his career at this former Greyhound bus depot turned live music venue. This music destination has also played host to Paul Simon, Ice Cube and the Pretenders and much of "Purple Rain" was also shot inside First Avenue. Prince was known to turn up for spontaneous shows at the club.
"Purple Rain" House, 3420 Snelling Avenue
Prince's character in the 1984 rock musical drama "Purple Rain," which some have called partly autobiographical for its depiction of a volatile father-son relationship, lived in this south Minneapolis white-frame home.
Prince recorded at this studio in downtown Minneapolis in the Seventies.
Prince played his first shows as a solo artist at this music venue in the late Seventies.