7 Ways to Give Back on Your Disney Vacation
Make an impact and share the magic with someone in need.
You may not associate "The Most Magical Place on Earth" with voluntourism, but there are several ways your family can give back on a Disney vacation, from reducing your carbon footprint to granting a wish for a child with a critical illness. The next time you head down to Walt Disney World, consider carving out some time in your schedule to participate in these give back programs that benefit local and national charities plus raise money for important causes.
Orlando theme parks are at the top of the list for wish-fulfilling charities, and Give Kids the World makes a lot of those dreams a reality. The Central Florida resort works with wish-granting charities to host critically ill children and their families for a week-long vacation that includes free lodging, meals and tickets to major Orlando theme parks such as Walt Disney World. A lot of the magic at Give Kids the World is powered by volunteers. More than 1,800 volunteer shifts are filled each week to help host families and the non-profit is always looking for extra help. Something as small as greeting a family at the airport or delivering a pizza can make an impact. If you don't have time to volunteer, Give Kids the World is asking for donations of character autograph books. You can find these at almost any gift shop throughout the parks. And if you're already buying a book for your kids, share the magic with a child in need.
Help the Disney Conservation Fund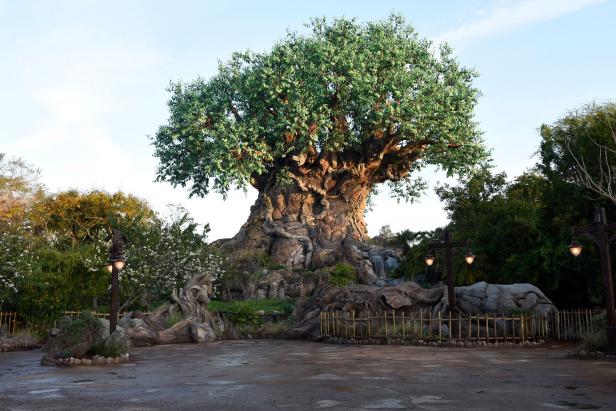 Tree of Life Grows New Roots at Disney's Animal Kingdom
At Disney's Animal Kingdom, the park's iconic Tree of Life has grown new roots. Featuring new animals that make up the circle of life, from tiny bugs to large crocodiles, the expanded roots also offer a widened walkway for guests visiting Discovery Island. The 145-foot tall structure is covered in more than 103,000 leaves and debuted as the park's icon at the park's opening in 1998.
Wildlife conservation was important to Walt Disney himself and more than 50 years after his death, it's still important to The Walt Disney Company. To date, the Disney Conservation Fund has directed more than $70 million to protect wildlife. You can see some of the work first-hand at Animal Kingdom, which is home to nearly 2,000 animals including two endangered Sumatran tiger cubs. If you want to help, you can donate to the fund's "Reverse the Decline" program at select stores and food stations throughout the park. This program helps 10 of the most critically endangered species on the planet, from elephants to butterflies to coral reefs.
runDisney races are popular for serious runners and just serious Disney fans. The 5K, 10K and marathon races allow guests to run through the parks, dress up like their favorite characters and earn limited-edition Disney-themed medals. If you're planning on a Disney race, make it even more magical by raising money for an important cause. runDisney supports tons of charities, from Alex's Lemonade Stand to the American Foundation for Suicide Prevention. Don't want to run? You can make a difference and supports runners by volunteering at races. Opportunities include distributing water, race bibs and medals.
runDisney races aren't the only sports events that need volunteers. Disney's ESPN Wide World of Sports center hosts events all year long, such as the Special Olympics Florida State Summer Games and the Special Olympics Florida Fall Classic.
A lot of unused, hotel soap goes straight to the landfill every year, but Clean the World is trying to curb that by recycling soap. Yes, recycling soap. The organization works with hotels to gather unused soap that is then crushed, sanitized and recut into bars of soap for those in need. To date, Clean the World has distributed more than 44 million bars of soap to 127 different countries. Walt Disney World resorts participate in the program so, if you're staying on property you can feel better knowing that any soap you don't use will be turned into clean soap for someone else. If you want to learn more about the soap-making process, you can volunteer at the Clean the World headquarters in Orlando. Opportunities include sorting soap and assembling hygiene kits.
If it's not in your budget to stay on property, you can still make an impact by choosing a hotel outside the Disney gates. Delta Orlando Lake Buena Vista also donates unused soap to Clean the World and the Walt Disney World Good Neighbor hotel recently changed its amenities to feature SoapBox Soaps. This soap line donates a bar of soap for every soap purchased and each bottle features a "hope code" that you can track on the company's website to see where your soap made a difference.
Donate Your Souvenir Money
One of the easiest ways to give back on your Disney vacation is to donate your souvenir cash. Even five bucks can make a difference. The Central Florida chapter of the Make-A-Wish Foundation gets flooded with Disney wishes every year. Instead of buying that extra T-shirt, you could share the magic and donate that money to help a child meet Mickey for the first time. That's a souvenir you can't hold, but something with lasting power.