Florida Cultural Festivals
Travel Channel's picks for Florida cultural festivals.
Think spring break is the best fest in Florida? Far from it. Florida's perpetually warm weather and abundant sunshine makes the state a prime spot for cultural festivals of all genres, including legendary motorcycle meet-ups, literary celebrations and world-renowned arts festivals. Follow our lead to the top cultural festivals on the Sunshine State's annual calendar.


Often called The Magic City for the quickness with which it grew into a sprawling urban center, Miami is at its most brilliant during Art Basel -- the stateside counterpart to Europe's biggest art festival held in Basel, Switzerland. Serious art collectors have these 2 must-do events on their annual calendar (the Swiss festival takes place in June each year). Gallery owners exhibit international artwork from around the world at various art deco and design venues including everything from warehouses to iconic hotels in Miami and Miami Beach. The cool, creative vibe is enhanced by satellite parties held by bars and restaurants not officially involved in the event, as well as public art projects such as outdoor murals, installations in parks and pop-up galleries.
Parades with colorfully decorated floats on water (boats) and land, airborne beads and people dressed up as pirates are the key ingredients for this annual Tampa Bay festival. The celebration honors the legend of Spanish pirate Jose Gaspar, a Spaniard whose fleets once patrolled the waters off Tampa Bay, captured more than 400 ships and, according to legend, buried treasure along the west coast between 1789 and 1821. The happenings include a kids' parade and hundreds of private parties, but the main event involves a 165-foot-long fully-rigged pirate ship loaded with 700 pirates. The ship sails into Hillsborough Bay along with hundreds of accompanying pleasure crafts such as jet skis and fishing boats to the tune of firing cannons and streetside celebrations. It's one of those festivals with something for everyone, whether you're looking for a raucous Mardi Gras-style party or something more family-friendly.
One of Florida's most important black heritage festivals, this annual weeklong cultural gathering just north of Orlando celebrates the life of Zora Neale Hurston -- a writer and cultural anthropologist -- in her home town of Eatonville, the oldest incorporated African American municipality in the United States. From musicians playing African drums (slave music has African roots) and African batik dresses for sale, to live music by jazz and folk bands, it's a cultural event that spotlights Florida's African American roots in an entertaining and informative way.
This annual autumn gathering in Daytona Beach attracts thousands of bikers from around the world for motorcycle shows, rallies, fun rides, along the coast and races at the Daytona International Speedway. Even if you don't hit a single event, just find a perch at any Main Street bar and feel the rumble of engines and the lure of the open road.
Tired of arts and crafts festivals with the same wares for sale? This refined arts fest in the posh central Florida town of Winter Park features only original artwork that was created in the last 2 years. More than 350,000 people come to browse works by some 270 artists who specialize in digital art, photography, sculpture, jewelry and glasswork. There's food and music, of course, and the setting is just as appealing as the art on display. Tents are set up around Central Park, a green park with benches, fountains and lots of shady areas running along the town's main retail street, pretty Park Avenue. The town is considered one of the most scenic in Central Florida thanks to its upscale ambiance and European-style street café scene.
St. Augustine, the oldest continuously occupied city in the United States, is full of historical buildings that look particularly pretty during the holiday season when some 2 million white lights are strung throughout the historic center. The tradition stems from a centuries-old Spanish ritual of displaying a lighted white candle in the window during Christmastime. The town bustles with fun events throughout the month-long celebration, such as ice-skating, holiday concerts with Christmas music and a parade.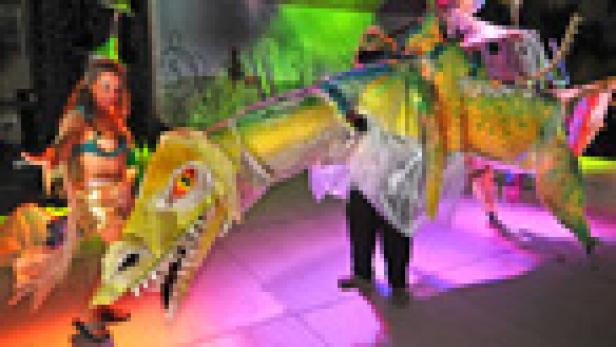 Fantasy Fest
Rebecca Burg, left, of Key West, Fla., dances with her sea dragon late Thursday, Oct. 29, 2009, at the Pier House Pretenders in Paradise costume contest in Key West. Entitled "Deep Sea Dating," the entry took second place in the individual professional category. The competition was a facet of Key West's 10-day Fantasy Fest costuming and masking festival that in 2010 is set for Oct. 22-31 with the theme "Habitat for Insanity." Photo by Andy Newman/Florida Keys News Bureau
Florida's southernmost city's version of Mardi Gras, this annual costume parade and festival takes place before Halloween and showcases Key West at its wildest -- and most creative. Participants use paint to embellish the mostly naked canvases of their bodies with incredible designs that might resemble everything from bird feathers to circus costumes, then they strut the streets of the old town Key West in a veritable walking display of art. Caribbean music and food and a family-friendly party (kids games and no-nudity!) in Goombay, Key West's Caribbean village, round out the raucous fun.