The Caribbean on a Budget
Save money with Travel Channel's helpful tips to help you travel on a budget in the Caribbean.
It is possible to experience the crystal blue waters and powdery sand of a Caribbean island on a budget with a few tips and tricks. Generally, you'll find remote islands with nice, reasonably-priced accommodations in good locations, but travel is more difficult and/or expensive. Islands with more tourist traffic are cheaper to access, but you're not going to find as many budget-friendly hotels near the best beaches.

Island nations with multiple cays and atolls such as the Bahamas, Virgin Islands and Grenadines are well connected by inter-island ferry services. You'll also find great deals on local airlines like LIAT, Caribbean Airlines and Winair for travel between islands.

Here are some of the best destinations for deal hunting.

Punta Cana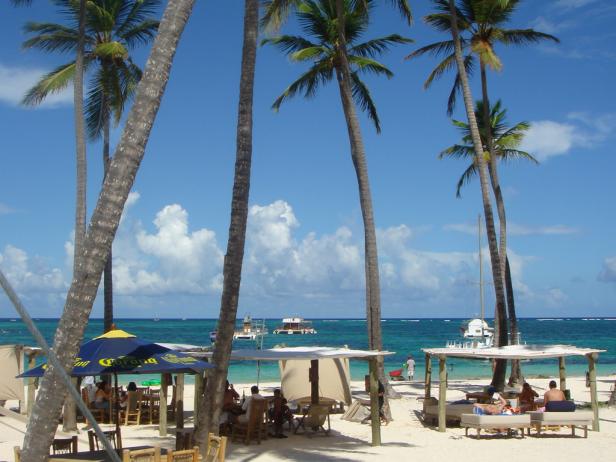 Punta Cana, Dominican Republic
Want to experience the Caribbean, but don't want to break the bank? Check out the beaches of the Dominican Republic. This beach, Punta Cana, lies on a stretch of the island known as the Costa del Coco (the Coconut Beach) that hosts several all-inclusive resorts. Each of these beaches allows visitors access to the clear waters and white sand beaches the Caribbean is known for. 
Punta Cana in the Dominican Republic is not so much a town as a 30-plus-mile stretch of spectacular beach with a wall of hotels built along the coastline. The secret to a budget vacation here is the high volume of all-inclusive resorts battling for tourist dollars, and the abundance of direct flights from U.S. airports. The trick to choosing an all-inclusive resort is prioritizing what you want out of your vacation. A good price may mean choosing a property that features an awesome beach and food but less attractive rooms. But honestly, did you really come to the beach to sit in your room?

Dominica
This volcanic island is known for lush jungle, jagged peaks and cascading waterfalls, not so much for white sand beaches. Hotels and resorts, many located inland, tend to cater to eco-conscious adventure types, improving the chance of finding swimming holes, hot springs and wildlife. Try Papillote Wilderness Retreat, located at the base of Trafalgar Falls and boasting on-site hot springs, where rates are $115.00 - $130.00 per night. The most expensive property on the island, Jungle Bay Resort, has rates starting at $200.00 per night (very reasonable by Caribbean standards). There are no direct flights from the U.S. to Dominica, so prices vary dramatically. One option is to fly into Guadeloupe, Martinique or St. Lucia, then take a high-speed ferry to the island for as little as $100.00.
This arid Dutch island in the southern Caribbean is all about scuba diving. The government designated the entire reef system, including Klein Bonaire off the west coast, as a protected marine park in 1979, ensuring spectacular diving and snorkeling for years to come. What makes this island a budget dive paradise is the enormous number of beginner-level dive sites along the shore. Certified divers can simply drive up to a beach, suit up and swim out to the reef, eliminating the cost of boats and guides. Many hotels even have private reefs only a leap away from their boat docks.
It's a rare Caribbean island on which you can pitch a tent just feet from a picture-postcard view, but the Virgin Islands boasts 2 of them. On the island of Jost Van Dyke in the British Virgin Islands, take a load off at Ivan's Stress-Free Bar and White Bay Campground where tent sites cost only $20.00. Upgrade to a 2-bed cabin for $75.00 per night. Regular ferry service runs to the island from Tortola and St. John in the U.S. Virgin Islands. Or, take a direct flight to St. John (bonus: no passport required!) where the Cinnamon Bay Campground offers cottages, platform tents and bare sites with tent rental ranging in price from $32.00 to $163.00.
If you'd like to try cruising on a budget, Voyages of Discovery might be for you. The company operates one older ship that lacks the lavish onboard amenities of newer ships, allowing it to offer longer cruises with educational themes. You'll also find budget deals on older ships owned by large companies like Carnival, Norwegian and Royal Caribbean if you're willing to sail on an older ship or sign up for a shorter itinerary.