Welcome to the Disney Cruise Line!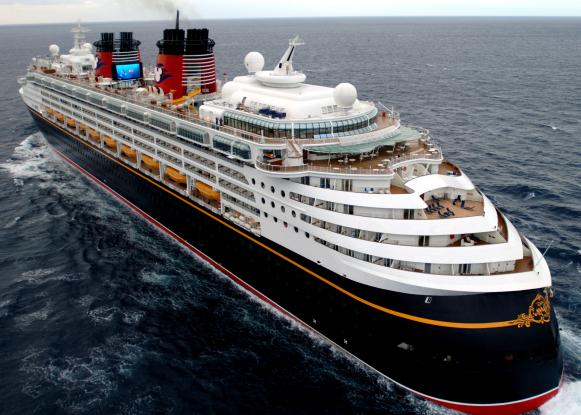 'MAGIC ON THE SEAS After undergoing dry dock in fall 2005, the Disney Magic has even more to offer guests. New enhancements include an expanded spa and fitness facility, a fifth area exclusively for youth activities, and a jumbo LED screen for pool side movies and entertainment. Photo courtesy Disney Cruise Lines'
In developing the cruise ships, Disney's designers wanted to evoke the era when ocean liners used to cross the Atlantic. The design of the ship brought back round portholes, horizontal rails and multiple funnels.
As you walk into the lobby of the Disney Wonder, a statue of Ariel greets you. It is the only Disney character you will see onboard. Or is it? Only a keen eye can pick out the characters camouflaged in the banisters and subtlety placed on the wall. Throughout the ship, the Disney touches range from pictures to hardware. The Disney Wonder is decorated in the classic art nouveau style, while on its sister ship, the Disney Magic, it's all about art deco.
Setting Sail
Disney's 2 ships, the Wonder and the Magic, embark on 3, 4 and 7-night cruises from Port Canaveral on Florida's east coast. The location is strategically placed less than 60 miles from Walt Disney World. The shorter cruises head for Nassau and Freeport in the Bahamas, while the 7-night voyage sets sail for Key West, Grand Cayman and Mexico's Cozumel. Every itinerary includes a final stop on Disney's exclusive private island, Castaway Cay.
Food, Food and More Food
Today's cruisers have come to expect delectable dining in excessive amounts. But how has Disney raised the bar? As an industry first, Disney created rotational dining. Instead of having cruisers dine at 1 huge restaurant every evening, this concept rotates passengers through 3 different restaurants on sequential nights.
Guests can choose from an upscale restaurant that serves fine cuisine in high style, a casual island-themed dining experience and 1 of the most unusual restaurants ever created. Called Animator's Palate, the latter is completely black and white and its walls are covered with Disney animation sketches. As the courses are served, the room magically transforms into color.
While Animator's Palate is full of whimsical fun, 1 eatery has a more serious side. On deck 10, in the back of the ship, you'll find an upscale restaurant not listed on your rotational dining itinerary.
It's called Palo, and you need to make a reservation to experience Palo's adults-only atmosphere. Diners can view the kitchen from the restaurant and watch the talented staff prepare the night's dishes. They include such treats as gourmet pizzas, rack of lamb and a decadent chocolate souffle for dessert.To dine at Palo, sign up the moment you board - reservations fill up fast.
Splish-Splash
So, how does Disney live up to its promise to entertain adults and children at the same time? Let's start with the pools. Most cruise ships have 1 or 2, at the most. Disney's ships have 4. The Mickey pool is for children. Located on deck 9, near the back of the ship, it's shaped like its namesake and boasts a giant water slide. On the other side of the ship, you'll find the Goofy pool. It's open to families, so that includes everyone. Near the bow of the ship, you'll come across a pool reserved exclusively for adults 18 and up.
For the Kids
For children who need a little time off from their parents, the Disney Cruise Line devotes almost an entire deck to young sailors. That equals 15,000-square feet of nothing but kids stuff -- 5 times more space than any other cruise line.
Parents with infants and children up to 3 years old can leave their little ones in the care of the ship's onboard nursery. Once children are over 3 years of age, they enroll in the Ocean Air Club and Ocean Air Lab. Teenagers can participate in a program called Common Grounds, located on deck 9.
Disney also activated a revolutionary pager system. Parents are given pagers when they drop off their kids and paged if the children need them.
For the Adults
One of Disney's biggest challenges is convincing cruisers without kids to come aboard. To keep adult passengers from going kid crazy, Disney created some areas just for them. One of the most popular is the Vista Spa and Salon. The tropical rainforest room has fruit- and mint-scented showers, a chamomile steam room and a sauna that mimics a Roman bath.
While adult passengers can find plenty of entertainment aboard, including an entire section of the ship devoted to romantic bars and high-energy dance clubs, there are a couple of traditional cruise activities you won't find on Disney ships. For instance, there is no casino onboard.
Entertainment is Disney's claim to fame and something the whole family can enjoy. In the Buena Vista Theater passengers can see first-run movies, but it's the Walt Disney Theatre where the company has pulled out all the stops. While this 977-seat theater is miles away from the glitz and glamour of Broadway, its shows rival those found in the Big Apple.
Castaway Cay
This 1,000-acre island is a tropical playground for guests onboard Disney's ships. However, it wasn't always like that. In fact, before Disney arrived, the Cay was nothing more than a deserted island. But then Disney went looking for an island with three criteria: 1) it had to be beautiful; 2) it had to be available; and 3) it had to be less than 225 nautical miles from Port Canaveral.
Passengers disembark in the morning and head to 1 of 4 beaches, which are specific to different age groups. The most popular beach is the family beach. Here visitors can rent snorkel gear and partake in a 12-acre snorkeling adventure. It's designed around a man-made reef, which is populated by fish and fossils.
If you're really craving that deserted island experience and can leave your kids behind, board the tram and head down the island's deserted runway. At the far end, you'll arrive in adult paradise (no one under 18 is allowed). Here you'll find a mile-long stretch of beach called Serenity Bay, where seekers of peace and quiet can lunch on grilled fish, rest in hammocks or relax with a massage in one of the five open-air cabanas.
Once upon a time, there was a company whose theme parks were loved the world over. Its mascot, a famous mouse, decided to go into uncharted territory and set sail on the open seas. But this mouse would need a boat, a ship to carry out his adventure. Thus, the only ship that claims pixie dust and magic navigate its course was born. Welcome to the Disney Cruise Line!