Best Road Trip Movies to Watch With Your Family During the Holidays
The holidays are all about family, road trips and food. After you've all eaten, sit down with the relatives and celebrate the great American tradition with one of these classic open-road movies.
Road trips and Thanksgiving are about as American as you can get, and late in November the two collide. According to the Automobile Club of America's (AAA) latest stats, about 48 million Americans will journey 50 miles or more from home on Thanksgiving weekend (Wednesday to Sunday).
To celebrate the upcoming holidays, we compiled a list of our favorite movies that take place on the open road. Some of these road trips are not just physical but also personal life-changing journeys that will make you think and may help spark some deep conversations with your fellow viewers. So, drive safely and once you get to your destination, sit back with the fam and enjoy one of these classic road trip movies.
Planes, Trains and Automobiles
John Candy was the master of the obnoxious-but-loveable oaf. In this movie, he plays a shower-curtain-ring salesman who annoys the living daylights out of Steve Martin's straight-laced character. The two meet when they're both trying to get home for Thanksgiving and a freak snowstorm turns the few-hour journey into a multi-day comic escapade. It's rated R for some profanity and probably the "those aren't pillows" scene.
What starts out as a girls' weekend turns into two outlaws on the lam. Geena Davis and Susan Sarandon are so cool and they totally rock those 1990s high-waisted jeans. This is probably one of the most famous road trip movies ever. And because of it, there's a lot of interesting trivia about it, like this interesting tidbit: It's well known that this movie catapulted Brad Pitt to fame, but he was such a no-name at the time he was paid just $6,000 for his role. Even more interesting, George Clooney was one of the actors Pitt beat out to play the sexy cowboy/crook role.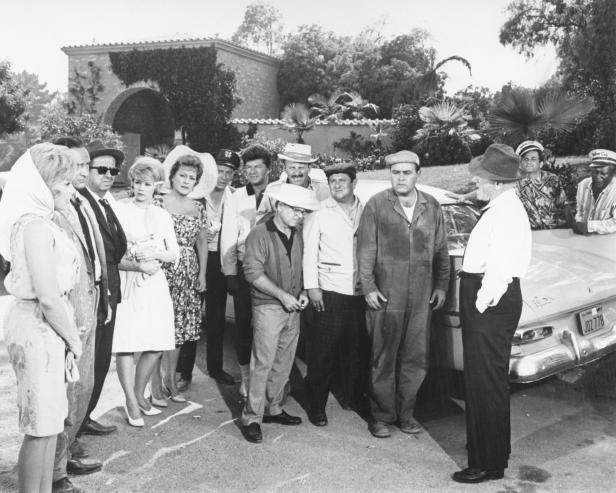 U1353163
(Original Caption) 11/3/1962- Members of the cast of the United Artists movie "It's a Mad, Mad, Mad, Mad World." L to r: Edie Adams, Sid Caesar, Phil Silvers, Dorothy Provine, Ethel Merman, Milton Berle, Dick Shawn, Terry-Thomas, Mickey Rooney (front); Buddy Hackett, Jonathan Winters, Spencer Tracy, Peter Falk and Eddie "Rochester" Anderson. They were rehearsing a scene for the zany film.
It's a Mad, Mad, Mad, Mad World
If you want to watch a movie with your grandparents, try this zany farce that was made back in 1962. Anybody who was anybody in Hollywood at that time is in this movie – everyone from Spencer Tracy to the Three Stooges – so it'll be a nice bit of nostalgia for older family members. It's also a fun movie for kids, it's silly and there are no f-bombs or "adult" scenes.

You can't help but fall in love with this quirky family, especially the adorable beauty-pageant contestant Olive and her foul-mouth grandpa. There are a bunch of good quotes in this movie too: Like when the dad gets pulled over by the cops and says "everyone, just... pretend to be normal," (like we all haven't wanted to say that to our family). Or the touching moment when grandpa tells Olive, "A real loser is someone who's so afraid of not winning he doesn't even try." This movie is rated R and once you hear all the profanity you'll know why.
Probably the most iconic road trip movie ever. Made in 1969, it symbolizes the counterculture of that war-time era. Parts of the movie may feel dated, but the message still resonates today. If you have a relative who lived through the 60s, watch this movie with them to get more insight into that time period.
For the younger set, the best road trip movie is Cars, the first one. The sequels aren't bad, but the original is the best. This is one flick the whole family can watch. It's got a great message and cute characters for the kids, there are plenty of jokes for the adults, and Paul Newman as Hudson Hornet is so worth your time.
Directed by Barry Levinson this movie has an amazing ensemble including very early appearances by Kevin Bacon, Mickey Rourke, Steve Guttenberg, Daniel Stern, Tim Daly and Ellen Barkin. Not really a road-trip movie so much as a returning-home movie. The story is set between Christmas and New Year in 1959 (so holiday subtext is built in) and, like several other of Levinson's movies (see also "Tin Men" and "Avalon"), takes place in his hometown of Baltimore and relies far more on dialog than on action. But great dialog. Basically, it's just a circle of guy friends, at a crossroads phase in their lives, sitting around talking about random funny stuff and getting themselves into some oddball situations. It's kinda like "Summer of '42" but with older principals and without the romantic underpinning. Quirky, smart, nostalgic and probably one of the more quotable movies ever. It's rated R for language and some sexually frank dialog and situations.
National Lampoon's Vacation
Most folks watch the Griswold's Christmas movie during the holidays, but again, when it comes to sequels, they never quite stand up to the original. Like "Thelma and Louise" this iconic movie is filled with interesting production trivia. Did you know they used five different Family Trucksters (green-paneled station wagons) during the filming? Also, John Candy was not originally part of the movie. After the filming was over, the producer, Harold Ramis wanted a better ending, so they went back to the drawing board and reshot the Wally World scenes with Candy. Although this movie seems tame, it's actually rated R probably because of Cousin Eddie.
You can say this is not actually a road trip movie since they never leave the Chicago area, but it feels road tripy with all the stops they make and roadblocks they encounter like evading the cops, the Nazis, a country-western band in a Winnebago and of course, Carrie Fisher. This movie is one to watch over and over again because of the fantastic soundtrack (especially Aretha Franklin and Ray Charles!), quotable lines ("Our Lady of Blessed Acceleration, don't fail me now"), and the scene where John Candy orders a round of orange whips.
Like many road trip movies, the main characters often change as a result of their journey. In this Oscar-winning movie, Charlie Babbitt (Tom Cruise) is a shifty yuppie, wheeler-and-dealer type (the typical 1980s villain). When his estranged father dies, Babbitt discovers he has a long-lost brother (played by Dustin Hoffman) who is a severely autistic savant. After the two drive cross-country together, Cruise's character turns a bit soft and becomes more human and less of a total creep. This one is rated R for language and a few adult scenes.

Ad exec David Howard (Albert Brooks) and his timid wife (Julie Haggerty) decide to chuck it all and go on the road –based on David's momentary epiphany that they can spend their "retirement" in search of the real America – just like those two guys in (what else?) "Easy Rider". Only in this case, they're traveling in a Winnebago (complete with microwave with browning feature) rather than astride two chrome choppers. Once the two hit the road, things quickly go profoundly awry in a hilarious way that only Albert Brooks, with his deadpan but razor-sharp wit, can deliver. It's the ultimate road-trip-gone-wrong movie and deadly funny throughout, but worth the ride for two amazing scenes with Brooks at their center. The first is at the outset and is perhaps the funniest "I quit!" scene ever filmed. Not to give too much away about the second, but watch for the one with the Vegas hotel manager played by film director Garry Marshall. It's rated R for language, but fairly tame – probably okay for teens.